Dark spots on the face can be annoying and embarrassing.Dark spots are extremely stubborn and doesn't fade away quickly.It causes uneven or irregular skin tone.Dark spots range in different colors from light brown to black in color and are most commonly found in sun-exposed areas such as face, neck, ears and hands.These dark spots are also known as brown spots, age spots, sun spots, pimple spots and black spots. However, the most popular are sun spots, pimple/acne spots and black spots.This is common for teenagers and adult women.There are many natural methods to remove dark spots on your face.Let's explore some of the top home remedies to remove dark spots completely, skin care tips, diet tips to avoid dark spots and clever makeup tips to conceal dark spots.
61 Clever Tips For Dark Spots
Homemade Tips to Remove Dark Spots
1.Daily cleanse your skin with mild astringent, you can use rose water or can prepare a natural astringent by mixing a dash of lemon juice and water.
2.Dip a Q-tip in cabbage juice and apply on the affected area.Rinse after 15 minutes.It is extremely effective to remove black spots.
3.Give a rice water facial steam: Soak a cotton pad in warm rice water and pat on your face.Repeat for 2 to 3 times.It removes sun spots and dark spots.
4.The juice of onion has natural bleaching properties that lighten dark spots.Dip a cotton swab in onion juice and dab over the affected area.Rinse after 10 minutes.
5. Egg whites are good in lightening the color of dark marks.Apply 3 to 4 layers of egg white and peel off after it dries completely.
6.Dab diluted baking soda in the ratio of 2:4 that is baking soda and water on the dark spots.Rinse off after 5 minutes.
7.Massage few drops of tea tree oil mixed with coconut oil for 4 to 5 minutes and then wipe using a warm wet towel.
8.Homemade coffee scrubs are the best treatment for dark spots.Exfoliate you skin with a mixture of coffee bean powder, a Tsp of warm milk and honey.
9.Soak potato slices in cold water for 2 minutes and gently rub to minimize the appearance of dark facial spots.
10.Soak cotton balls in fresh pineapple juice and dab onto your dark spots.Rinse after 10 minutes.
11.Boil cumin seeds in water and daily wash your face to lighten dark spots, age spots and sun spots.
12.A fresh paste of soaked fenugreek seeds with rose water is effective in removing dark spots.
13.Pour aloe vera juice into ice cube tray and daily massage to get rid of black spots.
14.Fresh vegetable juice such as cauliflower and broccoli are excellent remedies for dark spots, black spots and sun spots.
15.Wash your face regularly with coconut water to help fade away dark spots and acne spots.
16.Another delicious way, to diminish discoloration and remove dark spots is to apply a spoon of dark chocolate ice cream.
17.One of the effective home remedies, to reduce dark spots is applying a paste of sandalwood powder mixed with rose water or milk.
18.Gently rub a small amount of clove oil onto the area affected by dark spots and then rinse after 10 minutes.
19.Neem's antibacterial properties remove acne spots and dark spots.Apply a paste of fresh neem leaves mixed with rose water.
20.To remove brown spots massage a mixture of honey and lemon juice.Leave for 10 minutes and then rinse with lukewarm water.
21.Aloe vera lightens dark spots.Apply fresh aloe vera gel on your dark spots twice in a day.
22.Apply fresh cucumber juice to get rid of dark spots caused by pimples/acne.
23.Wipe your face with diluted apple cider vinegar every alternate day to remove black spots on face. 
24.Apply a thick, creamy yogurt mask twice in a week.Lactic acid in yogurt lightens dark spots.
25.Mash ripe tomato with a Tbsp of honey and apply on your dark spots.Wash off after 10 minutes.
26.Ginger is one of the best dark spot corrector.Apply fresh ginger juice to the affected area and rinse after 6 to 7 minutes.
27.Rubbing the rind of a watermelon can help lighten black spots.
28.Mash raw papaya with cold milk and massage onto your face.It lightens dark marks. 
29.Soak grated horseradish in 1/2 cup of milk for 1 hour and place on your dark spots.
30.Tulsi contains powerful antibacterial properties that help lighten dark spots.Crush few Tulsi leaves and apply on the dark spots. 
31.To get rid of brown spots, apply a pack of turmeric and yogurt paste.
32.Vitamin E oil is a great treatment for dark spots on face.
33.Buttermilk's Lactic acid is also good for removing dark spots.With the use of a cotton ball, apply over the affected area and then wash off after 15 minutes.
34.DIY Homemade clay mint facial mask: Blend a handful of fresh mint leaves using little water, add 1 Tbsp of multani mitti or clay mud and few drops of rose water.Apply and rinse after 20 minutes.It minimizes dark spots, sun spots and leaves the skin glowing and spotless.
35.Try a homemade serum to remove the appearance of dark spots.Massage a mixture of 1 Tbsp of aloe vera gel, 1 Tsp of vitamin E oil and few drops of lemon juice.
36.Carrot works well to lighten brown spots.Apply grated carrot juice on the brown spots.
37.Rub the inside part of a ripe banana peel directly on your black spots.
38.Mix chickpea flour with a little water and apply the paste on pimple spots.
49.Apply fresh paste of orange peels blended with honey to lighten dark spots.
40.Daily splash green tea water on your face to get rid of age spots and acne or pimple scars.
41.For a quick black spot removal treatment, try this 4 easy steps.
Rinse your face with warm water.

Mix 2 Tbsp of cabbage juice, 1 Tbsp of aloe vera gel and 1 Tsp of apple cider vinegar.Pour this mixture into a container.

Dip a clean eyeliner brush into this mixture and gently touch only on the black spots.After 15 min's rinse with cold water.

Follow this continuously for a week.
Daily Skin Care Tips for Dark Spots
42.Use an exfoliating scrub that contains a tiny jagged bit of walnut shells or apricot seeds or almond shells to take off the top layer of the dead, rough skin cells and reveal clear, smooth skin.
43.As soon you wake up in the morning splash cold water or cold lemon water to lighten dark spots and sun spots.
44.Moisturize the skin twice in a day.Choose a moisturizer that are enriched with vitamin C to lighten dark spots.
45.Try dark spot correcting serum to lighten blemishes and dark spots.This product really works "Even Better Clinical Dark Spot Corrector" available at www.sephora.com.
46.Try out orange or lemon face peel off mask twice in a week to lighten spots. 
47.Use sunscreen every day to protect the skin from the formation of sun spots and age spots.
48.Look for bleaching creams that contain kojic acid and hydroquinone to remove dark pimple marks and acne spots.
49.Choose face wash that contains aloe vera, green tea, honey and alpha hydroxy acid. 
50.Daily clean, tone and moisturize your skin to avoid dark spots.
51.Try getting a fruit facial done twice in a week to lighten dark spots and other skin blemishes.
52.Once or twice in a week apply dark spot treatment mask.Try Garnier Skin Renew Dark Spot Treatment Tissue Mask available at www.Amazon.com.
MakeUp Tips to Hide Dark Spots
53.Choose foundation that has better coverage to cover dark spots.
54.To hide dark spots on face follow this easy makeup trick.Dab creamy concealer one shade lighter than your foundation on your dark spots before applying foundation.
55.To detract eyes away from pimple marks and spots, use the color pink all the time like a pink lipstick or a pink eyeshadow.
56.Highlight the forehead, T-zone and chin.Dip a fluffy brush into the translucent shimmer powder and lightly dust onto these areas.This takes attention away from dark spots.
57.For women who have deep or bronze skin tones, dab a red color lipstick on the dark spots and then smoothed out with a brush.Do this before applying the foundation.Red lipstick acts as a concealer on dark skin tones.
58.Use mattifying powder to cover dark spots.
59.To hide dark spots on the lips, pat a creamy concealer or foundation before applying the lipstick.
Diet Tips to Prevent Dark Spots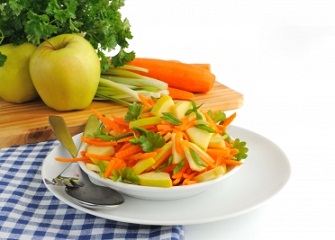 Image courtesy of Apolonia at FreeDigitalPhotos.net
60.Add vitamins, proteins and minerals to your diet to keep your skin free from sun spots, pimple spots and age spots.
61.Consume foods rich in antioxidants such as grapes, apple, carrot and tomato and drink plenty of water.