If you are an extremely busy person and you don't have enough time to look after your skin then try out these 8 natural instant skin lighteners.These skin lightening treatments that I have shared work amazingly well in just 5 minutes and are fresh, cheaper and powerful than many of the chemical-laden expensive skin lightening creams in the market.Using these natural skin whitening remedies on a regular basis provides an even clear and lighter complexion by decreasing the melanin concentration in the skin.
8 Natural Instant Skin Lighteners
1.Fermented Rice
Fermented rice paste is an exceptional remedy for whitening skin.The antioxidant activity and enzymatic action of fermented rice restrain the overproduction of melanin in the skin and gradually lightens the complexion.The skin lightening minerals, vitamins, and amino acid encourage glowing skin.Take 2 tbsp of fermented rice paste, mix it with a tbsp of curd if you have an oily skin or milk if you have a dry or sensitive skin and apply a layer and after 5 to 7 minutes remove the pack by gently scrubbing in a circular motion.Wash off with cool water and apply a layer of moisturizer.It delivers amazingly smoother and whiter skin.
2.Cucumber 
After a hot day shopping, your skin might look tanned and dehydrated.Cucumber is an instant lightener and refresher for your skin.Take few chilled cucumber slices and rub in a circular motion all over your face.After 5 minutes wash your face with cool water.It boost freshness and glow to your dull tired skin.Cucumber soothes, rejuvenates and lightens the skin.
3.Licorice Powder
Licorice is a natural skin lightening Ayurvedic herb.Research shows that it has potential skin lightening abilities and can help block melanin production to a some extent and prevent the formation of hyper-pigmentation.It is extremely good for acne-prone skin and to rejuvenate a dull complexion.Simply mix licorice powder with warm milk and apply on your face.Wash off after 5 minutes by gently rubbing in a circular motion.Pat some moisturizer.
4.Sour Curd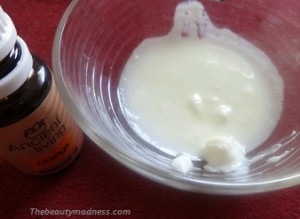 This natural face cleanser is simply awesome for oily skin.Take chilled curd and mix a little orange essential oil.Apply it on your face with a help of a cotton.Wash off after 5 minutes.The lactic acid in yogurt reveals a naturally lighter complexion and the antibacterial properties heal acne, pimples and prevent
future breakouts.Orange oil contains astringent properties and tons of vitamin C that leads to a blemish-free lighter skin.
5.Papaya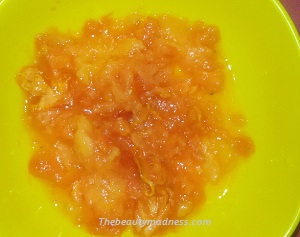 Papaya is a natural lightening treatment for the skin.Studies have found that the skin lightening compound, alpha hydroxy acids (AHAs) in papaya inhibits the melanin production in the skin, help removes discoloration and lighten skin color.Just crush chilled papaya dices and apply it on your face like a mask.After 5 minutes rinse off with cool water.
6.Tomato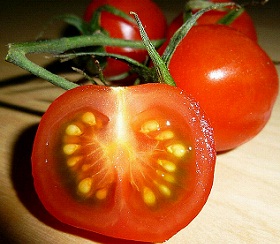 It has an uncountable number of beneficial properties that are essential for glowing and fairer skin.Take a fully-riped half tomato, pour few drops of honey and rub the tomato pulp on your skin in a circular motion for 1 minute.Leave for 5 minutes and then wash off with cool water.It has an outstanding source of lycopene that gives a pinkish glow to your skin, the antioxidants has an anti-aging effect on the skin and high concentration of vitamin c in it leaves the skin fair and radiant naturally.
7.Lemon Juice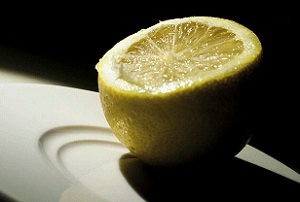 Lemon is a miracle fruit for oily skin.It brings down the excess shine on the face and lightens the skin naturally.Mix equal parts of lemon juice with apple cider vinegar and luke warm water.Soak a cotton with this solution and dab onto your face.After 5 to 7 minutes wash off.It gets rid of the unwanted pollutants from oily pores, prevents blackheads, evens out skin tone, fades dark patches and lightens skin tone.
8.Milk
Milk is an amazing natural skin lightener and toner, especially for dry and sensitive skin.The combination of milk and turmeric works like a magic.Moisten a cotton pad with a 4 tbsp of chilled milk mixed with a tsp of turmeric and rub on your face.After 5 minutes wash off.Using it regularly twice in a day gives two shades lighter skin tone.Milk fades away any flaws on your face and turmeric is a natural skin lightening agent and antiseptic.
Also Read Here
How to do Lemon Facial for Lightening Skin
How to Use Raw Milk to Lighten Skin