7 TOP Beauty Uses of Banana
Banana is my personal favorite fruit.They not only taste delicious, but also serves as a great ingredient for skin and hair.This potassium-rich fruit is filled with skin-beautifying antioxidants, vitamins A, B, C, biotin, and minerals that help enhance the natural beauty of your hair, skin, and body.Let us peek into the top 7 beauty benefits of banana.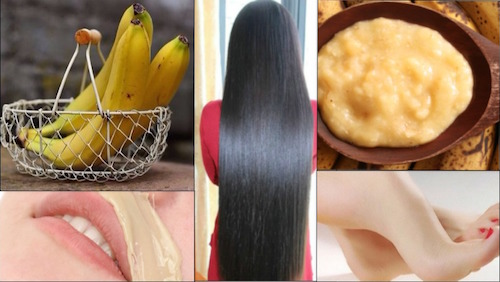 1.Banana to Get Rid Of Facial Hair
Blend 1/2 banana with 2 tablespoons of oats.Apply the paste on the areas where you have unwanted hair.Keep it on till it dries completely.Wet your fingers and gently rub the paste in a circular direction and rinse off with cool water.Repeat this procedure daily for a week to get rid of fine facial hair and for a superb silky glow.
2.Banana for Cracked Heels
Banana is a miracle cure for your dry, damaged, cracked heels.Fresh banana is richly nourishing and moisturizing. Blend a medium-sized banana with a tablespoon of shea butter or ghee.Apply a layer of the banana cream on the cracked parts of your feet.Once your feet are fully coated, wrap each foot in plastic wrap and leave on for 30 minutes.Wash off with lukewarm water and rub some vaseline.Just use it for 2 days and you will be amazed by the results.
3.Banana Body Scrub For Soft Glowing Skin
If you're looking for a quick pick-me-up that will leave your body feel and look better and glowing, then try the banana body scrub.Simply mash 1 overripe banana with 1/4 cup of fine brown sugar.Before stepping into the shower, apply this delicious scrub all over the body and gently massage in circular motions.Massage in for 2 to 3 minutes and then wash off the scrub in the shower and feel your soft, deliciously glowing skin.
4.DIY Banana Anti-Wrinkle Face Cream
Erase wrinkles and fine lines with this super easy banana face cream.Blend 1/2 fully ripe banana with a teaspoon of honey until smooth and creamy in consistency.Spread this paste gently and equally with your fingertips on your clean face and neck.Leave for 15 minutes and then wash it off with warm water.In one treatment, you can notice a more youthful appearance.
5.Banana Dark Spot Treatment 
Take a good ripe banana.Eat the flesh part and save the banana peels.Rub the soft inside layer of the banana peel on the affected area for 2 minutes.Let it sit for 10 minutes and then wash off with cool water.Repeat this twice in a day for 3-4 days to see the results.
 6.DIY Banana Skin Bleach Mask
1 small ripe banana

1/2 lemon juice

1 tablespoon olive oil
Put all the above ingredients into a blender and blend until smooth.Apply onto your clean face for 10 minutes and then rinse off with lukewarm water.This application gives an instant glow and fairness to your skin.Suitable for all skin types except sensitive skin.
7.Banana Deep Hair Conditioner
Bananas are great for conditioning hair deeply and moisturizing the scalp.One of the best fruits to fight hair dryness.To prepare your own banana natural hair conditioner you need 1 large ripe banana, 2 teaspoons raw honey, 1 teaspoon unsalted butter and 2 tablespoons almond oil.Put all the ingredients into the blender until you get a creamy paste.Apply this mask starting at roots and working your way to the ends.Put on a shower cap and leave on for 20 minutes.Rinse hair thoroughly and shampoo as usual.This will give you the silkiest and smoothest hair ever.
Try this 10-minute deep conditioning hair mask for mind-blowing results.