Just like our face, the skin on our body suffers from the effects of the environmental pollution and sun damage.Dark discolored patches, pigmentation, brown spots appear on the exposed areas of the body leading to an uneven, dark, dull and unattractive skin.That's when these 5 homemade body glowing fairness recipes enriched with whitening, detoxifying and brightening agents comes to rescue.Starting from nourishing body fairness lotion, scrub, body wash, fairness oil to bodypack you get the ultimate care for your body.
5 Simple Body Glowing Fairness Recipes You Must Try!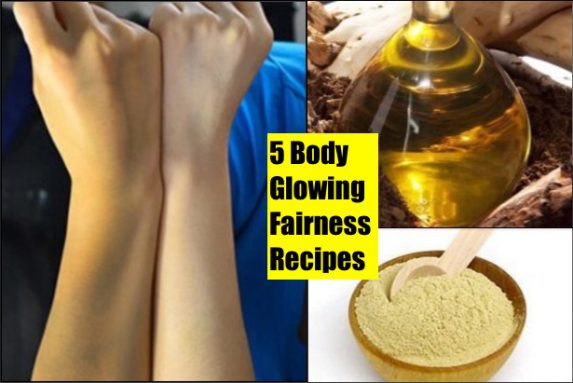 1.Yogurt Body Glowing Fairness Lotion
Yogurt contains lactic acid, an alpha hydroxy acid, that dissolves deep-seated impurities, excess oil and dead skin cells and helps in skin lightening.
You Need
1/4 cup fresh yogurt
3 tablespoons olive oil 
a teaspoon honey
Combine all the ingredients in a mixing bowl and mix well.Store in a clean, empty bottle.Apply this body lotion 30 minutes before taking a bath.Don't forget to rub lotion into your feet and hands.It makes skin deliciously soft, fair and smooth.It improves the appearance and maintains fresh glowing skin.Suitable for all skin types.Keep in a refrigerator, and use within 7 days.
2.Multani Intense Glow Body Pack
Brighten & whiten your tanned skin, rejuvenate and relax your body with this mineral-rich beauty clay.Multani mitti has excellent cooling, detoxifying, and skin toning properties.
You Need
4 tablespoons multani mitti (fuller's earth)
5 teaspoons rose water
2 teaspoons almond oil 
Mix until you get a smooth, even paste.Apply this all over your body 10 minutes before bath time.Rub gently to remove the pack and rinse off with cool water.This pack absorbs oil, dead cells and other impurities from your skin and makes it super clean.It improves skin elasticity and luster and fades body pigmentation.
3.Orange Body Glow Scrub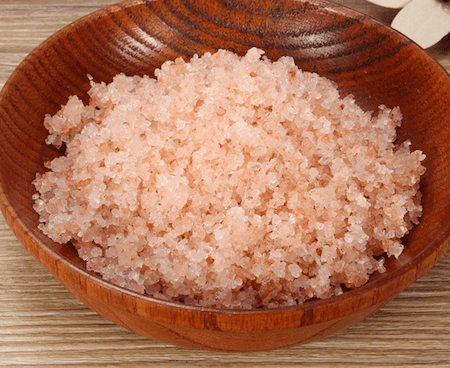 Treating yourself to this DIY orange body scrub is a fabulous way to keep your skin clean, smooth, super glowing and smelling great.Being an excellent source of vitamin C and antioxidants orange can do wonders for your skin.
You Need
3 tablespoons dried orange peel powder
1/4 th cup fine brown sugar
2 to 3 drops rose or lavender essential oil
Combine all ingredients in a small bowl and transfer to a clean jar.Begin with wet skin in the shower.Apply a generous amount of orange scrub over your entire body, massaging in a circular motion to allow the granules to remove dead skin cells and dirt.Finally, rinse off well.It leaves the skin intensely clean, smooth, blemish-free, and brighter.
4.Sandalwood Body Fairness Oil
This sandalwood oil is a sheer miracle to your body.It targets pigmentation and spots present on your body and inhibits melanin formation.
You Need
1/2 teaspoon pure sandalwood powder
4 tablespoons almond oil 
a pinch of wild turmeric powder
Bring the oil to a boil.Remove from heat and add sandalwood powder and turmeric.Let the oil cool to room temperature. Transfer the contents of into an empty, clean bottle.Before using it, shake vigorously.Massage this oil onto your entire body.Follow this 10 minutes before bed.It nourishes the skin, helps in lightening dark spots and pigmentation and leads to body whitening and brightening.
Try this overnight beauty mask for crystal clear glowing skin tone

5.Aloe Vera Body Glowing Wash
Aloe Vera is a highly soothing, moisturizing and cooling ingredient.It relieves skin irritation, lightens body tone and helps restore the skin's natural pH.
You Need
1/4 cup fresh aloe vera gel
2 teaspoons vitamin E oil
2 tablespoons any mild shower gel
2 drops of any citrus essential oil (orange, grapefruit or lemon)
Combine and blend all the ingredients thoroughly and pour into a small container.Use this homemade body wash for a refreshing bathing experience and for a soft and youthful body glow.Store in a cool dark place for 5 days.