3 Facial Moisturizers You can Make at Home To remove Dark Spots! 🥒
Want to get rid of those stubborn dark spots? Here are the ultimate solutions that you try at home to help clear and minimize the appearance of dark spots, discoloration and pigmentation spots.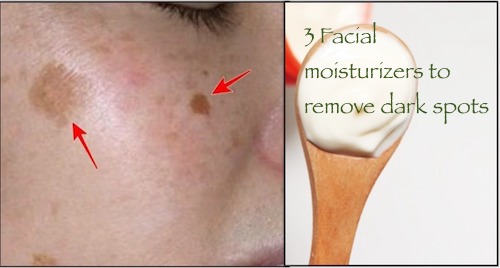 The recipes for homemade facial moisturizers in this article can be used for both face and body to remove spots and for brightening skin.
Recipe#1 Facial Moisturizer to remove dark spots
This moisturizer defends against environmental aggressors and supports healthy collagen production.It helps tighten, clarifies, and smooths skin texture for increased radiance and to lighten dark spots.
Ingredients 
1 tablespoon flaxseed gel
1/2 teaspoon vitamin e oil
2 drops lemon essential oil
A pinch of kasturi turmeric powder
Mix the ingredients together in a bowl.When the mixture achieves a smooth, creamy consistency, you can stop.Apply generously on face and massage until fully absorbed.Follow this before bedtime for visible results.
Recipe#2 Facial Moisturizer to remove dark spots
This facial Moisturizes to fight uneven skin tone & stubborn dark spots so skin looks more clearer, bright & spotless.
Ingredients 
1 tablespoon potato juice
2 teaspoons olive oil
1 teaspoon aloe vera gel
2 drops of raw honey
Combine all the ingredients together thoroughly in a bowl.Apply on your face and make sure to avoid your eyes.Let it sit for an hour and then wipe off with a moist cotton ball.Use it regularly for a week to see great results.
Recipe#3 Facial Moisturizer to remove dark spots
This homemade vitamin c moisturizer prevents future discolorations from forming while minimizing the appearance of existing dark spots for a more even, bright and youthful complexion.
Ingredients 
1 teaspoon cucumber juice
1 teaspoon orange juice
2 tablespoons aloe vera gel
2 teaspoons avocado oil
Mix all ingredients together and store in an airtight glass jar.Massage this all over your skin.Leave for an hour and then wash off with cool water.This homemade moisturiser is suitable for all skin types except sensitive.
If you are looking for the best vitamin c moisturizer then you can click here – Vitamin C Daily Glow 🍊Moisturizer
So these were the 3 wonderful facial moisturizers that you can make at home to remove dark spots and to improve skin clarity and tone.