Best Home Remedies for Dry Hair, Split Ends, Oily Scalp, Hair Loss & Dandruff
Here are the number one solutions to the most annoying hair problems!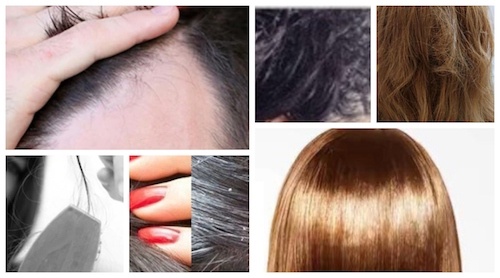 Dry Hair
Combine 6 tablespoons of Olive oil, with 1 tablespoon of Castor oil and 1 tablespoon Avocado oil.Massage the oil into your scalp, but in circular motion.Wrap around a slightly damp warm towel and let sit for 15-20 minutes. Wash off with your favourite shampoo and enjoy silky smooth hydrated locks.
Split Ends
Mix together 2 tablespoons of Shea butter with 4 teaspoons of sweet almond oil.Apply to hair focussing specially onto damaged hair parts.After 30 minutes, rinse off with warm water followed by a mild shampoo and conditioner.
Oily Scalp 
You will need 1 tablespoon of lemon juice, 3 tablespoons of shampoo and 6 drops of rosemary essential oil.Mix these ingredients well and use it as a shampoo.Use it twice a week and you will get to see the changes in your hair texture and greasiness.
Hair loss
Onion improves blood circulation to the scalp, promotes hair growth and stops hair fall.Start by blending a large red onion until you get a smooth paste.Add 1 tablespoon organic coconut oil to the onion paste.Starting at the roots, apply this paste to your hair and work your way down to the hair tips.Keep for about 20 minutes and then wash your hair with a mild shampoo.Follow this twice in a week to stop hair loss completely.
Dandruff 
Neem leaves has long been used to treat dandruff, owing to its potent cleansing and anti-fungal properties.You can substitute neem leaves with neem oil.Take 4 tablespoons neem oil and mix 2 drops of tea tree oil and massage on your scalp.Do this 1 hour before shampooing your hair to get rid of dandruff completely.