One Simple Cream that will Remove all Dark Spots in 10 Days
Today I will share one simple homemade cream that will easily remove all spots, including dark spots, brown spots, pigmentation spots and age spots from your face in just 10 days and will bring a crystal clear, rejuvenated youthful glow on your face.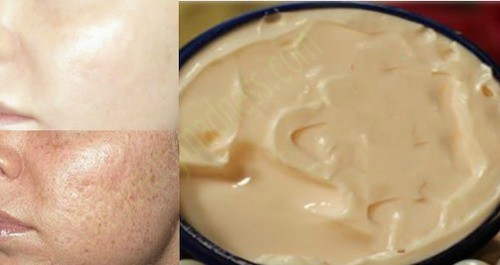 Excessive melanin production and sun exposure is the main reason behind dark spots on your skin, but with this simple cream, you can easily erase all these spots from your face.This face cream will keep your skin hydrated, spotless and looking great.I guarantee you'll be happy with the results.
 Ingredients Required
Method :
In a small bowl, add 1 teaspoon of rose water 

then add 3 teaspoons aloe vera gel

3 drops of sandalwood oil

Add 2 drops of orange essential oil

Finally add 2 teaspoons vitamin E oil

Mix all of it together and your cream is ready to use
Direction to Use
First wash your face with warm water and pat it dry.Apply small spots all over your face and then smoothen it out. You will see the texture of your skin begin to smooth out quite rapidly.
Use it right after washing your face and before bedtime to see noticeable results.