Hand Whitening Peel Off Mask | Fair Smooth Young Hands Instantly
Get soft, fair and youthful hands that everyone wants to touch!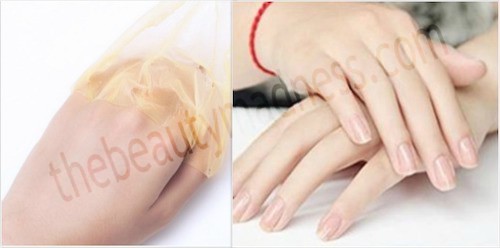 This hand whitening Peel off mask will gently peel the outermost dead skin layer, tan and impurities, improve skin texture and will promote a clear, silky-smooth, fair, and rejuvenated hands in just 15 minutes.Not just that, this peel off mask evens out pigmentation, spots and provides intensive moisturization and nourishment.
Ingredients 
Milk

Gelatin Powder

Lemon Juice

Honey

Kaolin Powder

Buy: Kaolin skin Whitening
Method
In a bowl take 1 tbsp of kaolin powder

Add 2 tsp of lemon juice

In this add 1 tbsp honey

Add the most important ingredient 2 teaspoons gelatin powder.

Then add enough hot milk to dissolve the gelatin. 

Mix it well to get a glue-like consistency.
 How to Use
Initially, you must prep your skin.Before you apply the paste, wash your hands with lukewarm water and then pat dry with a towel.
Gently, apply a thick layer of this paste with the help of a brush.

Apply in one direction.

Leave it on for 15 minutes or until it dries completely.

Be careful while peeling off the mask.

After peeling off the mask, wash with warm water to remove the remaining mask.

Finally, wash with cool water to close your skin pores.

Follow it up with a natural body oil.
This mask will make your hands fairer and at the same time make your skin soft, smooth and tighter.This best part is that you will get instant results.