If you're a kajal lover and want to enhance your kajal application and overall eye makeup look, here are a few tricks you can try:
Prep and Prime: Before applying kajal, make sure your eyelids are clean and well-moisturized. This helps the kajal glide on smoothly and prevents any patchiness or tugging.
Set with Powder: To make your kajal last longer and prevent smudging, set it with a matching eyeshadow or translucent powder. Use a small brush to lightly dust the powder over the kajal.
Tightline: Apply the kajal along your waterline or tightline for a more defined and intense look. This technique creates the illusion of thicker lashes and adds depth to your eye makeup.
If you are searching for an organic "Kajal Eye Liner Pencil" then you can go for "Just Herbs Naynam Day-long Kajal" .It has a smooth, creamy texture formulated with a blend of wholesome ingredients such as Organic Jojoba Seed Oil, Vitamin E, and Castor Oil. This organic Kajal is non-sticky and smudge-proof, providing a weightless matte finish without creating heaviness or dryness."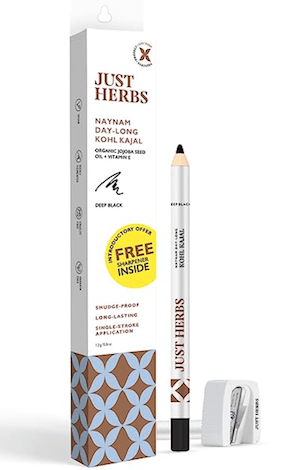 Just Herbs Organic 2 in 1 Long Lasting, Pigmented & Waterproof Kajal, Eyeliner Pencil With Sharpener, Vitamin E, Castor Oil for Smudge Proof 12hrs Long Stay (Deep Black)
Link to Buy – https://amzn.to/44CZA7v
Experiment with Winged Liner: Extend your kajal slightly at the outer corners of your eyes to create a subtle winged liner effect. This adds a touch of elegance and can be easily achieved with a steady hand and a fine-tipped kajal pencil.
Smudge for a Smoky Look: If you want to achieve a smoky eye effect, use a smudging brush or a cotton swab to smudge the kajal along the lash line. This softens the line and creates a smoldering, sultry look.
Enhance with Eyeshadow: Pair your kajal with complementary eyeshadow shades to enhance your eye makeup. Apply a neutral or vibrant eyeshadow on your eyelids and blend it seamlessly with the kajal for a cohesive look.
Highlight the Inner Corner: Dab a touch of shimmery eyeshadow or highlighter on the inner corners of your eyes to brighten them up. This helps make your eyes appear more awake and adds a subtle glow to your overall look.