The perfect natural cleansing, toning and moisturizing skin care regimen for smooth, glowing, clear and beautiful skin!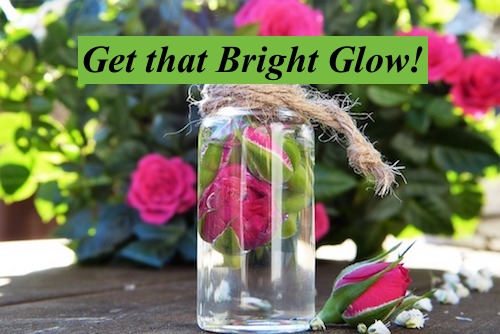 1.Cleanse
Ingredients – Oats Powder, Milk or Curd 
Combine 1 tsp of oats powder with milk if you have dry or sensitive skin and curd if oily, combination or acne-prone skin.First wash your face with warm water to open up your pores.Apply the paste onto damp skin and massage in a circular motion for a minute.Wash off with cool water and pat dry with a soft towel.
Benefits 
This face wash gently and thoroughly clean skin and remove deep seated impurities.The minerals in oats lightens the skin tone, fades spots and milk keep skin soft and clear without drying.
2.Tone
Ingredients – Rose Water and Glycerin
Combine 3 tablespoons of rose water with 1/2 tsp of glycerin.Moisten a cotton ball with this solution and dab it on your face and neck.
Benefits 
Rose water balances and restores skin's pH level and helps tighten pores.Glycerin acts as an emollient that keeps  your skin not only moist, but soft and supple to touch.
3.Moisturize
Ingredients – Rosehip oil and Sweet Almond Oil or Coconut Oil
Take 1 tbsp of sweet almond oil in your palm and add 1/2 teaspoon of rosehip oil.Mix well and massage onto slightly damp skin.
Benefits 
Rosehip oil helps treat different signs of aging and pigmentation, hydrate, moisturize and repair damaged skin, and gives you an even skin tone.The astringent properties in it help tighten your pores and brighten your skin.Sweet almond oil is enriched with vitamin e and fatty acids that keeps your skin cells healthy, protects your skin from UV radiation damage and keeps your skin bright and glowing.