Nails are your best accessory.They express femininity and fashion. Don't let those beautiful nails go unnoticed this summer.Try out some of these amazing nail designs that will dazzle up your everyday look and will make you stand out from the crowd.
10 Easy Nail Art Designs to Rock this Summer
Summer Bubble Nail Art Design
This is one of the simplest and coolest bubble nail art designs for the summer.To get this nail design, begin with a thick layer of white base coat on each nail and then make some random circles (big & small) with any two favorite colors of your choice.Finally, drop a white nail polish on the bigger circles and then seal it with a clear top coat.
Ocean Blue Brush Marbling Nail Art Design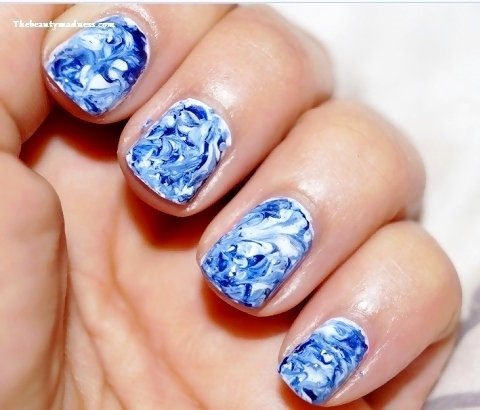 If you are getting ready for a summer beach party or a pool party then you must undoubtedly get this trendy brush marbling design on your nails.To start off, paint your nails with white color and leave to dry completely.Put a drop of blue and white polish on your nail and swirled it with a fine brush, repeat this procedure until the entire nail is covered.Finish off with a clear glossy top coat.
Random Nail Polish Drops
A modern and very attractive summer nail art design that can be achieved in merely 30 seconds by placing uneven, random dots over a bright color orange base coat.Once done, seal it with a clear top coat.
Metallic Blue & White Dotted Nail Design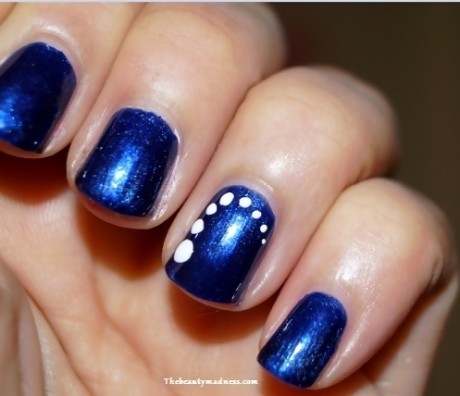 This nail art will surely grab everyone's attention.To get this nail design paint your nails with a metallic blue color and then follow the one side of your nail with a row of dots (decreasing in size) as you move down.
Easy Ombre Dot Nail Art Design
Ombre nails created out of fresh pastel colors are the classic look for the summer.To create this nail design first, coat your nails with a white base coat and then with the help of a sponge create the ombre effect.Finally, add some black dots to the nails and seal it with a clear top coat.
Alternating Nail Art Design
If you're new to nail art, the best thing to start this summer is with the alternating nail art pattern.You can achieve this by using alternating colors on each nail.To make it more interesting and catchy, paint one nail with white polish and top it with colorful dots.
Simple Block Nail Design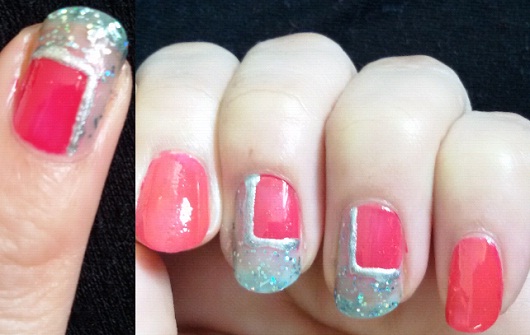 Red nail polish is a timeless beauty trend.if you have a lovely red dress why not pair it with some geometric designs like this.
Bright Yellow Floral Nails for Summer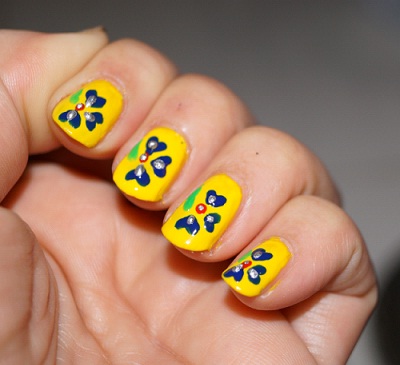 Floral prints are never out of style.They define glamor and softness.You don't have to use any special tools to achieve this nail design.To create the petals, place 2 dots and drag towards the center with the help of a toothpick.Finish it off by adding some tiny silver dots on the petals and a green leaf.
Blue Gradient Glitter Nails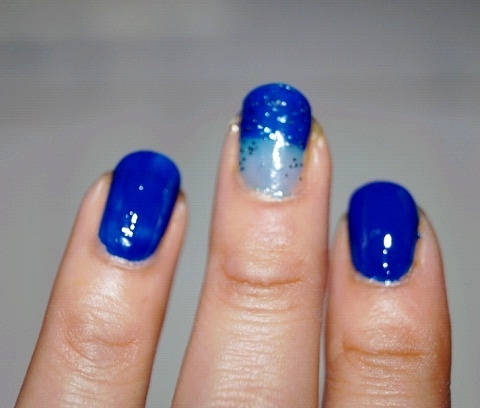 Add a bit of glam to your party outfit with this gorgeous glitter blue gradient nails.Use 3 different shades of blue color polish and with the help of a sponge, blend into each other for that gradient effect.Finally, apply a layer of glitter nail polish.
Colourful Polka Dots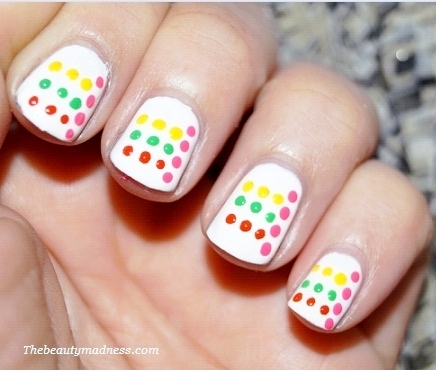 Polka dots make your nails look cute and fabulous in seconds. These dots can be drawn easily with the help of a toothpick, bobby pin or dotting tool.Use bright or neon colors for making the polka dots.This nail design complements almost every summer attire.