How to Get Rid of Dark Neck
Struggling with your discoloured, dark neck? Poor hygiene, prolonged sun exposure, diabetes, obesity are some of the major factors that cause discoloured, dark patches and pigmentation around the neck.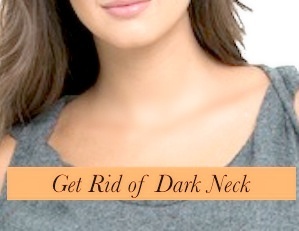 These pigmented and dark, discoloured patches can spoil the look of your neck and can shake your confidence.Here are the 8 effective and instant fixes to overcome dark neck plus some tips to prevent dark neck in the future.
8 Instant Remedies & Tips to Get Rid of Dark Neck Fast
1.How to Lighten Dark Neck Instantly with DIY Lemon Bleach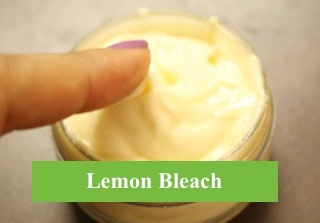 You need
1/4th of Lemon Slice

2 Tbsp of Milk Powder

1 Tsp of Olive Oil
Blend milk powder with olive oil and freshly squeezed lemon juice to obtain a smooth consistency.Keep in the freezer for 10 minutes, until chilled.Apply and wipe off after 15 minutes with a cotton soaked in cold water.The blend of lemon and milk powder work wonder in lightening dark neck and olive oil moisturizes and softens neck roughness.
2.How to get rid of Dark, Discoloured & Pigmented Neck with Tomato Scrub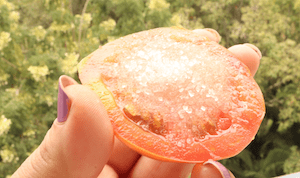 Too much sun exposure can cause overproduction of pigment melanin and can result in dark, discolored patches and pigmentation around the neck.To get rid of this problem, slice a chilled tomato into two equal halves, sprinkle some sugar on top and rub for 2 minutes, let it sit until it dries completely and then wash off with cool water.The high amount of vitamin c in tomato brightens dark skin, the antioxidant lycopene eliminates discolored and pigmented neck.
3.Aloe Vera Dark Neck Whitening Moisturizer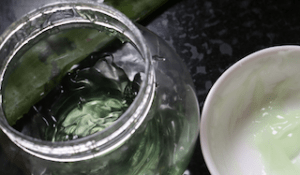 Smooth and lighten dark neck skin with homemade aloe vera whitening moisturizer. Mix equal amount of aloe vera gel with cucumber juice and a few drops of vitamin E oil. Moisturize your neck with this concoction after every bath.This thoroughly removes the tan from neck and using this on a regular basis gradually and gently lightens the skin tone.It also keeps the area moist, supple and glowing.
4.Potato Juice to Brighten Dark Patches on Neck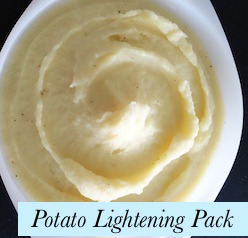 Potato juice can be extremely useful in eliminating dark neck.It has a powerful enzyme called catecholase, which poses mild bleaching properties. Grate a potato, squeeze the grated potatoes to extract the juice out, add a tbsp of chickpea flour or wheat flour and a tbsp of sour curd.Place in the refrigerator for a few minutes and apply chilled.Gently remove the pack by scrubbing with a moist towel.Rinse off with cool water.You can also apply this pack on dark knees and elbows to lighten it.
5.How to get rid of Dirty Neck with Masoor Dal Pack 
Masoor dal is a great skin exfoliator and lightener too.It effectively removes tanned, dead skin cells and the vitamins and minerals nourish the skin. Soak 1/4th cup of masoor dal overnight.Place the soaked masoor dal in the mixer, add some buttermilk, a spoonful of honey and grind to get a fine paste.Apply this pack 10 minutes before taking a bath.You will begin to see a tremendous difference after using this method.
6.Papaya & Turmeric Massage Cream to Get of Rid of Dark Spots and Dark Lines on Neck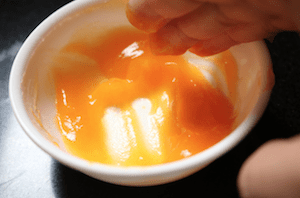 Papaya is an outstanding source of vitamin A, C, and enzyme that help exfoliate dull skin layers and brightens neck instantly.Blend 2 tablespoons of papaya with 1/2 tsp of turmeric until smooth.Apply and massage for 2-3 minutes. Let it sit for 10 minutes and rinse off with cool water.This homemade treatment not only lightens dark discolored lines and spots on the neck but also gives a smooth and even-toned look to the neck.
Here is a Quick Video "How to Get Rid of Dark Neck in 20 Minutes"
7.Cucumber for Soothing & Lightening Dark Tanned Neck
Cucumber is known to have soothing, cleansing and refreshing properties.It also has a slight bleaching action that fades discolored patches and tanned neck.Grind 1/2 cucumber along with the peels in the food processor.Add 2 tsp of sandalwood powder and mix well.Apply a thick layer of this paste on your dark neck and after 30 minutes rinse off with cool water.It gives a youthful, fresh glow to your neck.
8.Orange Peel Restoring Pack For Whiter & Smooth Neck 
Grind 1/2 cup of oatmeal with fresh orange peels to achieve the desired consistency.Rinse your neck with lukewarm water and apply this paste.Let it dry completely.Wet your fingers and scrub gently for a minute, wash off with cool water.Vitamin C in orange peels help maintain a healthy and brighter skin and oats effortlessly removes the upper dull skin layers, restore smoothness and whitens dark neck.
8 Simple Tips to Prevent Dark Neck
Always apply a generous amount of sunscreen at least with SPF 15 or SPF 30 to neck areas before stepping out of your home.
Before using exfoliating body washes or shower gels, soak your body in warm water for 5 minutes to open up the pores in your skin and then gently exfoliate the neck with a loofah or bathing sponge.Follow this every time before taking a bath to dissolve the dead skin cells, dirt and grime on the neck and to reveal smooth and lighter neck.
Severe itching or scratching also causes black neck.To eliminate this problem, add a few drops of tea tree or neem or rosemary essential oil to a mug of cool water and use this as your final body rinse after showering.
Moisturize your neck twice daily, especially when getting out of the shower to keep that area soft, hydrated and nourished.
Excessive sweating also causes dark neck, so in order to avoid this dust some baby powder, arrowroot powder or sandalwood powder on the neck.
Avoid tight-fitting collar shirts and dark shirts that can cause friction and sweating leading to darkening of the skin around the neck.
Diabetes is also one of the main causes of dark neck, so avoid sweets, salty, excess oily and starchy foods.
Vitamin deficiency can cause pigmentation on the neck and change in skin color.Consume foods rich in Vitamin A and C to improve the overall skin health.