Beautiful soft pink lips, enhance your physical appearance, makes you feel confident and creates a more beautiful smile.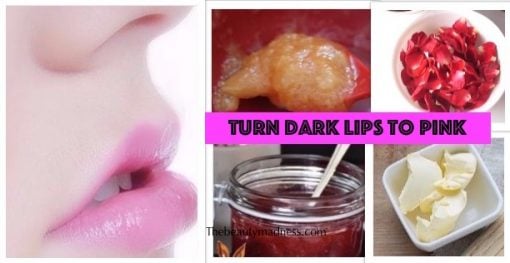 If you are suffering from dark, rough and chapped lips and looking for some super fast ways to flaunt naturally smooth, youthful and pink lips then follow these 15 simple lip care tips and remedies.
15 Natural Tips to Turn Dark Lips to Pink Lips Naturally| Lighten Dark Lips Fast
1.Refresh Your Lips
Make a routine to rinse your lips with cool water for that soft, refreshing, plump and healthy lips.To give a natural pink glow to your lips regularly clean your lips with rose water.
2.Use a Lip-Friendly Balm
Choose a lip balm that is labeled organic or at least uses all-natural ingredients.Look for products that contain Shea butter, cocoa butter, beeswax, natural oils and zinc oxide to protect lips from the harsh UV rays.Avoid lip balms that have hyaluronic acid, artificial colors, and fragrance, menthol, salicylic acids, alcohol, and parabens.These ingredients can cause lip dryness, irritation, and swelling.
3.DIY Natural Enzymatic Lip Scrub For Youthful Pink Lips
You Need
Ripe Papaya Pulp – 1 Tbsp

Brown Sugar – 2 Tsp 

Honey – 1 Tbsp
Mix all the ingredients together and every alternate day, exfoliate your lips with this mixture for 2 minutes.This removes the dead, flaky skin cells, the darkness of your lips and helps reveals smooth, fresh, youthful pink lips.You can store this scrub for about 4 to 5 days in the refrigerator.
Also, Check Out: Amazing Remedy to Get Soft, Lustrous & Naturally Pink Lips in 5 Days
4.Turmeric Massage To Remove Dark Spots on Lips
If you have dark spots or dark lines on your lips, then apply a paste of fresh milk cream mixed with some turmeric powder for 10 minutes.Wipe off with warm milk and massage a tiny amount of lip balm.
5.Boost the Color Of Your Lips Naturally
Juice of pomegranate or beetroot can also be used to lighten the dark color of your lips and for a lovely natural pink color.Simply mix 2 tsp of fresh beetroot or pomegranate juice to a tsp of vitamin e oil and massage this mixture on your lips.Using this regularly encourages pink, shiny and kissable lips.
6.Choose the Right Lip Product
Avoid lip products that contain parabens, lead, aluminum, heavy metals, synthetic dyes, synthetic fragrance, benzene derivatives and synthetic waxes.Even avoid lipsticks or lip gloss that are too matte or that contains excess shimmer as they can irritate sensitive lips and can cause lip dryness.
7.Shea Butter (Super Lip Moisturizer)
Massaging a little amount of unrefined Shea butter at night before bedtime can leave your lips soft, smooth, moisturized and pink.Shea butter is filled with vitamin A, E, and antioxidants that protect, soothe dry lips and makes your lip appear shiny and plump.
8.Use Branded Lipstick
Always use branded lipstick with a superb moisturizing formula and also make a habit to wipe off the lipstick before going to bed.
9.Stop Biting or Licking Lips
Avoid biting or licking your lips as it damages the protective layer of your lips and results in cracking, peeling and wrinkles on lips.
10.Apply Crushed Rose Petals
Soak 2 to 3 rose petals in water for 30 minutes.Crush the rose petals using a mortar, add a dollop of raw honey and apply on your lips.Let it sit for 10 minutes and then wipe off with rose water.It softens and heals cracked lips, and help muddy lip turns naturally pink.
11.Protect Lips from Sun Damage
Lip lacks melanin, so they are more susceptible to sun damage. Applying a super hydrating, deep moisturizing lip balm with broad spectrum SPF 15 or higher just 10 minutes before going out in the sun can prevent lip discoloration and wrinkles.
12.Lemon to Lighten Discolored Lips
To get rid of discolored lips, scrub your lips with some lemon ridges for a minute.Wash off with cool water and massage a tiny amount of lip balm.
13.Desi Ghee Natural Lip Softener
Another good way to get soft, lustrous and pink lips naturally is to massage your lips with warm desi ghee mixed with a few drops of olive oil or almond oil once in a day.It makes them feel fuller, healthier and younger.
14.Check Cosmetic Expiration Date
Never use expired makeup products on your delicate lips.It can cause swelling, extreme dryness and serious infection on the lips.
15.Keep Yourself Hydrated
Drink plenty of water at least 8 to 9 glasses a day.Hydrating from inside will prevent lip dryness and chapped lips.