Top 5 Marigold Face Pack Recipes
Marigold is an age-old remedy for treating acne, pimples and for keeping skin clear, fresh, fair, glowing and youthful.Its powerful anti-inflammatory, antiseptic and antibacterial qualities have been used for centuries to ease rashes, heal wounds, and skin infections.Marigold contains numerous anti-aging compounds that are said to enhance the production of collagen in the skin and to smooth out facial lines and wrinkles.
Let's peep into some of the Best Marigold Face Pack Recipes to help you achieve beautiful skin.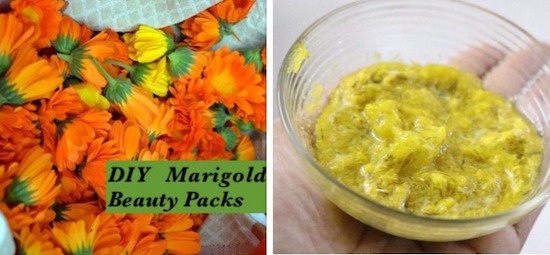 1.Marigold Anti-Aging Beauty Pack
Marigold contains numerous antioxidant carotenoids and vitamin C that help fights existing wrinkles and protects skin from free radical damage and environmental pollution.
Ingredients:
1/2 Cup of Marigold Petals
1/4th Cup of Diced Papaya
2 Tsp of Honey
2 Tsp of Rose Water
Place all the ingredients into the food processor and grind to get an even paste.First, massage your face with this paste for 1 minute, apply some more and leave on till it dries completely. Rinse off with lukewarm water.This marigold pack erase fine lines and promotes youthful skin.
Also, Check Out this Video: Clear Skin in 10 Minutes with Secret Aloe Vera Pack
2.DIY Marigold Anti-Acne Mask
The marigold flower extract is proven to be a natural cure for acne because of its strong antiseptic, anti-inflammatory, antibacterial, and astringent qualities.Here is a simple homemade marigold recipe to help you discover a clear, flawless and acne-free skin.
Ingredients:
Marigold Flower – 1 nos
Besan Flour – 2 tbsp
Neem Powder – 1 tbsp
Ice Cold Water – 1/4th Cup
Take a handful of fresh marigold petals and wash them thoroughly with filter water.Place the marigold petals into the mixer, add besan flour, neem powder, and some ice cold water.Grind to get a fine paste.Wipe your face with lukewarm water and apply this paste.Leave on for 15 minutes and then rinse off.Use this mask twice in a week for noticeable results.
3.DIY Marigold Skin Fairness Face Pack
Marigold has natural skin toning and soothing properties that lead to skin lightening and reducing sun tan and uneven skin tone.
Ingredients:
Marigold Flower – 1 nos
Milk – 1/4th Cup
Turmeric – 1/2 tsp
Kaolin Powder – 2 tsp
Soak washed marigold petals in milk for 15 minutes. Grind the soaked marigold petals along with the milk, kaolin powder, and turmeric to a fine paste.Apply onto clean face and once it dries completely wash off with cool water.This simple marigold face pack nourishes skin and grants instant fairness and glow.You can use this pack twice or thrice in a week.
4.DIY  Marigold Instant Glow Pack
Make your dull skin smooth, healthy and glowing with this homemade marigold pack.
Ingredients:
1/2 Cup of Marigold Petals
5 Tsp of Rose Water
1/4 th Cup of Peeled Apple Slices
Grind all these ingredients together and apply a thick paste on your face for 15 minutes.Wash off with cool water and then rub an ice cube for 1 minute.It gives a dreamy, natural glow to the skin, improves facial complexion and lightens spots.
5.DIY Marigold Clear Skin Mask
Marigold is probably one of the best herbs for treating dark spots, pimple marks, and pigmentation.This marigold mask helps remove surface impurities, reduces blemishes and promotes crystal clear and smooth skin tone.
Ingredients:
Marigold – 1 nos
Aloe Vera Gel – 4 tsp
Sandalwood Powder – 2 Tsp
Lemon Juice – 1 tbsp
Wash the flower petals thoroughly with filter water.Place the marigold petals, aloe vera gel and sandalwood powder into the food processor and grind until you get a fine paste.Mix freshly squeezed lemon juice and apply on face.After 15 minutes, wash off with cool water.Follow this twice in a week for best results.