4 Oatmeal Scrubs For Smooth Glowing Body & Fairness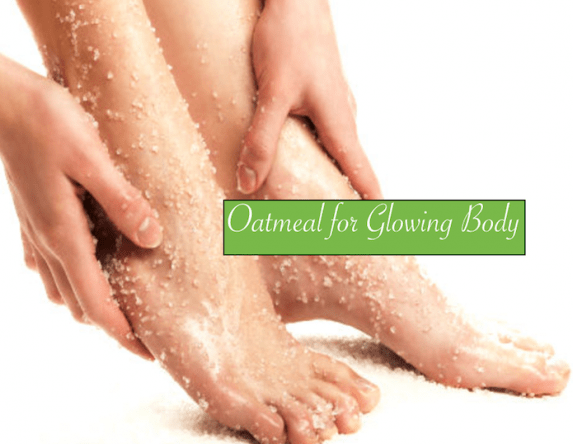 Homemade Oatmeal scrubs are remarkably effective in cleansing, moisturizing, softening, healing and brightening skin.Due to its powerful anti-inflammatory properties, oatmeal is highly effective in treating body acne and for soothing sensitive skin. Oatmeal helps in improving the skin glow, smoothness and texture because of its creamy nature and exfoliating properties.
1.Creamy Oatmeal Yogurt Scrub 
This creamy oatmeal, yogurt enriched scrub rejuvenates and exfoliates dull skin while giving the moisturizing minerals and brightening vitamins, it needs.The lactic acid in yogurt works as a natural skin lightener and eliminates body acne and wrinkles.
Ingredients
2 Tablespoons of Finely Ground Oatmeal 
1 Tablespoon Brown Sugar
3 Teaspoons Yogurt
2 Teaspoons of Honey
Combine all the ingredients together in a small bowl.Apply this paste 10 minutes before you take your shower.Once it has dried, slowly rub it off to get a smooth, glowing, fairer and moisturized skin.
2.Whitening Oatmeal Lemon Body Mask-Cum- Scrub 
This oatmeal lemon scrub is extremely good for banishing body blemishes, for treating uneven skin tone, removing unpleasant tan and for brightening and whitening a dull, rough skin.
Ingredients
3 Teaspoons of Finely Ground Oatmeal 
2 Teaspoons Lemon Juice
1 Tablespoon Milk Powder
2 Teaspoons of Lukewarm Water
Mix all the ingredients together to get a smooth paste.Apply the paste onto slightly damp skin and after it has dried completely, scrub gently for a minute.Rinse off with cool water.This grants a healthy white glowing and spotless body.
Full Body Skin Whitening Miracle Method | Natural & Safe Skin Whitening Scrub

3.Oatmeal-Turmeric Fairness Scrub
This oatmeal scrub aids in lightening and erasing scars, pigmentation, patchiness and in improving overall skin health and fairness.Turmeric present in this scrub prevents the formation of melanin, lightens skin tone, and protects skin from environmental damage.
Ingredients
2 Teaspoons of Finely Ground Oatmeal 
1/2 Inch Fresh Turmeric Root 
2 Tablespoons Milk Cream
Blend all the ingredients together, and then rub over damp skin in the shower for 2 minutes.This cleanses, moisturizes and exfoliates your skin, provides you with instant radiance and fairness and keep your skin baby soft.Use this regularly for a week to see visible results.Store the leftovers in the refrigerator and use within 3 to 4 days.
4.Oatmeal-Sandalwood Body Bleach Scrub
Refine your skin and leave it fresh, glowing, lighter and smooth with this luxurious oatmeal body bleach scrub.This scrub evens out skin tone by getting rid of dark patches, especially in areas prone to darkening such as the thighs, knees, elbows, underarms and butt.The natural skin bleaching agents in this oatmeal scrub fade tan and speed up the whitening process.
Ingredients
2 Teaspoons of Finely Ground Oatmeal 
1 Tablespoon Sandalwood Powder
4 Teaspoons of Fresh Orange Juice
2 Drops of any Citrus Essential Oil (Optional)
Mix all ingredients together and store in an airtight container.First, wash your body with lukewarm water.Apply the body scrub all over the body while using gentle, circular motion.Leave on for 5 minutes and then rinse off with cool water.Apply some body lotion.