10 Best Day Creams Available in India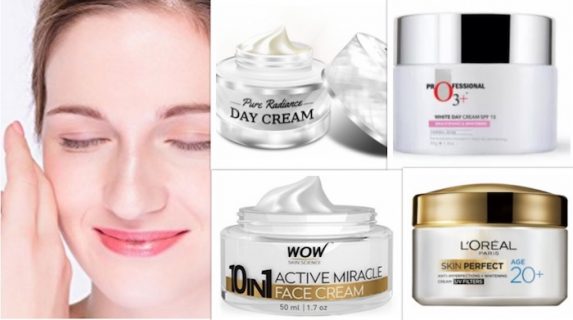 Day creams are one of the most important elements of your skin care regimen and you just can't skip them.They are designed to protect your skin from the daily toxins in the air everyday that causes a multitude of skin problems.
The skin care world is a vast, having so many makes it hard to  even think about what could be the best product for our skin.For your convenience, we are sharing the 10 best day creams based on review and lots of reliable information so that you could make the best choice and get desirable results!
1.L'Oreal Paris Skin Perfect Day Cream for Age 20+, 30+, 40+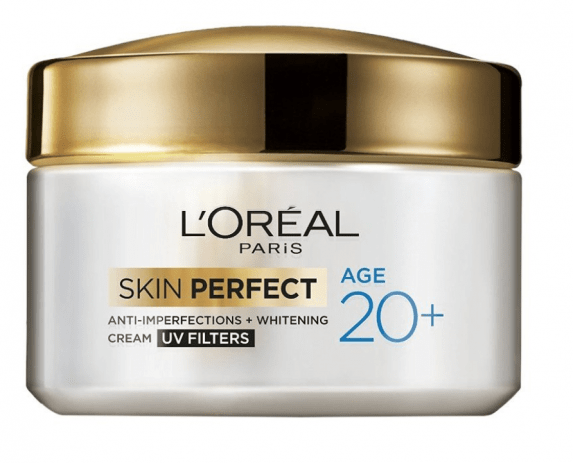 Buy Now –  Loreal Paris Skin Perfect Day Cream
A powerful combination of Vitamin B3, Vitamin C and Vitamin E. It helps the skin in its production of youth-enhancing collagen delivers anti-wrinkle and skin firming benefits, along with deep whitening actives that work on improving skin tone to give you healthy, flawless, even looking skin tone at any age.Considering its moisturising capabilities, it easily absorbs into the skin leaving it feeling soft and hydrated.Targeting specific age groups, this range focuses on skin correction and imparts fairness from within.
Best Suited for Skin Type – For All Skin Types
2.Ponds Flawless Radiance Derma + Moisturizing Day Cream SPF 30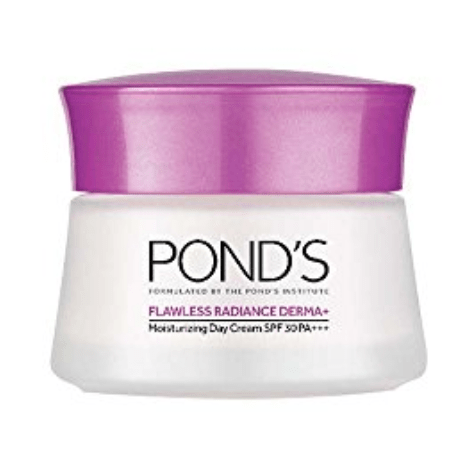 Buy Now – Ponds Flawless Radiance Day Cream
This is one of the very best day cream to boost your skin radiance.It combines six ingredients, including two powerful bio-actives Vitamin B3 and Hexyl Resorcinol, to give you flawless skin.It deeply moisturises the skin and corrects skin imperfections.This cream is designed with high sun protection of SPF 30 pa+++ to give you complete protection against UV and free radical damage.It contains a patented Derma ingredient that is clinically proven to boost your skin's cellular energy and reduce spots, tighten pores, brighten skin to help you unlock flawless skin.
Best Suited for Skin Type – Normal, Sensitive, Combination & Dry Skin Type
3.WOW 10 in 1 Active Miracle Day Cream with SPF 15 PA++ and Infused Shea and Cocoa Butter, Hydrolysed Collagen, Vitamin E, C and B5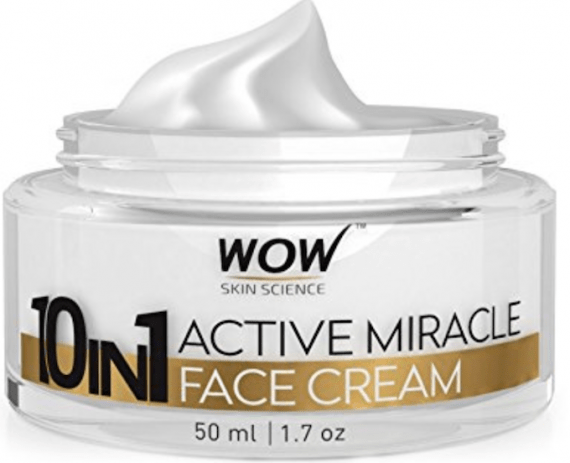 Buy Now – Wow Active Miracle Day Cream
WOW 10-in-1 active miracle day cream moisturizes, nourishes, boosts facial glow, minimizes environmental damage and repairs everyday skin damage to visibly reduce sign of aging.Enriched with 10 premium, clinically proven and biocert certified bioactive that work together to give your delicate and damage prone facial skin supreme level care.The fast-action formula starts reducing wrinkles, fine lines, firms skin and gives your skin an Ageless Glow in few days.I must say, from my personal experience this is one of the best day creams available in India.
Best Suited for Skin Type –  For All Skin Type except Sensitive skin.
4.Biotique Bio Saffron Dew Youthful Nourishing Day Cream For All Skin Types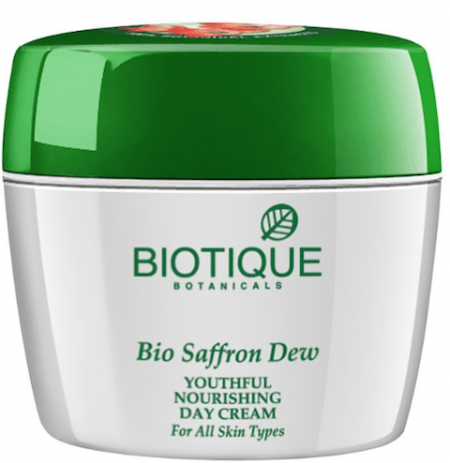 Buy Now – Bio Saffron Youthful Day Cream
This light-feeling cream is blended with the goodness of Pure Saffron, Almond and Pistachio oils, as well as Turmeric and Wild Turmeric extracts, to replenish and help sustain skin's dewy fullness of youth.The presence of saffron enhances skins natural fairness and the nourishing oils in it removes dry lines and wrinkles and fights premature ageing.
Best Suited for Skin Type – For All Skin Types, except Oily & Acne-prone skin.
5.St.Botanica Pure Radiance Day Face Cream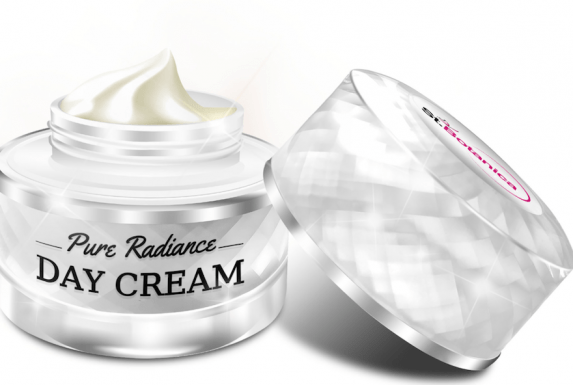 Buy Now – St.Botanica Pure Radiance Day Face Cream
This is a luxurious vitamin-rich, day cream to add radiance and shine to your dull complexion.The cream increases skin vitality and adds a youthful looking radiance to the complexion.The skin beautifying Vitamins C, A and E, B3, B5, along with phytonutrients and antioxidants help activate the skin, fights different signs of aging, skin discolouration, spots and provide an energy boost.It helps strengthen the skin's natural defenses and gives the complexion a more youthful glow and fresher, smoother appearance.The presence of shea butter boost hydration levels, speed cell turnover, restores lost elasticity and ensure long lasting moisturizing all day long.
Best Suited for Skin Type – For all Skin Types.
6.Plum Chamomile & White Tea Sheer Matte Day Cream SPF 50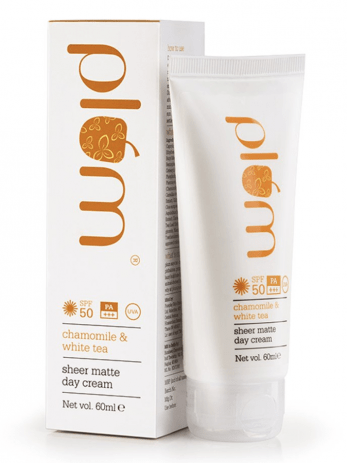 Buy Now – Plum Chamomile White Tea Matte Day Cream
"Wow, I love this stuff.Finally, a matte day cream with SPF 50 & moisturising benefits that does not leave white patches on your face.Rich in antioxidants, anti-ageing properties, anti-inflammatory and antiseptic properties it fight the early signs of ageing like fine lines, wrinkles and dryness of skin, reduce skin irritants by neutralising free radicals and helps the skin fight oxidative damage that results from sun exposure.This paraben free cream stays matte for up to 6 hours and makes your skin look fresh, bright, clear and smooth.
Best Suited for Skin Type – All Skin Types except Sensitive Skin
7.

Himalaya Herbals Clear Complexion Whitening Day Cream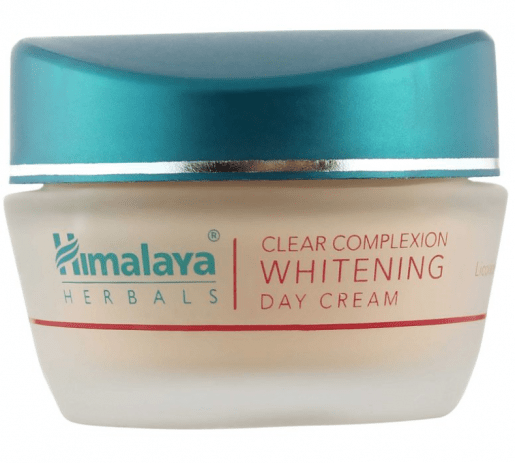 Buy Now – Himalaya Clear Complexion Whitening Day Cream
It's a good all-round day cream suitable for many skin types.It's a lightweight cream that's easy to spread, sinks in quickly without leaving your skin feeling greasy.Enriched with unique herbal extracts it hydrates skin, lightens skin tone and gives you a clear complexion.
Best Suited for Skin Type – For All Skin Types
8.Lakme Absolute Perfect Radiance Skin Lightening Day Creme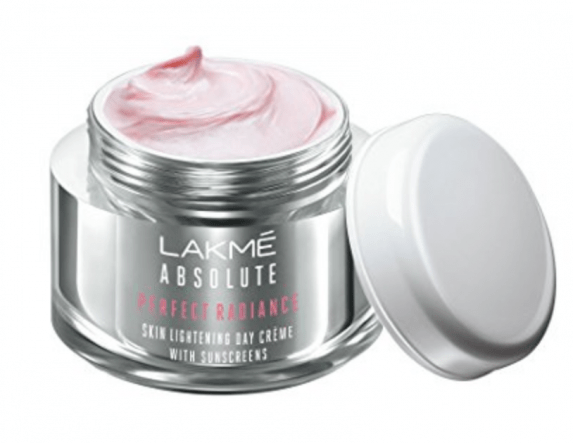 Buy Now – Lakme Absolute Skin Lightening Day Creme
If you wish for a skin that has a spotless and illuminating glow, then this is the perfect cream formulated just for you.Enriched with precious micro crystals and skin lightening vitamins, it gently polishes your skin, brightens your face and gives you an instant fair and radiant, younger look.This moisture rich, ultra-light cream melts into your skin with a silky feel.It SPF 30 it protects your skin from sun damage, prevent dark spots, blemishes and breakouts.
Best Suited for Skin Type –  For All Skin Types, except Oily & Acne-Prone Skin.
9.Aroma Magic Vitamin C Day Cream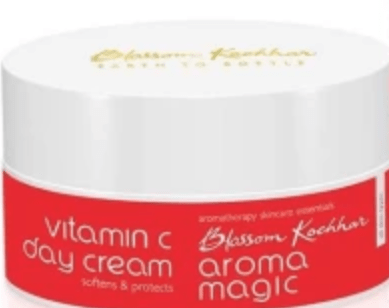 Buy Now – Aroma Magic Vitamin C Day Cream
If you are looking for a light non-greasy herbal day cream free of petrochemicals, phthalates, toxic ingredients, artificial fragrance and colour then this product is worth trying.Packed with natural source of vitamin c it strengthen the skin's upper layer, rich in minerals and natural enzymes helps in skin hydrating and skin lightening and with the powerful blend of nourishing essential oils and natural oils it offers optimum sun protection leaving skin soft, smooth and glowing.
Best Suited for Skin Type –  For All Skin Types
10.O3+ White Day Cream SPF 15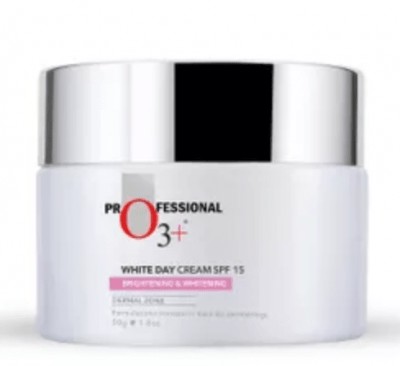 This day cream works best for dry, dehydrated, mature and pigmented skin.O3+ White Day Cream is enriched with nutrients that reduce skin pigmentation and enhance skin tone.It protects your skin from both UVA & UVB damage.It hydrates and nourishes the skin without clogging pores and leaves skin smooth and silky.
Best Suited for Skin Type – Dry, Normal and Pigmented Skin Type
So these were the list of 10 best day creams to nourish, protect, moisturise and brighten your skin.