Are you suffering from severe hair loss? Do you feel frustrated to watch those little clumps of hair falling out after a head bath or stuck in your comb brush? Hair loss is a common problem that is seen in both men and women.But nowadays, it's more common in teenagers.Poor diet, unhealthy habits, busy lifestyle, hormonal disorder and pollution are some of the major factors that contribute hair loss.But don't worry whatever may be the issue these 5-Day treatment will solve all your hair problems and help fight hair loss.This treatment will also help you achieve super soft, smooth and gorgeous hair.
How to Test that you are Suffering from Hair Loss
Grab hold of a bunch of hair from the base (nearly 70 strands of hair) and then gently pull towards the ceiling.Count the number of hairs that comes out with the pull, if you have more than 3 hairs then you are suffering from hair loss/hair fall.
Day 1  – Give a Hot Oil Treatment
Start your first day with a nourishing hot oil treatment.You can take the combination of any two hair oils from the following list that includes jojoba oil, olive oil, coconut oil, argan oil and almond oil.All these hair oils contain a high amount of fats and vitamin E that are essential to unveil stronger and healthy hair.Slightly warm the oil and deep massage the oil into your hair and scalp.Take a soft towel, soak in warm water and squeeze the excess water out. Cover your hair with this towel and leave for 5 minutes.Remove the towel and leave the oil in your hair overnight. Hot Oil Treatment encourages hair growth, reduce baldness and stops hair fall.
Day 2 – Clean Using Biotin Shampoo and Conditioner (Try Org Thick and Full Biotin and Collagen Shampoo, 385ml
 and Thick & Full Biotin & Collagen Conditoner 385 ml
)
Choose mild shampoo and conditioner to wash your hair.Look for shampoos and conditioners that are enriched with biotin, they are remarkably beneficial in reversing hair loss.Follow the right way to wash your hair.First, rinse your hair with warm water to open up the cuticles so it is easier to clean dust, impurities and greasy product build up in your hair follicles.Take a small amount of shampoo and lather your hair from roots to ends.Do not scratch or rub vigorously.Just massage gently for 1 minute and then rinse your hair with lukewarm water.Now take a small amount of conditioner and run your fingers through your hair.Let it sit for 10 minutes.Rinse you hair with cold water to close the pores, and seal in moisture to your scalp.
Day 3 – Try Homemade Deep Conditioning Protein Mask
Hair coloring, styling gels, straightening irons or hair drying machines break down the natural hair proteins thus making your hair brittle, weak and rough.A deficiency in protein can contribute to hair loss.Your hair needs proteins to promote healthy hair growth.A deep conditioning protein treatment mask can restore the protein deficiency and repair damaged hair.
Recipe to Prepare Hair Restorative Protein Mask
Raw Milk – 1/2 cup

Ripe Banana Mashed – 1/2 cup

Egg Yolks – 2

Honey – 3 Tbsp

Aloe vera gel – 2 Tbsp
Place all the ingredients into the blender and blend until you get smooth creamy consistency.Apply a thick coat of this paste onto your slightly wet hair and cover your hair with a shower cap.Leave for about 30 minutes and then rinse with cold water followed by a mild conditioner.Do not use shampoo.Loaded with proteins and healthy nutrients this hair mask deep penetrates into your hair follicles, intensely moisturizes damaged hair, fight hair loss and leaves your hair softer, smoother and glossy like never before.
Day 4 – Apply Hair Reconstructing Amla pack
Reconstruct and strengthen your hair with this homemade amla hair pack.To prepare this amla pack, soak half cup of amla powder in a cup of hot water overnight.In the morning, add 3 Tbsp of fresh yogurt and 2 Tsp of hibiscus powder to this amla paste.Wet your hair with lukewarm water and then apply the pack.Leave for 20 minutes and then rinse with cold water.This hair pack keeps dirt, pollutant and oil under control, prevent hair fall and hair graying and promotes shine and volume to your hair.
Day 5 – Quench Dryness with Nourishing Pumpkin & Mustard Seed Oil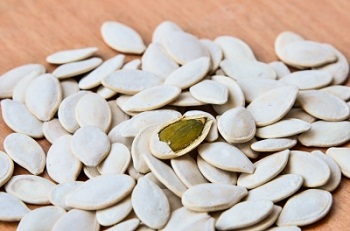 Image courtesy of niamwhan at FreeDigitalPhotos.net
Last day nourish and revitalize your hair with pumpkin and Mustard seed oil (Try Crysalis Pumpkin Seed Oil ).Mix equal amount of pumpkin seed oil and mustard oil and massage onto your hair and scalp.Leave-in for 2 hours before rinsing your hair with conditioner.Pumpkin seeds are notably good source of the mineral zinc, iron and copper which are essential for stimulating hair growth and reverse hair loss.Mustard seed oil is high in selenium, zinc, iron, fatty acids and protein that makes hair stronger, shiny and cure alopecia.
Some Other Highly Beneficial Tips to Stop Hair Loss/ HairFall
1.Do the nail rubbing exercise for 5 minutes twice a day.It improves blood circulation on the scalp, triggers hair growth and stops hair loss.
3.Drink plenty of water to keep your scalp hydrated and shiny.
4.Add whole roasted, unshelled pumpkin seeds to your regular diet.They are high in zinc and iron that stops hair loss and controls hormonal imbalance which is the main cause of hair fall.
5.Take 1 Ashwagandha capsule every day in the evening.Ashwagandha controls hair fall, prevents balding and premature hair graying.
6.Drink a glass of fresh bottle gourd juice or alternatively you can drink a glass of fresh aloe vera juice with honey every morning on an empty stomach to stop hair fall.
7.Sleep better, avoid stress and stay happy 🙂