5 Avocado oil Beauty Hacks That Everyone Should Know!
Avocado isn't just a delicious, healthy fruit, but it's also a remarkable skin care ingredient.It has healthy fats, vitamin E and nourishing properties and is considered to be one of the best moisturising oils for the skin.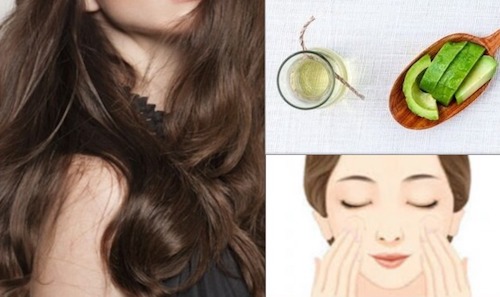 1.Fight wrinkles
After cleansing your face, pour a good amount of cold pressed undiluted avocado oil on your palm and a drop of rose essential oil.Apply it to your skin and gently massage concentrating to the dry and wrinkled areas.Avocado oil massage eliminates age spots, fine lines and tighten skin, thus making you look younger and radiant.
2.Frizzy & lustreless hair
After washing hair with shampoo, apply 2 to 3 drops of avocado oil to the fingers and then run the fingers through the hair from root to tip.Avocado has natural fats that nourish your hair, softens and makes hair manageable and shine.
3.Dry skin
Avocado oil is thick and heavy, it functions perfectly as a skin moisturiser for dry and damaged skin.Combine equal amount of avocado oil and honey and use it as a 20 minute moisturizing mask.After leaving for a short time, rinse out the mask with warm water.Instantly relieves skin dryness, keep the skin supple and promotes skin glow.
4.Eliminate Stretch marks
Avocado oil is pretty good in removing stretch marks. Using Avocado oil can help stimulate the production of collagen in the skin, thereby strengthening the skin, and  preventing stretch marks.In a bowl, mix equal amount of avocado oil and shea butter, slightly warm the oil and massage onto the affected area.Doing this repeatedly for up to a month gives extremely good results.
5.Eye Puffiness & Under eye wrinkles
Avocado oil is an effective natural replacement for costly anti-ageing under eye creams.It can quickly reach lower skin layers and provide you with vitamins A, D, E, lecithin, Omega 9 and more!Simply put a couple drops onto a cotton ball and gently apply to the area around your eyes.Do this before bedtime.It protects the delicate eye area, reduces eye  puffiness, under eye wrinkles and prevent dark circles.
avocado oil, avocado oil benefits, remarkable beauty fixes with avocado oil, avocado oil beauty hacks, avocado oil for glowing skin.