Split ends, in scientific term known as "Trichoptilosis", is a hair condition that occurs when any type of damage happens to your cuticle that leaves your hair's cortex exposed, which then gradually leads to split ends.The damage to your cuticle is caused by the use of curling or straightening irons, blow drying, shampooing your hair often, use of hair colouring products.Split ends in your hair can come in all shapes and sizes.Apart from trimming your hair there are certain remedies that can reduce and eliminate split ends.Your hair requires that magical formula to repair split ends.
Here are the 6 effective hair care remedies to treat and prevent split ends.
1.Vitamin E Enriched Hair Cream
Hair follicles needs special vitamins for stronger roots and to maintain healthy, shiny hair.Lack of Vitamin E is one of the main causes of hair dryness and split ends.Here is an effective vitamin E enriched hair cream that you can try at home to repair hair breakage and prevent split ends.Mix half cup of coconut cream, 2 Tbsp of fresh ripe papaya paste, 2 Tbsp of sweet almond oil and 2 Tbsp of coconut oil.Store this mixture in a container.Massage this cream to your hair and leave for 15 minutes.Rinse with cold water followed by conditioner.It provides shine and softness to dry hair, conditions the hair and treat split ends.
2.Nourishing Honey Split End Repair Serum
Honey has been used since ages for the treatment of different hair problems.Honey contains natural vitamins and nourishing substances that renew and reconstruct damaged hair, deep nourishes dry hair and prevents split ends.To prepare this honey serum, combine 2 Tbsp of raw honey with 1 Tbsp of aloe vera gel and 2 Tbsp of glycerin.Massage it into the hair from root to tip.Rinse with cold water after 20 minutes.Applying this hair serum regularly leaves hair shiny, smooth and free from split ends. 
3.Hair Smoothing Protein Conditioner
Proteins are essential components for your hair.Lack of protein causes hair fall and hair breakage.Having a protein diet is just not enough for your hair.A protein rich hair conditioning is required to keep your hair healthy, strong and restore smoothness.Eggs are the richest source of protein.Here is an instant remedy to deal with split ends and smooth dry, frizzy hair.Squeeze a handful of conditioner into a bowl mix 2 egg yolks and 2 Tbsp of thick milk.After you have finished with your shampoo massage this conditioner and let it stay for 10 minutes.Later rinse with cool water.
                                                                                                                                                                                                                                                        Read More – Homemade Conditioner
4.Hair Polishing Neem Pack
Build up dirt and pollutants on your scalp causes dryness and split ends.You hair needs to be thoroughly clean and polished to get rid of these bad stuffs.Blend a cup of fresh neem leaves using little water.Add 2 Tbsp of Multani mitti and 4 Tbsp of tea tree oil and mix well.Apply this hair pack onto your damp hair and leave for 20 minutes. Rinse with cool water followed by mild conditioner.This hair pack restore shine and volume, repair split ends, keeps your scalp clean and nourished.
5.Nutrient-Rich Almond Pack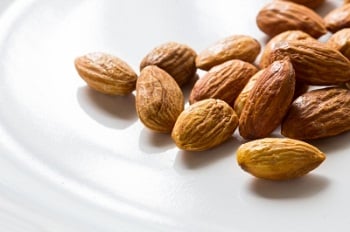 Image courtesy of tiverylucky at FreeDigitalPhotos.net
Almonds are extremely good for your hair as they are packed with vitamins, fats, protein and minerals that are essential for healthy hair growth.To prepare almond mask, soak 7 to 8 almonds in 1 cup of water overnight.Remove the skin in the morning and grind them with 1 cup of milk and 2 Tbsp of unsalted butter into a smooth paste.Apply this hair pack and leave for 30 minutes.Rinse with cool water.This hair mask nourishes your dry hair and damaged hair, restore your lost shine and lustre and makes hair less prone to breakage and split ends.
6.Deep Moisturizing Mayo-Banana Rich Hair Mask
Nothing can deep moisturize your hair better than a mayo-banana rich hair mask.To prepare this hair mask, blend 1 large ripe banana with 1/2 cup of mayonnaise into a smooth consistency.Wet your hair and apply this creamy hair mask.Cover your hair with a shower cap and leave for 30 minutes.Rinse with cold water followed by a conditioner.It repairs and seal every strand of your hair, bind split ends and imparts a lustrous shine and softness to your hair.