Secret Face Mask shared by my aunt for Young & Spotless skin
My aunt shared an effective beauty mask few weeks back that worked wonders on my skin.Within a week my skin started to glow, made me look a couple of years younger and granted me a spotless skin.This is one of the best face masks that you must try.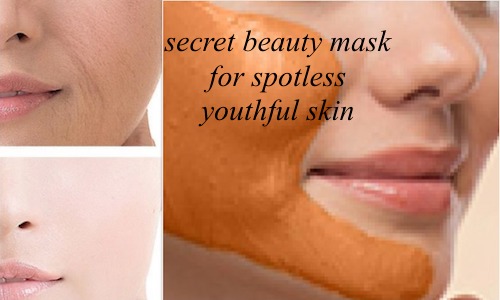 Ingredients you Need
3 tablespoons wheat flour
Wheat flour work wonders for every skin type.It helps in brightening and smoothening the skin by removing impurities and tightening the skin.
1 teaspoon organic turmeric 
Treats acne, exfoliates, rejuvenates, reduces blemishes and gives you clear, healthy, radiant and glowing skin.
3 teaspoons honey
Revitalizes dull, dry and dehydrated skin, providing a surge of moisture. It tones and tightens the pores, reducing visible ageing signs.
1/2 ripe banana
Banana contains moisture, potassium, and vitamins specially E and C, which all promote clear glowing youthful skin.
Freshly squeezed juice of 1/2 orange
Orange contains vitamin c which gives elasticity, strengthen and rejuvenates skin.It also promotes circulation and give back a healthy colour to your skin.
2 teaspoons of milk
Lightens dark skin, soothe sensitive skin, moisturises dry skin, heals sunburn and inflammation.
Method and direction to use
Place all the ingredients into the mixer and grind to get a smooth creamy paste.Transfer the contents into a container.You can store it in an airtight container in the refrigerator for upto 5 days.You can use it on your face as well as on any areas of your body to make it glow and look younger and spotless.
Before applying make sure your face is completely clean.Apply a thick layer of paste evenly on your face and neck, massage for 2 minutes.Apply some more and leave it on for 10 to 15 minutes.Once the pack dries, wet your fingers and rub in a circular motion.Rinse off with lukewarm water and pat dry with a towel.After using the pack massage some fresh aloe vera gel.
Use this pack 2 times a week to see amazing results and bring your flawless youthful glow back.
Benefits 
This 2 in 1 formula creates instant Lightening, Fights Pigmentation & Blemishes and its Anti-Ageing properties tightens and lifts sagging skin, smooth lines and wrinkles, leaving your skin looking fabulously clean, smooth, ageless and glowing.
Tags: secret mask, secret pack, face mask, aunt secret mask, glowing, younger-looking skin, thebeautymadness