Discover ultra smooth, clean and soft skin in winter and reduce the appearance of dark spots, pimples scars and fine lines with these mild exfoliating homemade facial scrubs.These facial scrubs gently exfoliate surface dead skin cells, dirt and other impurities without stripping away essential oil from the skin.Loaded with antioxidants, vitamins, nutrients, natural emollients and skin whitening properties, these super-conditions the skin and leaves the skin velvety smooth, radiant and youthful.
Here are 6 homemade facial scrub to get gorgeously smooth and glowing skin in winter. 
1.Orange Peel Homemade Facial Scrub for Glowing Skin
Ingredients
Orange Peel Powder

Honey

Aloe Vera Gel
Method
Grind dry orange peel into semi fine powder.Mix 1 Tbsp of orange peel powder to 1 Tbsp of aloe vera gel and 2 Tsp of honey into a fine paste.Apply on your face and gently massage for 2 to 3 minutes.Apply some more paste and leave for 10 minutes.Rinse with cool water.
Skin Benefits
If you're looking for glowing your skin in winter then this is a perfect skin polishing face scrub that you must try.This face scrub contains orange peel powder which is enriched with skin lightening compounds and antioxidants that gives your dull skin instant brightness and glow and improves the elasticity of the skin.Aloe vera and honey naturally moisturizes and soothes skin dryness and help heals pimples and acne. 
2.Lemongrass Homemade Facial Scrub for Acne Prone Skin
Ingredients
Lemongrass Powder

Extra Virgin Coconut Oil

Honey
Method
Mix 2 Tbsp of lemon grass powder with 4 Tbsp of coconut oil and 1 Tbsp of honey.Gently combine the mixture to form a smooth consistency.Clean and steam your face before applying this face scrub.Take a small amount of this mixture on your fingertips and rub gently onto your wet skin in a circular motion for 2 to 3 minutes.Rinse with cool water.
Skin Benefits
Infused with therapeutic properties of lemongrass and packed with natural emollients this exfoliating scrub gently sloughs away dead skin cells, grime and pollutants leaving the skin smooth, clean and refreshed.Lemon grass's antiseptic, antibacterial, healing and soothing properties eliminate pimples and acne, fades away dark spots and other blemishes.
3.Wheatgerm Face Mask-Cum-Scrub for Fair and Radiant Skin
Ingredients
Wheatgerm Powder

Milk Powder

Lemon juice

Almond Oil
Method
Combine an equal amount of wheat germ powder and milk powder, add 1 Tbsp of lemon juice and 10 drops of almond oil.Mix well to make a fine paste.Wash your face thoroughly and apply.Leave for about 10 minutes and then remove the pack by scrubbing gently in a circular motion.Rinse with cool water.
Skin Benefits
This exfoliating face mask-cum-scrub sweeps away impurities, blackheads and whiteheads leaving the skin visibly fairer, smooth and radiant.The blend of pure wheat germ, milk powder and lemon juice naturally whitens skin tone, ease away wrinkles to help reveal a flawless gorgeous complexion.It exfoliates your skin without zapping the natural moisture.
4.Coffee Face Scrub for Intense Polished and Refined Skin
Ingredients
Coffee powder

Shea butter

Sugar
Method
Blend 1 Tsp of sugar, 1 Tbsp of coffee powder and melted shea butter into a semi-thick consistency.Rinse your face with warm water and then scrub this mixture for 3 minutes by applying light, small strokes with your fingertips. Let the mixture stay for 5 minutes and then rinse with cool water.
Skin Benefits
This exfoliating coffee face scrub deep cleanses dry and flaky skin, it detoxifies and rejuvenates the skin and accelerate cell renewal for younger looking skin.The blend of coffee bean powder, shea butter and sugar imparts luminous shine and softness to the skin.
5.Almond Facial Scrub for Velvety Smooth and Soft Skin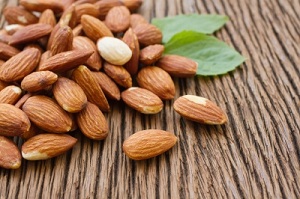 Image courtesy of Praisaeng at FreeDigitalPhotos.net
Ingredients
Method
Blend 4 to 5 almonds to a fine powder.Mix 8 to 9 drops of almond oil and 2 Tbsp of honey.Combine the mixture well and gently exfoliates your face for 2 minutes.Rinse with cool water.
Skin Benefits
One of the effective exfoliating scrub for intense dry skin.The antioxidants and vitamin E present in both almonds and almond oil gently polishes the skin without stripping away the essential moisture from the skin, refines the skin texture, super conditions the skin and imparts a natural sheen and softness.
6.Tea Tree Facial Scrub for Dark Spots and Pimple Scars
Ingredients
Tea Tree Oil

Sea Salt

Baking Soda
Method
Combine 1 Tbsp sea salt with few drops of tea tree oil and 1 Tsp of baking soda.Mix well to achieve the desired consistency.Take a small amount of this mixture on your fingertips and gently massage onto the wet skin for 2 minutes.Target the areas mostly affected by dark spots and pimple scars.Rinse with lukewarm water.
Skin Benefits
Now easily fade away dark spots, sun spots, pimple and acne scars with this tea tree mild exfoliating face scrub. Enriched with the goodness of tea tree oil and sea salt it gently buffs away dead skin cells, impurities and white heads leaving the skin smooth, clear and blemish-free.