Just like skin, the condition of your hair reflects your general state of health and your general health is influenced by what you eat.Having a diet too low in protein, vitamins, minerals, and other key nutrients can adversely affect the growth, thickness and appearance of your hair.To achieve gorgeous, thick and long hair and to promote faster hair growth add these 7 miracle foods to your diet.
In this article, I have shared 7 miracle foods to make your hair grow fast, thick and long along with a few quick ideas to enjoy them both internally and externally.
7 Miracle Foods to Make Hair Grow Fast, Thick & Long
1.Pumpkin Seeds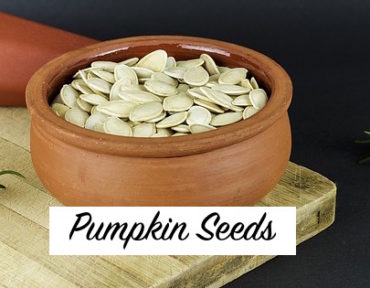 Pumpkin seeds are a valuable source of the mineral zinc.This mineral is a great option for people who wants to boost up their hair growth process and to stop further hair loss.Zinc help keeps hormonal levels balanced, helps with cell reproduction and regulates protein synthesis.Apart from this, pumpkin seeds are rich in protein, antioxidants, and minerals such as iron, manganese, magnesium and phosphorus that increase scalp circulation and helps your hair grow thick and fast.
A Few Quick Ideas to Enjoy Pumpkin Seeds 
Roasted pumpkin seeds are delicious and crunchy, you can enjoy a small handful of these seeds as an evening snack.
Sprinkle roasted pumpkin seeds to fresh salads.
A spoon of chopped pumpkin seeds enhances a bowl of oatmeal considerably.
2.Amla (Gooseberry)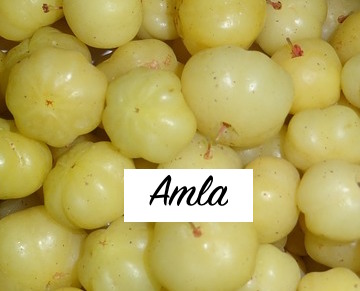 Amla is known to be one of the nature's best foods for the hair.It has innumerable hair benefits both internally and externally.It is highly rich in vitamin c, iron, and antioxidants that promote hair growth and brings a black shine to the hair.If you are suffering from premature hair graying or excessive hair loss, hair thinning then amla is the perfect choice for your hair.
A Few Quick ideas to Enjoy Amla both Internally & Externally
Daily consuming one or two fresh amlas in the morning, can make your hair grow black, lustrous and long.
Amla Juice Recipe for fast thick hair growth – Mix 2 tbsp of fresh amla juice, 1 tsp of honey and a pinch of black pepper to a glass of water and have this in the early morning.This also helps in weight loss.
Mix fresh amla juice with some coconut oil and massage this mixture on the scalp and hair, after 1 hour wash off with a mild shampoo and conditioner.
3.Eggs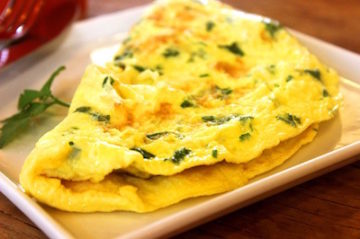 Eggs are extremely rich in proteins and your hair needs protein to boost the production of keratin, the proteins that make hair thick, strong and healthy.They are also full of biotin, a B vitamin that promotes lustrous, strong and healthy hair.The best thing about an egg is that they can be used both internally and externally for thick and fast hair growth.
A Few Quick ideas to Enjoy Egg both Internally & Externally
Sliced hard-boiled eggs are a great addition to salads and sandwiches.
You can enjoy a big, fluffy low-fat omelet made with 2 egg whites, chopped onion, chilli, and tomato for breakfast.
Blend one egg with 3 tbsp of olive oil and a dash of lemon juice and use it as a deep conditioning and nourishing hair mask.
Also, Check out this Video: Miracle Tea to Make Hair Grow Fast, Thick, Long & Black Naturally in 20 Days
4.Onions
Onions can be amazingly beneficial for overall hair health.Several studies have shown that eating raw onions daily can make your hair grow super fast, thick and stop hair loss.The rich sulfur content in onion stimulates blood circulation in the scalp and helps the body to create stronger and longer hair.
A Few Quick ideas to Enjoy Onion both Internally & Externally
Raw onions are great for sandwiches and salads.
Blend a raw onion into a smooth paste, add 2 drops of rosemary essential oil and 3 teaspoons of coconut oil.Apply this paste on the scalp with the help of a cotton ball and after 30 minutes, wash off with a mild shampoo and conditioner.Do this once or twice in a week to make hair grow fast, thick and long.
5.Almonds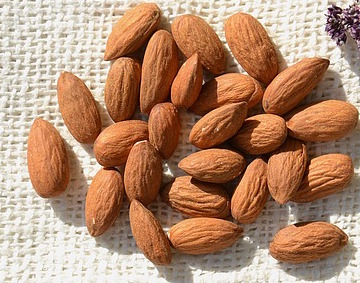 Almonds are the most nourishing nuts for the hair.It is blessed with nutrients such as proteins, vitamin B and E and omega-3 fatty acids that are essential for healthy, thick and strong hair growth.Regular consumption of almonds moisturizes the scalp and brings a healthy sheen to the hair.
A Few Quick ideas to Enjoy Almonds both Internally & Externally
Almonds are packed with energy and low in calories, a handful of roasted almonds makes an ideal evening snack.
Soak 1/4th cup of almonds in warm water overnight, remove the almond skin and grind the soaked almonds with a large cup of milk.Add a little maple syrup for sweetness, refrigerate and enjoy this delicious, creamy smoothie for breakfast.
Blend a few soaked almonds with 1/4 th cup of coconut milk and 2 tbsp of sweet almond oil until smooth.Apply this paste on the scalp and after 15 minutes, rinse off with cool water.This hair mask really makes your hair grow thick, long and silky.
6.Salmon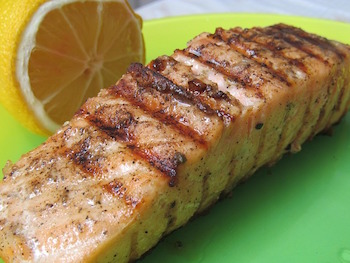 Salmon is a true superfood for hair growth.It is filled with protein, vitamin D, amino acids, and omega-3 fatty acids that are vital components of healthy, thick and fast hair growth.Eating two or three-ounce servings of salmon per week can improve the texture, shine, and thickness of the hair.Salmon is also an excellent source of B vitamins that help promotes fast hair growth and also keeps your skin glowing and youthful.
A Few Quick ideas to enjoy Salmon
Combine freshly oven baked salmon chunks with chopped tomato, parsley, onion, lettuce, and spices and enjoy this mouth-watering salad.
In a small bowl, combine olive oil, pepper, lemon juice, salt and fresh garlic paste.Brush your salmon with this mixture, grill, and serve.
7.Spinach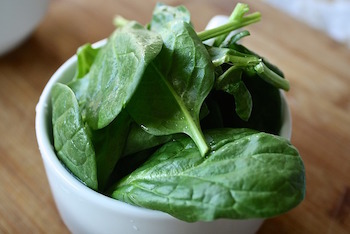 This green leafy vegetable serves as an excellent food for hair because of its high nutritional value.It is rich in vitamin A, C, K, B vitamins, folic acid, omega-3 fatty acids and minerals such as manganese, iron, and zinc that makes your hair strong, smooth and promotes thick hair growth.Adding spinach to your daily diet can solve your common hair problems.
A Few Quick ideas to enjoy Spinach both Internally & Externally
A Spinach-Apple-Lemon smoothie is a delicious and healthy way to start your day.
Soft paneer or cottage cheese cooked in a smooth spinach curry and served with brown rice makes perfect nutritious lunch.
Blend spinach leaves with some coconut oil and olive oil.Apply this paste on the scalp and hair.After 30 minutes, wash off with a mild shampoo and conditioner.This hair mask promotes long and thick hair growth and leaves hair soft and smooth.