Longing for a fair and glowing complexion? Get your face glow naturally without spending a lot of time and money on beauty salons or on beauty products.I have come up with some great Home made Face Packs that can make your face glow instantly and will help you in getting a fairer and a flawless complexion.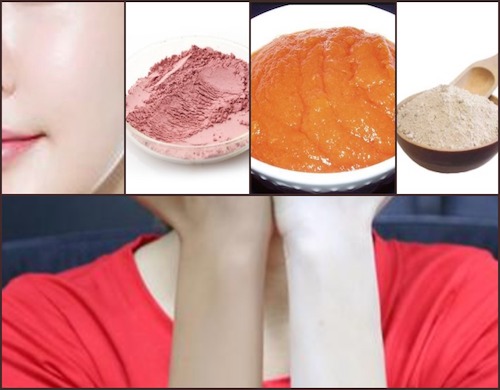 Nourish and pamper your face with Cleopatra rose milk recipe or enhance your complexion with saffron face packs or get an extra radiance face with various smoothing fruit busters.
I have tried..and believed me these packs does an absolute wonder on your skin.These face packs can be easily made at home, right from your kitchen.It's time that you try these simple homemade face-packs before leaving your home before any party or special occasions.
Here are the 8 Best Homemade Face Packs to get Instant Glow & Fairness
1.Rose Petals and Milk Pack
Pamper your skin with Cleopatra super softening rose milk recipe.
Take some rose petals and 2 teaspoons of thick milk, grind them to make a fine paste.To form a thick paste put the paste in the refrigerator for about 10 minutes. Gently apply the thick, creamy paste onto your face and neck.Leave it for 30 minutes and then wash your face with water.
Rose petals improves complexion and add glow to your skin.Regularly using this pack makes your skin feathery soft, smooth and fair.
2.Papaya and Banana Fruit Mask
Rejuvenate and revitalize your skin with a creamy fruity mask of ripe papaya and banana.
In a bowl take one ripe banana and the pulp of a ripe papaya.Smashed the ingredients together to make a smooth paste.Make sure your face is clean before you apply the paste.Leave it for 20 minutes.Let the goodness of fruits enters your skin.Gently rub the face in circular motion and then rinse with cold water.
This fruity pack gives an instant radiance to your skin and makes your skin smooth and tight.This pack is one of the best homemade face packs to get your skin glowing naturally.
3.Strawberry and Soft Butter Face Pack (best for dry skin)
Get that irresistibly soft and glowing skin instantly with strawberry and butter face pack.
In a blender, add 2 medium sized strawberries and unsalted soft butter.Blend it to make a thick creamy paste.Apply the pack to your clean face and neck.Leave it for 15 minutes.Wipe your face with warm wet towels.
This is one of the best pack for dry and damaged skin.The presence of alpha hydroxy acid in strawberries enhances skin tone and adds instant radiance to the skin.The moisturising elements in butter keep your skin supple, provides elasticity and maintains youthfulness.
4.White Clay, Milk and Olive Oil Face Mask
Look younger instantly with skin tightening and toning white clay, milk and olive oil face mask.
In a bowl take 2 teaspoon of white clay powder, 1 teaspoon of milk and 1 teaspoon of olive oil.Mix it properly and make a thick paste.Before applying the pack clean your face with rose water.Leave the pack for 20 minutes to dry.Once it gets completely dried wash your face with warm water.
This mask tightens the pores, clean blackheads , clear up acne, lightens your complexion and moisturizes your skin.

5.Apple and Honey Pack
Get that natural and healthy, rosy glow on your cheeks with apple and honey face pack.
Take one apple, peeled it completely and then cut into pieces.Add 1 tablespoon of honey to it and grind it.Apply to your face and leave the pack for 15-20 minutes.Wash your face with cold water and pat dry.
Regularly using this pack keeps your skin supple and glowing.It also fights skin problems and restores skin elasticity.
6.Besan(gram flour), Turmeric powder and Milk Cream Pack
Brighten and whiten your skin with besan, turmeric and milk cream pack.
In a bowl take 3 teaspoon of  besan(gram flour), 2 teaspoons of milk cream and a pinch of turmeric powder.Mix it well.Before applying the pack clean your face with water.Leave the pack for about 30 minutes to dry completely.Wet you hands and use circular motion to remove the pack.
An excellent skin brightening and tightening pack.Using this pack  regularly makes your skin smoother, fairer and youthful.
7.Saffron, Milk and Honey Face Pack
Dive into the luxurious skin whitening magical saffron, milk and honey face pack.
Soak a few strands of saffron to 1 teaspoon of milk for about 6 hours.Add 1 teaspoon of honey to this saffron soaked milk.Now apply this mask to the face.Leave this pack for about 20 minutes and then wash with cold water.
Saffron acts as an excellent skin whitener.Using this pack regularly makes your skin supple, soft, healthy and glowing.
8.Orange Peels and Curd Face Mask
Get that heavenly golden glowing skin with orange peels and curd face mask.
Take some orange peels dry it in the sun.Once it dries completely grind it to make a powder.Add 2 tablespoons of curd to the powder and make a fine paste.Apply on the face and leave for about 20 minutes.Wash with lukewarm water.