Are you overweight?.. Are you struggling to lose weight? Well, it is quite natural that physical appearance matters to everyone.Of course, no one wants to look fat or bulky, but all wants to look slim and trim.Having a good body shape builds self-confidence and keeps you active and healthy.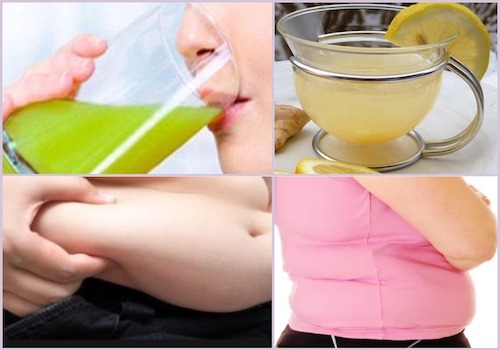 There are many factors that lead to weight gain like lack of sleep, depression, stress, skipping breakfast, eating foods high in sugar and salt, greasy or junk food.I know it is truly difficult to resist the temptation of relishing our taste buds.But not to worry anymore, to shed those extra fats you don't have to stay on fasting or follow strict dieting.The only thing you have to do is to incorporate these low calorie drinks to your daily diet.These drinks are rich in powerful antioxidants, vitamins, fibre that increases metabolism, stimulates body to burn calories and decreases fat.
These delicious and nutritious healthy low calorie drinks can be easily prepared right at home.Just try these drinks and see the results within a week.
Here are the 5 Homemade Low Calorie Drinks for Weight Loss
1.Lauki(Bottle gourd) and Amla Juice
Benefits
Bottle gourd also known as bottle squash or lauki is one of those vegetables that are rich in fibre and low in calorie.They are also rich in essential minerals, iron and vitamins.As it is very low in calorie and fat, drinking a glass full of lauki/bottle gourd juice to aid weight loss.Because of its high fibre content it keeps you full and prevents hunger. Amla is rich in vitamin c, antioxidants and polyphenols that enhances metabolism,  that in turn help reduce unwanted fat.
Preparation Recipe
Ingredients – 1 medium sized bottle gourd, 1/2 inch slice ginger, 3 tablespoons of amla juice and salt to taste.
How to make – peeled bottle gourd and cut into pieces.Add the bottle gourd pieces into blender along with ginger,  amla juice and salt.Bend them till it becomes smooth and then strain the puree to get the clear juice.
Best time to take – Drink a glass full of bottle gourd juice 15 minutes before breakfast.
2. Cinnamon and Honey Drink
Benefits
Honey is considered to be one of the powerful medicine.Honey contains an abundance of vitamins, minerals and enzymes that lowers cholesterol and reduces weight.Acidity is one such factor that is responsible for the increased weight gain.Thus, Honey helps in relieving  gas in the stomach and improves digestion.Honey also strengthens the immune system and removes fatigue.Cinnamon stabilises blood sugar levels and heat up your metabolism so you can burn fat fast.
Preparation Recipe
Ingredients – 1 cup warm water, 1 teaspoon of honey and 1/2 teaspoon of cinnamon powder.
How to make – Add honey and cinnamon powder to a cup of warm water.Mix it properly until the cinnamon powder gets completely dissolved in the water.
Best time to take – Drink a cup in the morning and a cup 1 hour before bedtime.
3.Lemon,Honey and Black Pepper drink
Benefits
Lemons are great source of vitamin C that boosts your immune system.It also contains citric bioflavonoids that decreases the oxidative stress, pectin a soluble dietary fibre and D-limonene helps in weight loss.It also helps in digestion and removes harmful toxins from your body.Black pepper contains antioxidant and antibacterial properties that stimulates the breakdown of  fat cells.It helps to get rid of excess toxins from the body.But do not eat too much of it as it can cause side-effect.This is drink is considered to be one of the low calorie and fat burning drinks.
Preparation Recipe
Ingredients – 1 glass of warm water, 1 lemon, 1 teaspoon of honey and 1/4 th teaspoon of black pepper powder
How to make – Add some fresh lemon juice, honey and black pepper to a glass of warm water and stir it properly.
Best time to take – Drink the glass of juice in the morning on an empty stomach to lose weight.
4.Honey Green Tea 
Benefits
Green tea is famous for its numerous health benefits.It is one of the fat fighting drinks.Green tea contains antioxidants known as polyphenols that fight against free radicals and accelerate our body to burn fat.These antioxidants also help in enhancing energy levels and fighting against various cancers.
Preparation Recipe
Ingredients – 1 cup hot water, 1 green tea bag and 1 tablespoon honey.
How to make – Steep the tea bag  in hot water for 5 minutes.Add honey to it and stir it properly.
Best time to take – Drink a cup of honey green tea after your breakfast and in the evening.
5.Black Grapes Juice
Benefits
Black grapes are loaded with antioxidant compounds flavonoids and polyphenols that helps to fight free radicals and flush out harmful toxins from your body.It contains  phytonutrients resveratrol that increases longevity and reduces cholesterol level.As they are low in calories they helps in weight loss.
Preparation Recipe
Ingredients – 1 bowl black grapes, 1 tablespoon lemon juice, 1 tablespoon honey and salt to taste.
How to make – Add a handful of black grapes, lemon juice, honey and 1/2 cup water into the blender.Blend the ingredients properly until the texture becomes smooth as a juice.Then add some salt to it and stir it properly.
Best time to take – Drink this refreshing glass of grapefruit  juice with breakfast.