Eye serums are an instant and effortless way to banish dark circles and wrinkles naturally.This Homemade "under eye brightening serum or dark circle removing serum" is a miraculous blend of natural skin care ingredients and multivitamins that delivers maximum benefit to the under eye area.It removes dark circles, reduce puffiness, smooth crow's-feet and fine lines and reveals a pair of bright, energetic and beautiful eyes.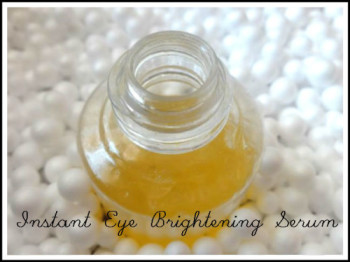 Why Homemade Eye Brightening Serums?
Commercial under eye brightening serums and creams are expensive and most of the products contain chemicals that can be dangerous to the skin, whereas the homemade eye brightening serum is 100% natural, simple, cost-effective and remarkably effective in eliminating dark circles and no shelf life worries!
Under Eye Brightening Serum Ingredients
This homemade eye brightening serum or you can say dark circle removing serum contains only 4 natural ingredients.
Aloe Vera Gel – A wonder gel that is packed with multi-vitamins and nutrients that reduces dark circles and smooth out fine lines.
Vitamin C Powder – Derived from fruits rich in high vitamin C content.It repairs and lightens the under eye area.Here is an alternative to vitamin C powder.Blend fresh orange or lemon peels and then mix the peels into 4 Tbsp of lukewarm water.Stir well and then filter into a bowl.
Cucumber – It renew,  hydrates and relaxes your tired puffy skin. 
Vitamin E Oil – Moisturizes and softens fine lines and wrinkles around your eyes, increase firmness and resilience of your under eye skin.
One of the most powerful treatment to remove dark circles and restore radiance to your eyes.
Here is the quick video on how to make a dark circle removing serum
Direction to Make Eye Brightening Serum
Blend few peeled slices of cucumber until you obtain a smooth consistency.Filter the juice and keep aside.
In a small bowl, mix 2 Tsp of aloe vera gel, 2 Tsp of vitamin E oil, 1 Tbsp of vitamin C powder and 2 Tsp of cucumber juice.Combine all the ingredients well.
Pour this solution into a clean makeup jar and shake well.Your eye brightening serum is ready to use.
How to Use this Dark Circle Removing Serum
Soak a cotton ball in lukewarm water and then wipe your skin.With your fingertips gently pat a small amount of this serum to the clean skin around your eyes and then massage in a light, circular motion until completely absorbed.
For best results use twice in a day.Once in the morning before applying makeup and in the night after removing makeup.