Legs & Hands softening & glowing cream for winter
As winter is approaching, you need to take special care of your skin, especially your hands and feet that tends to get dry, rough and crack.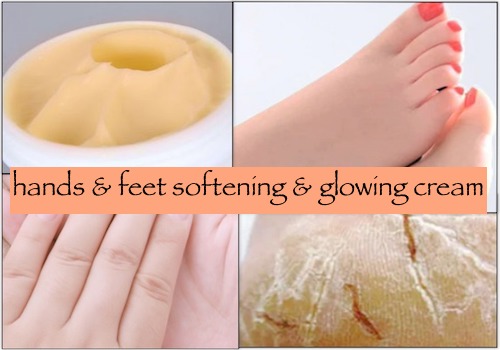 Pampering your hands & feet with a rich, heavy moisturizing cream can prevent these problems.Here is a super nourishing homemade cream recipe that you can try to soften your hands and feet, fight fine lines on the hand, cure dryness and brighten it.
Homemade moisturizing cream for hands and feet. Recommend making and using this best hand and foot whitening cream for winter.
Ingredients & Procedure
You need 2 tablespoons of unrefined shea butter (High concentrations of fatty acids and vitamins make shea butter an ideal ingredient for softening the skin in winter). 

1 tablespoon glycerin

2 teaspoons cold pressed coconut oil

1 teaspoon rose hip oil

1/2 tsp vitamin e oil or 2 vitamin e capsules

First melt shea butter with the help of a double-boiler.

Remove from heat and then add coconut oil and glycerin.

Once it has cool down slightly, combine rosehip and vitamin e oil.

Mix until you the texture is smooth and creamy.You can use a blender to get the desired consistency.

Store in a clean glass container.

The shelf life of this cream is up to 4 to 6 months at room temperature.
How to Use
First wash your hand and feet with warm water and pat dry with a towel.
If you have foot corn and calluses then make sure to exfoliate beforehand.
Take a generous amount of the cream and massage it on your hands and feet.
Use this twice in a day, after bath and before bedtime to reveal soft, smooth and bright hands and feet in winter.