Are you looking for easy, cost-effective and natural way to remove unwanted hair from your body?.Then learn how to make your own hair removal wax at home using just few natural items from your kitchen.Say goodbye to those long queues of wait at beauty parlours and hair removal creams that contains harsh chemicals, simply prepare your own wax and pamper your skin at home.Here are the detailed step by step procedures with pictures and tricks on how to make and use hair removal wax.
Things that you need to prepare this hair removal wax
Sugar – 2 cups
Lemon juice – 1/4th cup
Water – 1/2 cup
Waxing strips
This measurement is for waxing underarm area, hands and below the knees.
Steps on how to make hair removal wax at home
1.Put sugar and water in a small pan and heat over medium flame for 5 minutes or until sugar dissolves.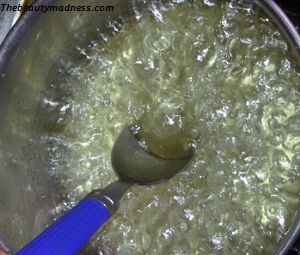 2.Now add lemon juice and continue stirring until the liquid is sticky and has coated the back of a spoon.The process would take a maximum of 10 minutes.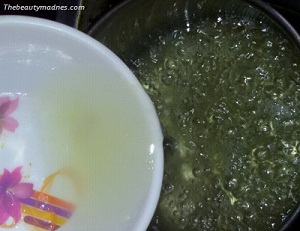 3.Once you have achieved in getting the desired consistency, remove the pan from the flame and pour the contents into a heatproof bowl.Before you use allow the wax to slightly cool.
Directions on how to use this homemade hair removal wax
1.Before you start waxing check the length of your hair, it shouldn't be too short or too long.To get a better grip on your hair and to easily pull the hair out from the roots, the length of the hair should not be less than 1/8 inch.
2.Exfoliate the area you want to wax using a mild scrub and then wash with warm water.It opens the pores and allows easy removal of hair.
3.For quick and painless hair removal, dust some powder to absorb grease, moisture and help the wax to adhere to the skin hair properly.
4.Before you apply the wax onto the skin, test the temperature of the wax by applying a very small amount on the inside of your wrist.
5.Using a blunt knife or a wooden spatula apply a thin layer of the wax on the same direction of the hair growth.Immediately place a wax strip over the area where you have applied the wax and press firmly to ensure that the wax strip has stick well enough to your hair.
6.Hold the end part of the wax strip and rip against the direction of your hair growth.You should be fast enough to pull the strip.
7.Repeat the process until you have removed all the hair.Do not apply the wax more than twice on the same area.It can cause skin redness or irritation.
8.Once you have finished removing hair, wash your skin with cool water and massage some soothing aloe vera gel or lotion.
Points to remember
1.Do not apply wax on sun burn areas, pimples, warts, cuts, moles and infections.
2.If you get rashes then rub some ice cubes followed by soothing antiseptic lotion.
3.When applying if the wax hardens then heat the wax on a low flame until it melts.
4.Do not use soap to remove the excess wax on your skin.Just use a damp cloth.
5.Avoid waxing over the same area more than twice or you may end up with dark patches and damaged skin.