Makeup can do miracles for your skin.It can make a wide nose look thinner, can create an illusion of a natural face lift and can get you an even, poreless photo-ready skin in few minutes. Discover the power of makeup with these 10 tricks.
10 Makeup Tricks Every Woman Should Know
1.Hide Your Double Chin – The roll of fat under the chin can add years to your age and make you look unattractive, use this trick to hide double chin instantly.Take 2 shades dark contour powder and using a fine makeup brush apply it right below your chin, across the underneath part of your jawline and blend well.It makes your chin appear slimmer and sculpted.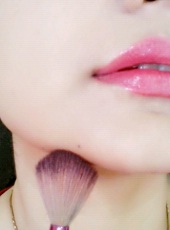 2.Give an Instant Lift to a Flat Nose – With this simple makeup trick give your flat nose a fairly slender and sharper look.Draw two straight, parallel lines starting just under the eyebrows and then extending it straight down.Blend the harsh line using a makeup brush and then apply a little highlighter to the bridge of your nose.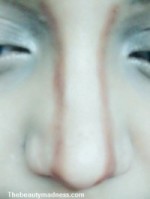 3.Conceal Dark Under Eye Circles – A crazy makeup trick to cover dark circles is to apply a gentle amount of coral or peach or yellow colored lipstick before applying concealer.Avoid the matte ones, use lipsticks with a highly moisturizing formula to prevent creases and for a better coverage.If you have a fair skin tone then use peach color and for wheatish or dark skin tone use coral or yellow color lipsticks.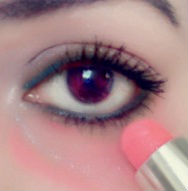 4.MakeUp Trick for Overly Pale Skin – Just mix a tiny amount of loose powder blush (pink or peach shade) to your creamy foundation and apply all over your face.It gives a beautiful pinkish glow to your super pale skin.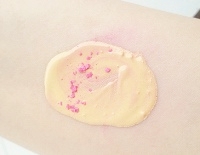 5.Cover Hollow/Sunken Eyes in Minutes – After applying concealer under your eyes, just set it with a tiny bit of translucent shimmer powder.It brightens up your eyes and camouflaged hollow eyes.
6.Quick Makeup Trick to Banish Dark Spots – Fading or lightening stubborn dark spots naturally can take around 1 to 2 weeks but luckily with the right makeup trick you can cover dark spots in no time.The first step is to dot the dark spots with a little reddish-brown color lipstick using a thin makeup brush and then using a beauty sponge dab some concealer over the area and blend it smoothly.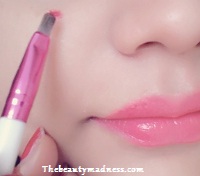 7.Shrink Big Forehead in Seconds – If wide hairline or large forehead troubles you a lot then master this simple makeup trick.Dip a wide makeup brush with a matte bronzer or a dark contoured powder and sweep using a circular motion several times across the temples of your forehead and along the hairline. (Be careful not to add too much or it might end up looking unnatural.)
8.Plump Up Thin Lips – Make your thin lips look fuller and plump with this clever makeup tip.Take a lip pencil one shade darker to your natural lip color.Use this to line the outside of your lips.Fill the rest of your lips with this lip pencil followed by your favorite lip color.Finally apply a little highlighter down the middle of your lower lips and to the outline of your cupid bows.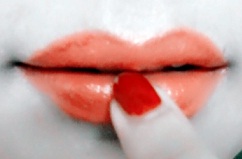 9.Get Smooth Poreless Airbrush Finish (Oily or Acne-Prone Skin) – Simply grab a flat makeup brush dip it into a translucent powder and move the brush in a small circular motion several times in one direction.Do this before applying foundation.A great makeup tip to diminish large pores in seconds and to get a flawless smooth finish.
10.Make Eyes Look Bigger and Brighter – A pair of bright and wide eyes definitely adds more power to your overall look.To make your eyes appear noticeably larger and open, use these simple tricks.Always use a creamy white or silver pencil to line the inner rims of your lower eyelids.This flattering trick makes the eyes appear wider.A little white shimmer powder just to the innermost corner of the eyes makes your eyes appear larger and brighter.