Has your skin lost its glow?
Aging, pollution, and stress steals away the glow thus leaving your skin dull and dehydrated.The skin demands beautifying vitamins and antioxidants both internally and externally to enhance the natural glow and health of your skin.Find out the top 4 beauty secrets to make your skin naturally glow.
Let your younger glowing skin be the talk of the town.
1.Drink Beauty Smoothie For Natural Glow and Fairer Skin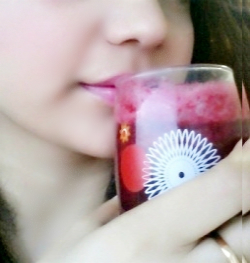 This beauty smoothie is a blend of antioxidants and carotenoid-rich vegetables that is vital for a healthy, glowing and younger-looking skin.
Ingredients you need:
Carrots – 2 nos
Beet – 1 nos
Lemon juice – 2 Tbsp
Water – 1 Small Cup
Black Salt to Taste (optional)
Wash carrots and beets thoroughly with filter water.Peeled and chopped the vegetables.Place them into the blender and blend well by adding water.Pour this into a glass, mix lemon juice and black salt and then drink it.
Beauty Benefits: Carrot is the best source of vitamin A and beta-carotene, an antioxidant that keeps your skin healthy, vibrant and ageless.It fights oxidative damage, repair skin tissue and protects against sunburn.Beets are packed with phytonutrients that have an antioxidant effect on the skin.It fights off bacteria and keep skin problems at bay.You skin looks pink and naturally glowing.
2.Weekly Apply this Orange Beauty Facial Mask for Glowing Skin
Orange is an ideal fruit for glowing skin.The high levels of vitamin C in orange gives a fairer and naturally glowing complexion.Here is an amazing orange facial mask to pamper your skin and boost radiance.
You Need
Orange Juice
Egg White
Curd
Multani Mitti
Honey
In a small bowl mix 2 tbsp of orange juice, a tsp of honey, a tsp of curd, an egg white and a tbsp of multani mitti into a smooth paste.Wipe your face with a cotton soaked in rose water and then apply 2 thick layers.Leave for 25 minutes and wash off with cool water.Rub an ice cube and apply moisturizer.
Using this on a weekly basis gives you a crystal clear, smooth and glowing complexion.
Also Check out this Video: 7 Quick Tips to Get Glowing Face Naturally
3.Daily Eat Pineapple, Papaya & Apple Fruit Salad to Make Skin Glow Naturally
One of the top beauty secrets for naturally glowing skin is to daily have a fruit bowl filled with pineapple, papaya, and apple.These fruits are high in antioxidants, enzymes, vitamin C and contain a good amount of vitamin A that keeps skin firm and healthy.They fight the oxidative stress caused by free radicals in your body and help maintain your skin elasticity and glow.
How to Enjoy:
Mix diced papaya, pineapple and apple with a dash of lemon juice, black pepper, ginger powder, and salt.Enjoy it with your breakfast or as an evening snack.
4.Cleanse, Tone, and Moisturize Regularly for Glowing Skin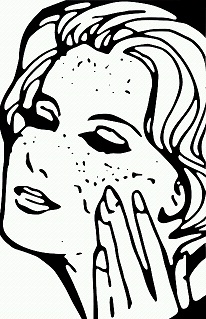 To maintain a younger glowing skin, cleanse, tone and moisturize your skin twice in a week.Once in the morning before applying makeup and once at night before going to bed.
Cleansing
It is the first step to a naturally glowing smooth skin.It sweeps out the daily dirt and impurities from the skin leaving it clear and radiant.You can use any gentle cleanser that suits your skin type or you can try this natural cleanser.
Honey is one of the best natural cleansers for all skin types.Wash your face with lukewarm water and simply place a tsp of honey in your hand, rub your hands together and massage into your skin for 2 minutes.Rinse off with cool water.It dissolves dirt and makeup from the skin pores and dramatically improves the clarity of the skin.
Toning
After cleansing, the next step is toning.It helps restore your skin's pH, calms irritated skin, close skin pores, remove any unattended makeup residues and brightens your skin complexion.
You can use lemon juice or milk or rose water or cucumber juice to tone your skin.Simply soak a cotton with any of these solutions and dab onto your face.Rinse off after 5 minutes.It leaves your skin fair and glowing.
Here is a Quick Video on how to make a "Glow Serum" for Brightening & Ageless Skin

Moisturizing
It is one of the most important steps to a naturally glowing skin.It relieves dryness and roughness of the skin, it minimizes multiple signs of aging and leaves the skin soft, smooth and supple.
You can make your own natural moisturizer by mixing a tsp of rose water with a tsp of glycerin or olive oil.
These were the top 4 beauty secrets for glowing skin naturally.
Also Read :
Fruit Face Packs for Glowing Skin