You don't need expensive creams and lotions to get a crystal clear skin.Just a tsp of baking soda from your kitchen can work magic for your skin.Find out how you can put the astringent, anti-bacterial, cleansing and antifungal properties of baking soda to good use.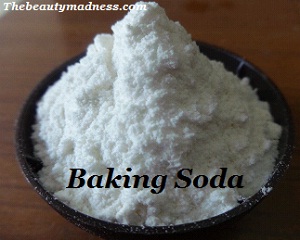 5 Homemade Baking Soda Face Packs for Crystal Clear Skin
Baking Soda Face Mask For Acne & Pimples
An excellent way to use baking soda for your skin is to use it to stop acne/pimples from developing and to reduce swelling.Mix a tsp of baking soda with a tbsp of sandalwood powder and enough of rose water to make a smooth paste.Just freeze for 5 minutes and then apply this cold baking soda paste.Let it sit for 5 to 6 minutes and then wash off with cool water.It instantly reduces pimples/acne and leaves your skin crystal clear and clean.
Baking Soda Facial Exfoliator for Black Heads, Whiteheads & Dead Skin Cells
People with oily skin or acne-prone skin are the worst sufferers of #blackheads and whiteheads.This baking soda facial exfoliator is designed to remove those nasty looking black and white bumps deep-seated inside your pores.Wash your face with lukewarm water and then place a tsp of baking soda, a tsp of salt and a tsp of honey in your hands.Rub your hands together and massage in a circular motion for 3 to 4 minutes for deep pore cleansing. Target mostly to the t-zone areas.Rinse off with cool water.
Baking Soda Face Pack/Scrub For Acne Scars & Pimple Marks
A multi-action baking soda face pack and scrub to lighten acne scars, pimple marks and other unpleasant skin blemishes.In a small bowl, place a tsp of baking soda, a tbsp of oats powder and a tbsp of #aloe vera gel.Add a little warm water to make a smooth paste.Spread this mixture on your face and let it sit for 5 minutes.Later, with your fingertips lightly scrub the mixture for 1 minute and then rinse off with lukewarm water.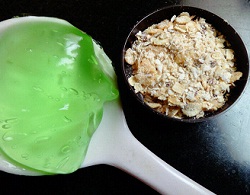 Baking Soda Face Wash to Control Excess Oil & for Fairness
Baking soda is a good oil-absorbing agent.It soaks up the excess oil and provides gorgeous, oil-free complexion.Mash a fully ripe strawberry, mix a tbsp of baking soda and apply to your face.After 5 minutes, massage gently in a circular motion and then wash off with cool water.It eliminates excess dirt, sebum and impurities.It lightens the skin complexion and prevents the production of melanin that causes skin darkening.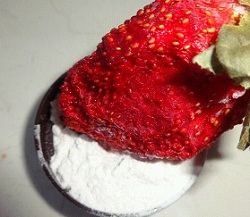 Baking Soda Face Pack to Remove Dark Spots
Dark spots give your skin an irregular appearance.Here is a quick remedy to eliminate stubborn dark spots completely.Mix a tsp of baking soda with a tsp of lemon juice and 2 tsp of warm water.Soak a cotton pad in this solution and gently dab it on your face.Rinse off after 5 minutes.Best suitable for oily or acne prone skin.