The beauty of Aloe Vera plant lies in its gel known as "Aloe Vera Gel".This colourless, mucilaginous gel is packed with exceptionally wonder nutrients, vitamins, amino acids, minerals and enzymes that are extremely beneficial for the skin, hair and health.For this reason, aloe vera gel is also known as the "miracle gel" or "wonder gel" and sometimes it is referred as the "fountain of youth".Aloe vera gel offers an amazing range of beauty benefits.Let's find out some of the interesting beauty uses of aloe vera gel.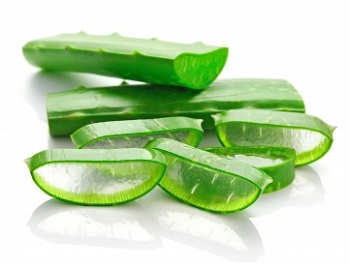 Image courtesy of SOMMAI at FreeDigitalPhotos.net
21 Beauty Uses of Aloe Vera
Rejuvenating Magical Night Moisturizer – Aloe Vera is an inexpensive daily natural skin care moisturizer. Simply mix a tsp of aloe vera gel with 3 drops of sweet almond oil and massage into your skin.Aloe Vera imparts glow to the skin and almond oil softens it.
Clarifying Face Wash – Get your skin clarified and oil-free with aloe vera face wash.Wet your face with warm water.Take a small amount of aloe vera gel, a tsp of honey and a 1/2 tsp of baking soda.Rub your hands together and massage into the skin in a circular motion for 2 minutes.Rinse with cool water.
Refreshing & Soothing Ice Cubes – Whenever, your skin looks tired and lifeless, simply rub aloe vera ice cubes. To prepare, just mix a tbsp of aloe vera gel to a cup of filtered water, pour into an ice-cube tray and freeze.Take an ice cube and rub for 2 minutes, it adds instant freshness and radiance to the skin.
Elbow and Knee Natural Bleacher – Aloe Vera, when mixed with few drops of lemon juice naturally lightens the rough dark elbows and knees.Aloe vera softens the rough skin and lemon brightens it.
Dark Spot Corrector – Aloe Vera, when combined with other skin care ingredients acts as a natural dark spot corrector.Mix a tbsp of aloe vera gel with a tsp of apple cider vinegar.Dip a Q-tip into this solution and apply to the dark spots.Repeat for 2 weeks or more to get rid of dark spots completely.
Skin Brightening Toner – Aloe Vera works as a magical healing toner.Mix 2 tbsp of cold water with tsp of aloe vera gel and a tbsp of rose water.Soak a cotton pad with this solution and cleanse your skin thoroughly.It magnifies the complexion of your skin and gives you a clean, even skin tone.
Ultra-firm Lightening Under Eye Gel – If dark circles are troubling you and causing embarrassment then here is the solution.Mix a tsp of aloe vera gel with a tsp of cucumber juice and 3 drops of vitamin E oil.Massage around your eyes.Do this right before bedtime.It rejuvenates and brightens your under eye area, removes dark circles, puffiness and crows feet.
Whitening Facial Massage Gel – Mix a tbsp of aloe vera gel with a tsp of green papaya paste and massage on your wet skin for 5 to 6 minutes.Wipe off using a wet washcloth.Later, massage an ice cube for extra glow.It improves blood circulation and rich in enzymes and soothing properties to bless your skin with natural shine and softness.
Nourishing Rosy Lip Balm – Dark lips pulls away the beauty of your face.For that deliciously soft and tempting rosy lips naturally, mix a tsp of aloe vera gel with a tsp of pure ghee or butter and a tsp of honey.Massage on your lips before going to bed.
Aloe Vera Instant Glow Pack– Restore your natural glow and improve your skin texture with Aloe vera instant glow pack.Mix a tsp of aloe vera gel with a tsp of orange juice.Apply and let it sit for 20 minutes before you rinse off.
Makeup Remover Wipes – Get rid of those unwanted makeup residues and dirt from your skin without spending money.In a small container, add 1/2 cup of water and dissolve a tbsp of aloe vera gel and few drops of baby oil.Wet 1 or 2 toilet paper rolls or you can use tissue paper in this solution and wipe your face thoroughly.It makes your skin feel moist and soft.
Lengthening & Volumizing Mascara – For thicker, longer and fuller lashes naturally, just roll your clean mascara wand in the mixture of a tbsp of aloe vera gel and 2 tbsp of olive oil and curl your lashes with it.It gives your lashes a natural shine and wet look.
Skin Firming & Smoothing Peel off Mask – Nothing could be more fabulous, than an herbal homemade peel off mask.Simply mix a tbsp of aloe vera gel with a tbsp of gelatin dissolved in warm water.Wipe your face thoroughly with rose water and spread 3 to 4 layers of this pack.Peel the mask in an upward direction once it dries completely.I promise! you will be left with more smooth, clean and glowing skin.
Aloe Vera juice for Glowing Skin & Weight Reducer – Aloe Vera juice is great for weight loss and glowing skin.Simply mix 2 tbsp of fresh aloe vera gel, 1 tbsp of lemon juice and 1 tbsp of honey to a glass of warm water.Stir all the ingredients well and enjoy it!!! 
Sun Tan Removal Pack – Remove those ugly tan and dark patches that ruin your beautiful skin. Blend 4 peeled cucumber slices, 2 tsp of aloe vera gel and 1 tsp of mMultani mitti until smooth.Place in freezer until cold and spread on the affected sun tanned area.Remove the pack using a washcloth soaked in cold water.
Smoothing Conditioner – Mix a tbsp of aloe vera gel, a tsp of honey and a tsp of gelatin powder to your favourite conditioner and massage to the wet hair.Let it sit for 5 minutes before you rinse off with cold water.It leaves your hair intensely smooth, glossy and soft.
Shine Highlighter – Mix a tiny amount of aloe vera gel with a generous amount of translucent shimmer powder into a creamy consistency.Dot this highlighter along your cheekbone, bridge of the nose and blend well for shine and glow.
Hair Styling Gel – Commercial styling gels can cause grey hair.Aloe Vera gel is a natural and eco-friendly way to style your hair.You can use this gel to define curls, to tame frizz hair and to achieve a spiky or messy look.Just take a few amount of aloe vera gel mix it with little water and run your fingers smoothly through your hair.
Mole Remover – Fresh aloe vera gel is a painless and safest way to remove a mole.Dab aloe vera gel directly to the mole using a cotton swab and then secure it with a bandage.Repeat for 4 times in a day for up to 2 weeks or more until the mole falls off.
Shaving Gel – Use aloe vera gel as shave gel for smooth, silky, soft legs and hands without irritating the skin.
Hydrating Face Mist – Mix a tbsp of aloe vera gel to 1/2 cup of cold water.Pour into a spray bottle and shake well.It keeps your makeup fresh and intact and excess oil at bay.