Homemade moisturizers are quick and natural way to maintain skin hydration balance and to preserve its youthful beauty.Little or no moisture in the skin causes dryness, redness, itching and burning.Your skin feels rough and stretched.Every skin types require a right level of moisture to keep the skin look and feel soft, happy and beautiful.Nature has blessed us with a wide range of skin caring oils and natural emollients that can be used for softening and moisturizing the skin.If you have the option to make your own moisturizer, why look further for artificial scented moisturizers and lotions.To help you find you're right moisturizer, I've come up with 5 different homemade moisturizing recipes based on your skin type.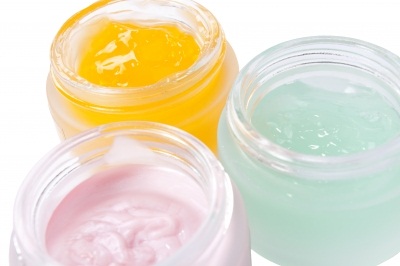 Image courtesy of akeeris at FreeDigitalPhotos.net
1.Homemade Moisturizer for Dry Skin
Dry skin tends to lose moisture fast than any other skin types.The skin starts to peel, crack, or become scaly and irritated.It looks dull, rough and aged.The skin loses elasticity and moisture, resulting in dry lines around the mouth and under the eyes.An intense moisturization is needed to bring back lost moisture, softness and glow into the skin.
Ingredients you need to prepare this natural moisturizer
Brown Sugar or White Sugar
Filtered Water
Aloe Vera Gel
Sweet Almond Oil
Refined Sunflower oil
Boil 1/4th cup of water in a small saucepan on a low flame.Add 1 tsp of sugar, 1 tsp of aloe vera gel, 2 tbsp of sweet almond oil and 2 tbsp of sunflower oil.Stir until sugar has dissolved completely in water. Remove from heat and let cool slightly.Massage this moisturizer on your face with your fingers.You can also use it on hands and legs.When you initially apply the moisturizer you might feel a bit sticky but once it is fully absorbed, your skin feels velvety smooth and silky.
Benefits – Brown sugar contains natural emollients that softens your skin and imparts a luminous shine to it.Aloe vera gel soothes your dry skin.Sunflower oil and sweet almond oil contains a high amount of vitamin E that deep moisturizes the skin and instantly relieves skin dryness.
2.Homemade Moisturizer for Oily Skin
Oily skin is quite problematic.This type of skin is more prone to pimples, acne, whiteheads, blackheads and enlarged pores because of the overactive sebaceous glands that produce more oil than required.Excess oil gets accumulated inside the pores thus clogging the pores and giving rise to different skin problems.This type of skin needs a moisture that destroy acne causing bacteria, removes excess oil from the skin surface and maintains the right moisture balance.
Ingredients you need to prepare this natural moisturizer
Honey 
Glycerin
Green Tea Water 
Lemon Juice
Mix a tsp of honey, 2 tsp of glycerin, 1 tsp of lemon juice and 2 tsp of warm green tea water.Combine all the ingredients well.Massage this moisturizer gently on your skin.Leave for overnight.
Benefits – An amazing homemade moisturizer for oily skin.It balances the pH level of the skin tone, glycerin and honey keep yours skin hydrated and moisturized while lemon lightens skin complexion and gives an even skin tone.
3.Homemade Moisturizer for Sensitive Skin
Sensitive skin is prone to allergic problems whenever the skin comes in contact with a particular skin care product.The skin becomes easily irritated and inflamed.This type of skin needs mild ingredients that doesn't irritate the skin or cause any reaction.Here is a homemade natural moisturizer that is best suitable for sensitive skin.
Ingredients you need to prepare this natural skin moisturizer
Shea Butter or Unsalted Butter
Rose Water
Baby Oil 
In a pan melt a tablespoon of shea butter or unsalted butter on a low flame and mix a 2 teaspoon of baby oil.Remove from heat and then add 2 teaspoons of rose water.Mix well and then apply on your face and neck to prevent dryness.You can use it anytime to keep your skin moisturized and supple.
Benefits – It deep penetrates into the skin and lock in the moisture to provide instant relief from dryness.The natural moisturizers in shea butter and baby oil works wonder on your skin to keep your skin satin-smooth and baby soft.It erase wrinkles and fine lines and improves the resilience of the skin.
4.Homemade Moisturizer for Normal Skin
Normal skin type has the good balance of oil and moisture.Their skin appears neither too dry nor too oily.They have few or no imperfections.The have a soft, smooth and radiant skin.Normal skin needs a little bit of care to make their skin look perfect and flawless.
Ingredients you need to prepare this natural skin moisturizer
Vaseline Petroleum Jelly
Sweet Almond Oil
Lemon Juice
Melt a tbsp of vaseline in a saucepan over a  low flame.Once it has melted completely, remove from heat and then add 2 tsp of sweet almond oil and 1 tsp of lemon juice.Mix well and your moisturizing facial oil is ready.
Benefits – This moisturizer contains a blend of natural skin care ingredients that is suitable for not too dry or not too oily skin.It provides the right moisturization required for normal skin types.Sweet almond oil and vaseline keep your skin nourished and silky whereas lemon brightens the complexion. 
5.Homemade Moisturizer for Combination Skin
A combination skin type is oily in some areas and dry in others.They have oily T-zone areas (nose, forehead and chin) and dry cheeks and mouth areas.This homemade moisturizer controls excess oily shine and hydrates the dry areas.
Ingredients you need to prepare this skin moisturizer
Green Tea Water
Glycerin
Vitamin E Oil
Mix 1 tbsp of green tea water, 1 tsp of glycerin and 1 tbsp of vitamin E oil.Wash your face with lukewarm water and pat dry with a soft towel.Apply a layer of this moisturizing solution to your skin.
Benefits – This moisturizes the skin without leaving it greasy.It controls shine and keeps your skin supple, smooth and glowing.