How to Make Oily Skin Glow?
Oily skin type needs maximum care.Their skin is more prone to blackheads, whiteheads, pimples, and acne.No matter what they do, oily skin appears thick, greasy, shiny and dull all the time.Luckily, there are a few natural beauty tips to get rid of those unwanted shine, leave skin clean, clear and help you restore a radiant, glowing and oil-free complexion.
10 Best Natural Tips to Make Oily Skin Glow
1.Lemon & Honey: Perfect Facial Cleanser For Oily Skin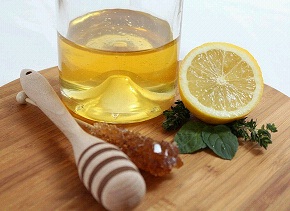 A mixture of lemon and honey is one of the simple and effective homemade beauty tips to make oily skin glow.Simply mix 1 tbsp of honey with 2 tsp of freshly squeezed lemon juice and using a cotton ball dab onto the face and neck.Massage for 3 to 4 minutes and then wash off with lukewarm water.Lemon has an instant brightening effect on the skin, it removes the excess oil, buildup of dirt and the antibacterial properties in honey fights the bacteria causing pimples, soothes and rejuvenates the skin.
2.Hot Lemon Water: Miracle Drink For Glowing Oily Skin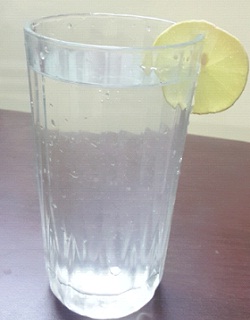 Oily skin is more prone to pimples and acne.One of the best home remedies to make oily skin glow naturally and to stop breakouts is to daily have a glass of hot lemon water mixed with a tsp of honey in the morning on an empty stomach.Lemon keeps your skin hydrated, the vitamin C and antioxidants works from the inside-out to keeps your skin clean, healthy and radiant.
3.Ice Cube Facial: Best Beauty Tip for Oily Skin or Acne-Prone Skin
People with oily skin tend to have enlarged pores because of the overactive sebaceous glands.This makes the skin appear thick, dull and coarse.Try this simple beauty tip after washing your face in the morning.Wrap 2 to 3 ice cubes in a muslin cloth and rub for 2 to 3 minutes.Target mostly to the oily areas of your skin.
Ice facial works wonders for oily skin, it shrinks the size of large pores, reduces pimples, under eye puffiness, hydrates, boost blood circulation and helps improves skin glow.This is an easy tip to make oily skin glow in summer.
4.Give a Mini Facial at Home 
Combat environmental damage, intensify the skin's natural color, erase acne scars, pimple marks and freshen up your oily, dull skin with this 6 step facial.
Duration – 25 Minutes
Step 1: Cleanser – Just place a tsp of baking soda and a tsp of honey in your hand and rubbing them together gently massage onto the face, including cheeks, chin, forehead, nose and neck in a small circular motion for about 1 minute and then wash off.
Step 2: Steam – Bring a small pot of water to a boil, add fresh neem leaves or mint leaves or tulsi leaves, let it boil for 2 minutes and then remove from heat.Drape a towel over your head and steam your face for 3 minutes.It opens up the pores and prepares the skin for exfoliation.
Step 3: Scrub – Mix a tsp of rice powder and a tsp of thick curd and exfoliate your face for 2 minutes.Lightly massage in a circular motion, it extracts the pollutant from the skin pores, remove blackheads and gives a smooth clear skin.Rinse off with water.
Step 4: Tone it Up – Use a tbsp of fresh cucumber juice or tomato juice mixed with a 2 tsp of rose water and a tsp of glycerin to tone your oily skin.Simply using a cotton ball clean your face.It regulates the skin's pH level and soothes it.
Step 5: Massage Cream – Mash grapes or strawberries, mix a tbsp of aloe vera gel and make a smooth paste.Massage onto the face in a circular, upward motion with your wet fingertips.Do this for about 5 to 7 minutes and then remove the pack using a cotton pad soaked in cool water.
Step 6: Peel Off Mask or a Fruit Face Pack – Now it's time to strengthen and tighten your skin with a homemade peel off face mask or a fruit face pack.
Peel Off Mask for Oily, Dull Skin – Dissolve 2 tbsp of gelatin powder in 3 tsp of hot water, add fresh orange peels paste and 1 tsp of honey.Using a brush apply 2 to 3 layers. Once it has dried completely, peel off the mask in an upward direction and wash off with cold water.It brightens and firms dull, oily skin and results in a youthful and radiant complexion.
Fruit Face Pack for Oily, Dull Skin – Blend few grapes, orange slices into a smooth paste, mix 1 tbsp of multani mitti and 1 tsp of lemon juice.Apply a thick layer and wash off after 20 minutes.Your dull, oily skin looks extremely smooth and glowing.
Follow this mini facial once in every 15 days for glowing oily skin.
5.Sandalwood: Instant Skin-Lightener for Oily, Dull Skin
Sandalwood is an excellent natural ingredient for oily skin.The antiseptic, anti-inflammatory and soothing properties controls skin blemishes, lightens dark patches or discoloration and offers a clear and fairer complexion.Add few drops of cold rose water to a tsp of sandalwood powder and mix well.Apply this paste all over the face, neck and wash off after 10 minutes.This leaves oily skin fair and glowing naturally.
6.Apple Cider Vinegar & Cucumber: Skin Lightening & Oily Controlling Face Toner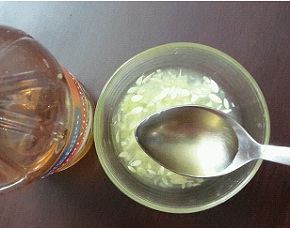 Apple cider vinegar (ACV) works as an excellent skin firming and oily controlling toner.Cucumber juice soothes, hydrates and gives a shine-free and luminous complexion.To prepare this toner mix 3 tbsp of cucumber juice to 1 tbsp of apple cider vinegar.Soak a cotton with this solution and wipe your face.Let it sit for 2 to 3 minutes and then wash off with cool water.This is a best beauty secret for clear and glowing skin.
7.Weekly Pamper with Green Tea & Mud Face Mask
Say Goodbye to weekdays skin impurities and revive radiance with green tea clear skin face mask.
You need:
Green Tea Water – 2 tbsp
Clay Mud or Multani Mitti – 1 tbsp
Lemon Juice – 1 tbsp
Honey – 1 tsp
Mix all the ingredients well into a smooth paste.Keep in the freezer for 5 minutes.Meanwhile, cut 2 cucumber slices and keep aside.Take the cold mixture and apply a thick layer.Place the cucumber slices over your closed eyes and relax.After the pack has dried completely, remove the pack in an upward direction using a cotton pad soaked in cold water and then wash off.This face mask gives an instant brighter complexion and healthier-looking skin.
8.Strawberry & Yogurt: Fairness Facial Mask for Oily Skin
Oily skin tends to look dull and sticky.Restore glow with this natural fairness facial mask.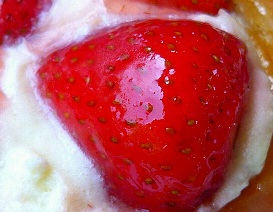 To prepare you need
2 ripe Strawberries
2 Tsp of Fresh Yogurt
1 Tbsp of Multani Mitti
Mash the strawberries, mix yogurt and multani mitti into a smooth paste.Spread a thick layer all over your face and neck and after 15 minutes wash off with cool water.The astringent, antioxidants and vitamin C properties of strawberry maintains the oil balance in the skin and boost skin radiance, multani mitti tightens skin pores and firms the skin, yogurt improves the clarity and color of the skin.
9.Exfoliate with Sea Salt For Smooth Gorgeous Skin
Sea salt is a great natural exfoliator for oily and dull skin.The valuable minerals present in sea salt draws impurities and extra oils from the pores, detoxifies the skin, blessing you with a clear, smoother complexion.It also helps you to get rid of blackheads and whiteheads.An easy natural beauty tip for oily and dull skin.
Method & How to Use
You Need
Sea Salt
Honey
A Mug of Warm Water
First wash your face with warm water.Place a tsp of sea salt and honey in your hand.Rub both the hands together and massage on your face and neck for 1 to 2 minutes in a circular motion.Rinse off with cool water to close the pores.Your oily skin looks super clean, smooth and radiant.
10.Daily Moisturize you Skin
Not only dry skin but oily skin also needs moisturization.Avoid heavy moisturizing creams and lotions.Instead, look for oil-free and water-based moisturizers.Here is a natural antiseptic moisturizer that you can try at home.
You Need:
Tulsi
Glycerin
Rose Water
Crush tulsi leaves by adding little rose water.Squeeze it with your hand to extract the juice.Mix 1 tsp of glycerin to it and gently massage into your skin.The antiseptic and antibacterial properties in tulsi prevents skin infection, regulates oil production, clear out blemishes, rose water gives a rosy glow to oily skin and glycerin moisturizes it.
Few Other Important Tips to Make Oily Skin Glow
1.Avoid overwashing your face or the use of harsh scrubs as it can stimulate your skin to produce more oil.
2.Use a homemade exfoliator or a pore strip to remove blackheads and whiteheads from the t-zone areas of your skin.
3.Make sure you carry tissue papers or blotting papers when you step out from the home.Before applying any makeup always dab a tissue to get rid of the excess oil and to prevent shine.
4.Use a mild, alcohol-free toner to tone your oily skin.
5.Keep you body hydrated all the time.Drink plenty of water, have fresh fruits juices rich in vitamin C and antioxidants to keep skin problems at bay.
6.Use oil-free and water-based makeups, it helps you cut down excess shine.
Also Read:-
Homemade Face Wash for Oily Skin
Homemade Fruit Massage Cream for Oily Skin
Baking Soda Face Packs for Clear Skin