Fight most of your skin problems with these 5 Instant Natural beauty tips.
5 Instant Beauty Tips that Every Girl Should Know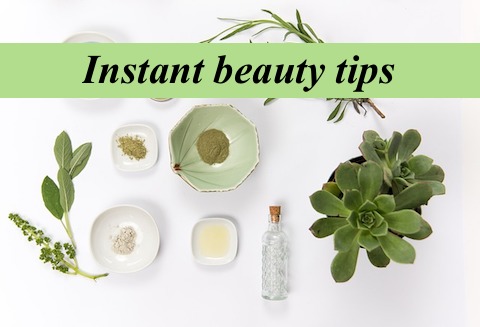 1.Dark Underarms
Get soft, smooth fairer underarms Instantly!
Ingredients – Activated Charcoal, Lemon Juice
Mix 1 tbsp of activated charcoal with lemon juice to make a smooth paste.Apply it on your underarm area.Leave it on for 5 minutes and then rinse off with lukewarm water.This remedy reduces stubborn pigmentation of dark underarm skin to reveal even toned lighter skin.
2.Acne Removal 
Shrinks Acne in 1 Day!
Ingredients – Turmeric Powder, Sandalwood Powder & Ice Cold Water
Combine 1 tbsp of sandalwood powder, a pinch of turmeric powder and enough ice cold water to get a smooth paste.Apply it on to the affected area.Let it sit for 10 minutes and then rinse it off with cool water.Repeat this procedure twice in a day.Within a day you will notice the redness, swelling and size has reduced to a great extent.
3.Control Oily Skin
Get rid of oiliness or greasiness super fast!
Ingredients – Cucumber juice & lime juice
Combine the 2 tbsp of cucumber juice with 1 teaspoon of lime juice.With the help of a cotton pad, apply this solution on the face and neck.Let it rest for 5 minutes and then wash off with cold water.It helps unclog pores, remove dirt and debris and controls excess shine and greasiness.
4.Natural Makeup Remover 
Leaves skin feeling clean, fresh and replenished!
Ingredients – Extra virgin Olive oil & Coconut oil 
Combine equal amount of olive oil and coconut oil in a small bowl.Apply this oil all over your face and neck.Rub gently to remove the makeup.Once done, wipe off with a moist cotton ball.Repeat the procedure if needed.Removes all your makeup without any irritation, leaves your skin feeling baby soft, nourished and healthy.
5.Suntan Remedy
Lightens Skin Tanning & Darkening Instantly
Ingredients – Aloe vera Gel, Milk & Fuller's Earth
Take 1 tbsp of fuller's earth in a small bowl.Pour some cold milk and 1 tbsp of aloe vera gel.Apply a thick layer on the sun burn areas.Once it dries completely, wash off with cool water.This pack instantly improves skin tone, fight tan, rejuvenate dullness and leaves skin bright and fair.