These beauty recipes are designed to protect your skin and reverse skin aging. When skin cells are protected from environmental damage and disintegration, the skin looks younger for longer.
These anti-aging beauty recipes work wonders on wrinkles, fine lines, loose skin, blotchiness and brown spots.
1.Avocado Ageless Facial
Avocado is a naturally rich moisturizer.It rejuvenates, smoothen and soften the skin, increasing collagen production and prevent premature skin aging.Mash the meat of the avocado into a creamy mixture.Mix 1 tsp of manuka honey.Massage into face and neck.Let it sit for 20 minutes and gently rinse off.
2.Vitamin E magic cure for Under Eye Wrinkles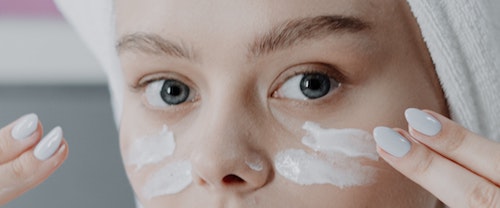 It fights the effect of free radicals that cause signs of aging like fine lines.Before going to bed at night, apply a drop of pure vitamin E oil to your dark under eye circles, gently massaging it into the skin.Doing this regularly will help erase lines around your eyes.
3.Anti-ageing Facial Exfoliator
Combine 2 tablespoons fine oatmeal with a pinch of almond powder.Add enough water to make a paste.Apply to skin and rub for 2 minutes.Rinse and gently pat dry.Cleanses skin without altering its pH balance and makes your face more youthful and radiant.
4.Grape Anti-Pigmentation Cleanser
Grape juice makes an excellent cleanser for pigmented & mature skin.Simply, split two large red grapes, remove seeds and rub the flesh over face and neck.Rinse off with cool water.
5.Egg Collagen-Booster Mask
Squeeze half a lime and mix the juice with one beaten egg white.Leave on your face for just 15 minutes.Splash cool water on your face to rinse.This mask tightens sagging skin and repairs fine lines and uneven texture, leaving skin softer, hydrated, and plump.
6.Age-Reversing Smoothie
Put 1/2 Banana, 3 strawberries, 1/2 cup orange juice, 1 cup chilled water, 1 tbsp high-quality protein powder (optional) into a blender jar.Process all the ingredients until thoroughly blended and serve.Packed with anti-aging ingredients, this powerful smoothie will make you quickly look and feel healthy, happy, and more vibrant from the inside out.
7.Anti-Aging Face & Body Oil
An ideal oil for dull, pigmented, damaged and ageing skin.
1/4 cup Olive Oil
2 Tablespoons Sweet Almond Oil
2 Tablespoons Jojoba Oil
3 Drops Ylang Ylang Essential Oil (Can be subsituted with Lemon or Lavender Essential Oil)
2 Drops Frankincense Oil (Optional)
Store in a clean glass bottle.
Use every day for glowing, Youthful healthy skin.It improves elasticity and reduces visible signs of ageing.It also helps enhance complexion and skin tone.
————————————————————————-
tags: 7 Ageless Beauty Recipes to Try Right Now, ageless secrets,anti aging, antiaging skin care, antiageing recipes, younger looking skin, skin younger