Every woman wants to look fairer, glowing and beautiful.To enhance their complexion, women spend a ton of money in beauty parlour and on cosmetic products.These skin bleaching cosmetics can help lighten the skin tone, but these products contain harsh chemicals that eventually dry out your skin and darken the complexion.
Now the question arises, how to lighten dark skin color naturally without the use of artificial products? To help you in achieving a fairer complexion without damaging your skin, I have come up with some skin whitening fruits with remedies that can lighten your skin in just 1 week.These fruits naturally whiten your skin complexion, enhances skin radiance and glow, prevents sagging skin and improves skin elasticity and lustre.
Here are the 5 fruits to lighten your skin with home remedies.
1.Tomato
Tomatoes contain lycopene a powerful antioxidant that protects your skin from damaging UV rays, boost collagen production, repairs skin, reduces acne scars and makes skin brighter and youthful.The presence of vitamin A and vitamin C in tomatoes vitalize the skin, improve skin radiance and even the skin tone.
Tips to lighten your skin with tomato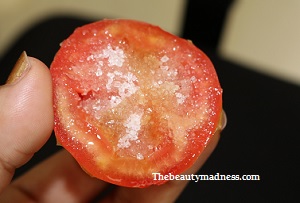 Tomato face cleanser
Prepare face cleanser by mixing 2 tbsp of tomato juice and 1 tbsp of honey.Dip a cotton ball into this mixture and wipe your face 4 to 5 times.Rinse your face with cold water.This removes acne scars and gives your skin a healthy fairer glow.
Tomato exfoliating face scrub
Crush a few tomato pieces to take the juice out, add 2 tbsp of granulated sugar and mix it properly.Take a small amount of this mixture on your palms and gently rub on your face for 3 minutes and then rinse with cool water.This removes dry, dull skin and gives your skin a visibly brighter and smoother appearance.
2.Lemon
Lemon is known for its natural skin bleaching properties.The juice of the lemon contains 6% citric acid and tons of vitamin C that helps lightens and brightens dark skin tone, bleaches facial hair, fades dark patches and scars to help you reveal flawless and fairer complexion.Here are some amazing ways your can lighten your skin in 1 week using lemon.
Tips to lighten your skin with lemon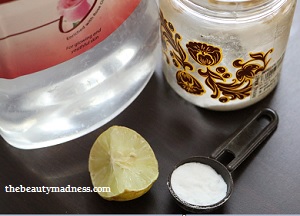 Lemon skin lightening face pack
Create a face pack using 1/2 squeezed lemon juice, 2 tbsp of rosewater, 1/2 tsp of baking soda and 1 tbsp of turmeric.Mix it well and gently apply on your face and neck.Leave the pack on for 10 minutes and then remove using a cold damp towel.
Lemon face spray
Here is an easy remedy to make skin look fair and fresh.Take a small empty spray bottle and filled with ice-cold water.Add one freshly squeezed lemon juice into the bottle and shake it well.Before your spray on your face, make sure your face is clean and dry.Spray on your face at least twice in a day.
Watch out this Quick Video: How to Whiten Skin with Lemon

3.Papaya
Papaya acts as a natural skin whitener.The soft butter-like consistency contains skin lightening compounds that include vitamin C, alpha hydroxy acids, and papain that helps lighten skin tone, reduces pigmentation, smooth wrinkles, improves skin texture and firmness and helps maintain skin's pH balance.
Tips to lighten your skin with papaya
Papaya face massage
In a small bowl, mash a few ripe papaya pieces and add a tbsp of honey.Take a small amount of this mixture on your hands and gently massage on your face for about 10 minutes.Apply some more and leave for another 5 minutes.Rinse your face with cool water and then massage an ice cube.This is an instant remedy to lighten the skin naturally.
Papaya rejuvenating face pack
Make a skin rejuvenating fruity face pack by grinding a few pieces of peeled ripe papaya and cold thick milk.Before applying this face pack, wipe your face with rose water using a cotton ball.Apply a thick layer of this face pack and leave for 25 minutes.Wash your face with cold water and pat dry.This face pack is good for pigmented and patchy skin.It improves complexion and makes your face radiant and smooth.Using it regularly gives an amazing glow and naturally whiten your skin.
4.Orange
Orange contains a high amount of vitamin C that are beneficial in increasing the fairness of the skin and lightening facial scars.They also contain powerful antioxidant compounds that hydrate the skin and improve its elasticity. Here are some amazing remedies that you can try out with this fruit juice.
Tips to lighten your skin with orange
Orange brightening face pack
Prepare a face pack using 4 tbsp of freshly squeezed orange juice and 2 tbsp of multani mitti.Apply this paste on your face and leave to dry for 15 minutes.Wash off with cold water and pat dry.This face pack gives your skin a golden glow and removes the dark tanned skin.
Orange ice pack
Give your skin an instant glow with orange ice cubes.Pour orange juice into an ice-cube tray and then place into the refrigerator to freeze.Take an orange ice cube and rub on your face for 4 to 5 minutes for a vibrant and glowing complexion.Using it regularly lightens the skin complexion.
5.Strawberry
Strawberry is an excellent source of vitamin C and polyphenols such as flavonoids and ellagic acid that help promote fair skin, prevent sagging skin, protect skin from UV rays and maintains skin lustre and smoothness.
Tips to lighten your skin with strawberry
Strawberry fairness face pack
To prepare strawberry face pack, place 2 ripe strawberries into the blender, add 2 tbsp of yogurt and 1 tbsp of honey.Blend until it forms a smooth paste.Wipe your face with rose water and then apply this pack.Place two cotton balls soaked in rose water over your closed eyes.Leave the pack for 20 minutes and then wash off with cold water.An effective face pack for instant fairness and gorgeously glowing skin.
Strawberry face massage
Take 2 fresh strawberries and crush them to make a fine paste, add a dash of lemon juice and a tsp of unsalted butter.Combine all the ingredients properly.Take a small amount of this mixture on your hand and gently massage into the skin for 10 minutes in an upward direction.Wash your face with cold water and pat dry with a soft towel.An excellent pack to combat dry and rough skin.Leaves your skin fairer and wrinkle-free.