Herbal facial toners are really good for the skin.They keep your skin feel more re-energized, healthy and glowing.Now you can also make your own homemade facial toner in the comfort of your kitchen.This is simple, easy to do and suits all skin types.This toner instantly hydrates, refreshes and tightens your skin, leaving it soft, smooth and clean like never before.Regular use of this toner intensify facial glow and fairness.
Ingredients
1.Cucumber
2.Rose Petals
3.Lemon
4.Coriander or Mint leaves
5.A cup of ice cold water
DIY homemade herbal facial toner
1.Place fresh rose petals, few cucumber slices, 1 freshly squeezed lemon juice and a handful of coriander leaves into a container.
2.Gently crush all these ingredients with the help of a muddler to release the juices.
3.Add a cup of ice cold water into the container and gently stir for 5 minutes.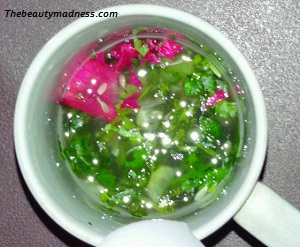 4.Strain the solution into a plastic bottle to store it.
5.For regular use and to keep the skin toner fresh for long time store it in the refrigerator.
Note: This herbal facial toner works best when used within 10 days if refrigerated.
Use Directions
After cleansing your face, pour few drops of this facial toner into a cotton ball and wipe your face and neck gently in upward movements.You can use this facial toner anytime throughout the day to keep your face clean, refresh and glowing.
Tips 
To use as a face mask, mix 2 tbsp of clay mud with few drops of this skin toner to a smooth paste and gently apply on the face and neck.Leave for about 20 minutes and then rinse with cold water.This removes impurities and dirt particles from the skin, leaving your skin smooth and clean.Apply this mask twice in a week to promote young, radiant and flawless skin.
 Fill a medium sized spray bottle with this facial toner and spray on your face, twice daily, to make your skin feel re-energize, healthy and radiant.
Countless skin benefits of using this herbal skin toner
This skin lightening homemade facial toner is a perfect blend of the most potent natural ingredients that soothes and beautify skin without drying it.The rose extracts present in this toner restores your skin pH balance, reduce redness, tightens skin pores and enhances complexion.The extracts of cucumber and coriander soothes, refreshes skin, reduce inflammation and removes sun tan. Lemon juice deep cleanses your skin, controls excess oil secretion and increases skin glow and fairness.