At home a mini facial is a great way to take care of your skin, fight summer skin problems and for pampering skin.Here I bring you the 5 best & effective instant facials that you can try for looking gorgeous this summer.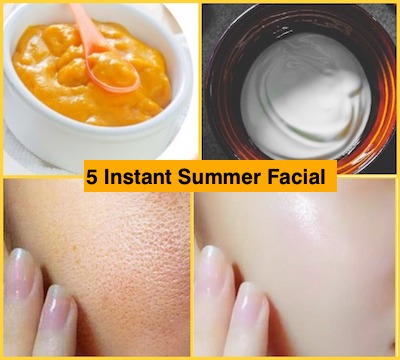 1.Carrot Facial for Anti-Ageing
A wonderful carrot facial to help regenerate, rejuvenate and revitalize your skin in summer.It also helps fights summer acne and blemishes.
Ingredients
1 Carrot

1/2 teaspoon Yogurt

1 teaspoon Honey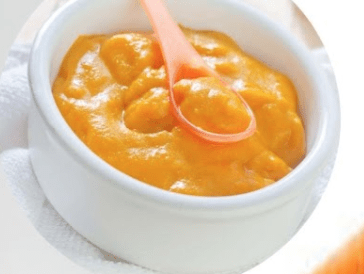 METHOD
Boil 1 small carrot and mash it, or process in a food processor. Add yogurt and honey.Apply in an upward motion and leave on for 15 minutes.Wet your fingers and gently rub in circular motion to remove the paste.Rinse off with cool water.Repeat twice in a week.
2.Yogurt Facial for Skin Whitening
Summer has a negative effect on your complexion.It takes away your skin's natural radiance and color, leaving it dark and dull.Yogurt contains lactic acid, an alpha hydroxy acid, that dissolves dead and dull skin cells, smoothes your skin while improving your complexion.
Ingredients
1 Tbsp Plain Yogurt

1 tsp corn flour

1/4 tsp lemon juice

MethoD
Combine all the ingredients together in a small bowl.Apply to face & neck, leave on for 10 minutes and then rinse well with water. Follow up with a hydrating & brightening moisturizer.Repeat twice in a week.
3.Cucumber Facial for Sun-tanned
Cucumber is one of the ultimate cooling foods for summer.It's high antioxidant levels, help calm inflammation, reduce redness caused by harmful UV rays and helps eliminate a sun tan.
Ingredients
1 /2 cucumber

3 tablespoons chilled milk

2 tablespoons Fuller's Earth

Method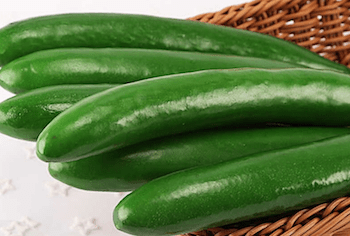 Puree cucumber in blender, add milk and fuller's earth.Apply to face and leave on till it dries completely.Rinse with tepid water and rub an ice cube.Do this cooling facial whenever skin looks dull & tanned.
4.Aloe Vera Facial For Blemishes
This colourless, mucilaginous gel is packed with exceptionally wonder nutrients, vitamins, amino acids, minerals and enzymes that help fights off dark spots, sun spots and pimple marks thus helping you in achieving a flawless & even skin tone.
Ingredients
2 teaspoons Aloe Vera Gel

1 teaspoon milk cream

1 teaspoon sandalwood powder
Method
Mix all the ingredients thoroughly to obtain a smooth consistency. Spread a thick layer of this paste to clean face, leave on for 15 minutes, then rinse well.Follow this summer facial three times in a week.
5.Apple Facial for Glowing 
An apple a day not only keeps the doctor away, but also makes the skin glow! It helps in keeping the skin nourished, hydrated and moisturized, which is the secret to healthy glowing skin in summer.
Ingredients
1 small Apple

1 egg white

1 teaspoon Honey
Method
Mash a quarter of an apple in a bowl, add honey and egg white.Apply it on your face, let it sit for 20 minutes, rinse well with cool water.The overall skin quality looks transformed and super glowing.You can try this facial 2 times in a week.