Yeeee..this is the first reaction comes when you look at the mirror in the morning to find a big pimple or zit on your face. It makes you irritated and frustrated when you look at that big pimple on your face.You try out different products,spend lots of money on beauty salon treatment, but nothing works.
But don't worry here are the best home remedies and face packs that will help you to recover the toughest pimples, helps in lightening the darkest scars and whitening your face naturally.This face packs are miracles for your skin and it also prevents the further growth of acne.Here are the 10 best home remedies to get rid of acne, pimples, dark spots & deep scars.
1.Iced Green Tea
How to use
Take a glass of warm water and steep a green tea bag into it.Remove the tea bag and pour the contents into the tray.Place the tray into freezer and allow it to form ice cubes  Take one ice-cube and rub all over the face.Just a note before rubbing the ice cubes steam your face so that the pores get open and the goodness of green tea enters the pores.Do it twice a day in the morning when you get up and before going to sleep.
Benefits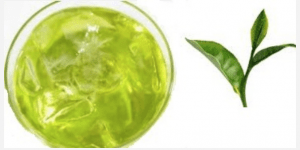 Green tea contains a high amount of antioxidants that fight free radicals that damages your skin.It has antiseptic properties that kills germs that causes acne and pimples and keep your skin beautiful and healthy.
2.Baking Soda and Lemon Juice Mask
How to use
Take a bowl, add 2 tablespoons of baking soda and add 1/4 cup of lemon juice to it.Mix it properly to make a thick paste. Apply the paste  to the affected area.Let it dry for 5 -10 minutes.Once it dries take some water on your hand and slowly scrub the affected area on your face.Wash your face using lukewarm water and pat dry.If your face becomes too dry then apply some antiseptic lotion or moisturiser.
Benefits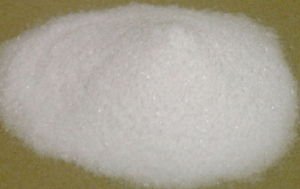 Baking soda helps to keep the skin pores clean by removing bacteria and excess oil that causes pimples.Lemon acts as a natural bleach that lightens the skin and remove dark spots.It helps to remove the dead skin and gives a fairer complexion.
3.Green Coconut Water
How to use
Cut a fresh green coconut and pour the green coconut water to a bowl.Take a cotton dip it in the coconut water and wipe all over the face.Then wash your face using lukewarm water. Wash your face with coconut water continuously every day to get best results.
Benefits
Coconut water has cytokinins and antioxidants that help to eliminate acne, sagging skin and help deep scar recovery.Drinking Coconut water keeps your skin healthy, smooth and younger looking.
4.Fenugreek(Methi) and Rosewater Mask
How to use
Soak a handful of fenugreek(Methi) seeds in a bowl of water.Leave them to soak for at least 5 hours.Grind them in a mixer and make a fine paste.Add a few drops of rose water to it.Apply the paste on your face.Before applying the paste wash your face with warm water so that the pores get opened.Let the pack dry for 15 minutes.Once it completely dries rinse with cold water.
Benefits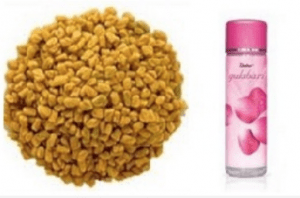 Fenugreek has antiseptic and anti-inflammatory properties that stop and reduce growth of pimples, blackheads and other skin infections.It helps in nourishing and rejuvenating the skin.
5.Fresh Aloevera Gel
How to use
Take a fresh aloe vera plant, slice away both the ends.Take the aloe vera gel from the center part of the leaf.Take the aloe vera gel and apply to the face.Keep massaging until the gel started to dry.Once the gel gets completely absorbed wash your face with lukewarm water and pat dry.
Benefits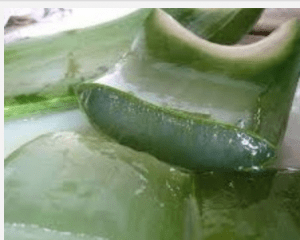 Aloe Vera contains medicinal and healing properties that helps to heal pimples, rashes and scars.It prevents skin discolouration that is caused after acne heals.It makes your skin clear and smooth.It kills bacteria that cause skin infection.
6.Sandalwood , Tulsi and Rosewater Mask
How to use
Take about 2 tbsp of sandalwood powder in a bowl.Add few crushed Tulsi (Basil) leaves to it.Then mix it properly using a few drops of rose water.Make a thin paste.Apply this paste evenly on the face.Rinse your face with cold water and pat dry.
Benefits
Sandalwood helps in tightening  the pores, removing impurities,excess oil and reduction in the redness of pimples.It also helps in reduction of dark spots and scars. Tulsi possess strong antibacterial and anti fungal properties that make pimple heal faster.
7.Tea Tree Oil
How to use
Take some tea tree oil in your palms and rub over the affected area for 10 minutes.Take some lukewarm water in a bowl , dip the cotton into the bowl.Now rub the wash cotton all over your face to remove the excess oil.
Benefits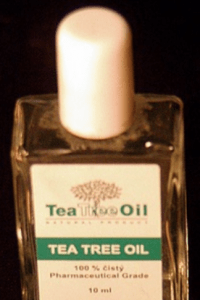 Tea tree oil is one of the excellent treatment for acne.It has antiseptic and antibacterial properties that prevents skin infection, helps in healing of wounds and sores.
8.Turmeric,Clay mud and Lemon juice Mask
How to use
Take 1 full teaspoon of clay mud  add 1/2 spoon turmeric to it and add a few drops of lemon juice to make a thick paste.Apply the paste to your face and leave it for 20 minutes or until it gets completely dry.Wash your face with lukewarm water and pat dry.
Benefits
Turmeric has anti-inflammatory properties that help to relieve the problems of acne.It also helps in the reduction of spots and also helps in lightening of skin.
9.Cucumber
How to use
Take some slices of cucumber and grind it.Take the cucumber juice and apply to the clean, dry face.Leave it on for about 10 minutes and then wash your face using cold water.
Benefits
Cucumber gives an instant cooling effect on skin.It cleanses and exfoliate the skin.It helps to reduce dark spots and sunburns.
10.Yoghurt and Honey Mask
How to use
Take 2 tablespoon of yoghurt and 1 tablespoon of honey and mix it thoroughly.Apply the mask and allow it to sit for about 10 minutes.Rinse it off with lukewarm water and pat dry.
Benefits
Yoghurt contains alpha hydroxy acids that help in reducing the redness of pimples, acne scars and other blemishes.It also helps in rejuvenating the skin.