Stop hair fall, hair thinning, hair breakage in just 1 week and regrow strong, healthy and dense hair with these 5 amazing homemade hair oils.Each of these herbal hair oils provides intense nourishment to the scalp, stimulates hair growth, strengthen hair roots and treats alopecia and other hair loss problems.Some of these hair oils are also effective to fight against graying hair, dandruff, and scalp infection.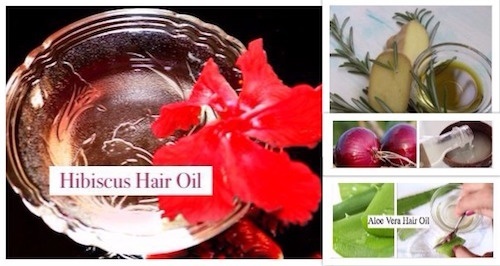 Every type of hair needs its own hair oil, try the one that best suits your hair.
5 Homemade Hair Oils to Stop Hair Fall in 1 Week
1.Aloe Vera Homemade Hair Oil 
Aloe Vera gel has tremendous hair benefits.It contains 20 different amino acids that strengthen and moisturize the hair, because of their water-attracting quality.The two important vitamins present in aloe vera gel, vitamin A, and vitamin E prevents hair from drying out and breaking, repairs damaged hair follicles, promotes hair growth and keeps your tresses silky and smooth.Coconut oil is enriched with vitamins and essential fatty acids that improve blood circulation and controls hair fall.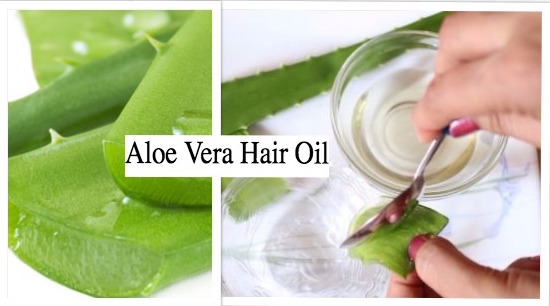 You need:
1 aloe vera leaf
1/2 cup of coconut oil
Rosemary essential oil (optional)
Preparation: 
Cut open an aloe vera leaf into two equal halves and extract, aloe vera gel into a bowl.Take 1/2 cup of this freshly prepared aloe vera gel and mix with coconut oil.The ratio of aloe vera gel to coconut oil should be in the ratio 1:1.Heat the mixture on a low heat for 5 to 7 minutes.Remove from heat and let it cool down completely.Mix 5 drops of rosemary essential oil and pour this oil into a clean dark bottle.Store the oil in a cool, dark place for max 2 weeks.
How to use this homemade hair oil to stop hair fall
Pour required amount of oil in a small bowl based on the length and thickness of your hair.Slightly warm the oil, dip your fingers and apply the oil to the roots, scalp and the hair ends.Massage lightly for 2 minutes and leave the oil on for 1 hour.Later, rinse off with a mild shampoo and conditioner.Do this twice in a week.
Hair benefits:
This homemade aloe vera hair oil stimulates new hair production, strengthen weak hair and prevents hair fall.It heals and soothes dry, itchy scalp caused by dandruff or scratches.It moisturizes, nourishes and balances the pH level of the scalp and hair.
2.Hibiscus Homemade Herbal Hair Oil
Hibiscus is a magic flower, it has numerous hair benefits.It is rich in amino acids, vitamin A, vitamin C and hair nourishing minerals that help combat hair loss, prevents premature hair graying, promotes thick and dark hair growth, leaves hair bouncier, silkier and softer.If you are facing problems with severe hair fall and hair graying then this hibiscus hair oil will definitely benefit you a lot.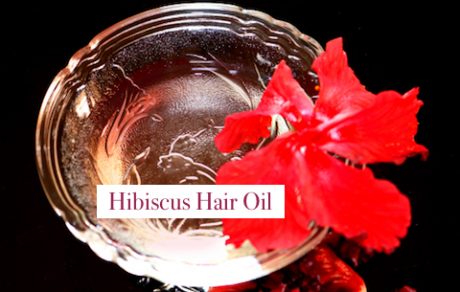 You need:
2 Hibiscus flower
1/2 cup of hibiscus leaves
1/4th cup of coconut oil
1/4th cup of badam oil
Preparation: 
Wash the hibiscus petals and leaves under cool running water.Either sun-dry them or use your oven to dry them.Heat the pan, add coconut oil and badam oil and then carefully add the hibiscus petals and leaves, keep it on low flame for 5 minutes.Cool it and strain the mixture into a clean bottle.
How to use this homemade hair oil to stop hair fall
Take desired amount of oil based on your hair length.Slightly warm the oil.Apply hibiscus oil directly to the roots of your hair by using your fingertips and then gradually work towards the hair ends.Massage for 2 minutes to boost the circulation in your scalp and for better oil absorption.Keep it overnight.The next day shampoo and condition as usual.
Hair benefits:
This homemade hibiscus oil lends your hair a luminous and reflective shine, fight against split ends and hair graying, stimulates the hair follicles to grow, reduces hair fall and makes hair smooth and soft.
3.Color Restoring Homemade Amla Hair Oil
Amla or Indian gooseberry is the best natural tonic for hair.It is an excellent remedy for the treatment of hair loss and for restoring gray hair to its natural color without dye.Amla's rejuvenating and conditioning properties increases hair growth and promotes luster and shine to dull, damaged hair.Amla provides a cooling effect on the scalp and helps ease stress.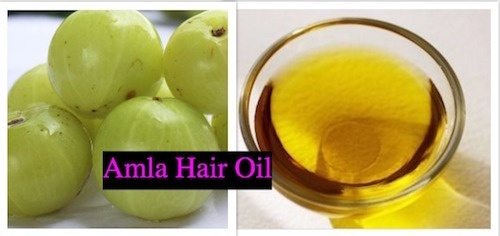 You need:
2 fresh amla
4 tablespoons of extra virgin coconut oil
2 tablespoons of sesame oil
Preparation: 
Cut amla into small pieces and dry them in the shade for an hour. Next, in a small saucepan, combine the coconut oil, sesame oil, and the fresh dried amla pieces.Heat the mixture on a very low flame until the mixture stops bubbling.Remove from heat and leave to cool down.You can store the oil in a clean dark bottle for a week.
How to use this homemade hair oil to stop hair fall
Part your hair and apply this oil all over your scalp and hair. Massage the scalp with fingers in a circular motion to evenly distribute the oil and to enhance blood flow to the scalp.Keep it overnight and the next day, rinse off with lukewarm water followed by shampooing and conditioning.
Hair benefits:
An ideal homemade hair oil for both men and women, who suffer from hair fall, premature hair graying and damaged hair.Applying this hair oil regularly improves hair manageability and flexibility and makes hair darker, silkier and softer.
GET LONG HAIR FAST & ADD VOLUME & BOUNCE TO HAIR

4.Sulfur-Rich Homemade Onion Hair Oil
Onion helps treat hair loss and various other hair problems due to its high sulfur content.The antibacterial and cleansing properties of onion treat scalp infections that cause hair loss.Onions contain a number of important minerals and vitamins that are essential for strong and dense hair growth.Onion works wonders when it comes to making your hair thicker and shinier.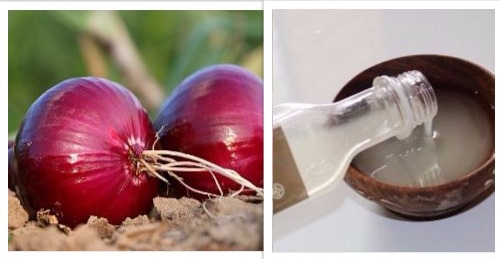 You need:
1 small-sized onion
2 garlic cloves
6 tbsp of coconut oil
lavender or rosemary essential oil (3 to 4 drops)
Preparation: 
In a small pan, combine finely chopped onion, garlic with coconut oil.Heat it on a low flame until it stops bubbling.Once the oil has cool down completely, add the essential oil.You can store this in the refrigerator for 10 days.
How to use this homemade hair oil to stop hair fall
Lightly massage your scalp and hair with this nourishing oil.Wrap hot wet towel around your head for 15 seconds.Allow it to soak for 20 minutes and then shampoo and condition your hair.To get rid of the onion smell, mix a tsp of fresh lemon juice to a mug of cool water and use this as a final hair rinse.
Hair benefits:
This homemade onion hair oil helps you get healthy, gorgeous and dense hair.It helps promotes hair growth and prevents hair damage.Both onion and garlic are responsible for strengthening hair roots, preventing split ends and for making hair grow long, thick and super glossy.
5.Ginger Homemade Ayurvedic Hair Oil
Ginger is very effective against hair fall, baldness, dandruff, itching scalp, and for stimulation of hair growth.It also works as a great hair cleanser and conditioner.The natural anti-inflammatory and antiseptic properties keep scalp infection at bay.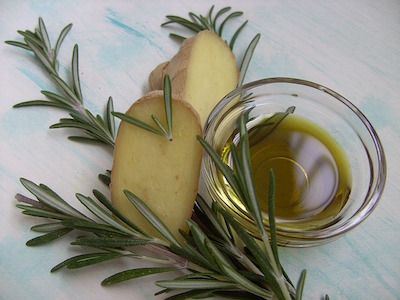 You need:
1 tablespoon of grated ginger
1/2 cup of olive oil
3 drops of rosemary essential oil
Preparation: 
Heat 1/2 cup of olive oil on an extremely low heat.Add the grated ginger to it.Let it boil until all the water is evaporated.Allow oil to cool off and sieve the oil into a bowl.Finally, add some essential oil.You can store this oil for 2 weeks in a dark, cool place.
How to use this homemade hair oil to stop hair fall
Apply the mixture into your roots and scalp.Use your fingers to gently massage the oil.Allow it to penetrate for 15 minutes and then rinse off with lukewarm water followed by a mild shampoo.If you have a sensitive scalp, you may feel mild irritation on the scalp at the beginning, but it will become negligible after some time.
Note: If scalp irritation persists for a longer time then immediately shampoo your hair to get rid of the oil from your scalp.
Hair benefits:
This herbal hair oil eliminates dandruff and many other common scalp-related problems that cause hair loss or hair thinning.It makes hair bouncy, healthy and strong.It gives hair a natural sheen and makes hair smells good all day.