Get a youthful white glow, boost skin's smoothness and elasticity by pampering your skin with this all-natural lightening fruit facial.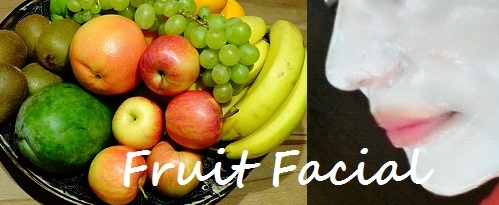 Fruit facial is the best way to take care of your skin.Fruits are highly nourishing, detoxifying, rejuvenating and effective on the skin.They contain valuable vitamins, antioxidants that protect against environmental damage, premature aging and help reduces dark spots, tanning, and uneven skin tone.The best part of this fruit facial that it only takes 20 minutes of your time.
Step By Step Procedure on How to Do a Fruit Facial at Home for Skin Whitening, Radiant & Younger Skin.
1.Cleanse Your Face to Remove Surface Skin Impurities (Duration: 1 min)
Cleansing is the essential step in any facial.It detoxifies, renew and removes excess sebum, dirt, makeup residues from the skin surface and prepares the skin for the next steps of the facial.To cleanse oily or acne prone skin, grab a lemon slice and squeeze the juice to a cup of lukewarm water, dilute a cotton ball with this solution, and wipe your skin thoroughly.Dry or sensitive can rub a slice of cucumber firmly for 1 minute to remove residues and refresh your face.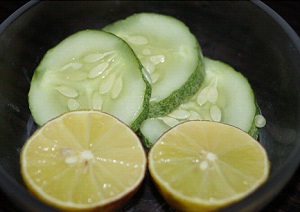 2.Steam your face to Unclog Pores (Duration – 2 mins)
Facial steam promotes perspiration, which encourages the pores of the skin to expand, making it easier for removing blackheads, dead skin cells and impurities hidden inside the pores.Take a bowl of steaming water and add a few drops of your favorite essential oil.Use any one of these citrus essential oils (like grapefruit, orange or lemon) in order to reap the maximum benefits.Lean your face over the bowl about 10 inches away.Drape a towel over your head and steam for 2 minutes.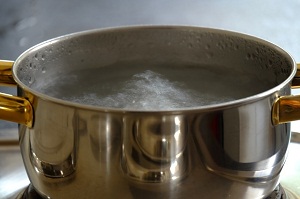 3.Fruity Exfoliator to Clean the Dirty Pores (Duration – 2 mins)
Beautiful, smooth skin comes after exfoliation of dead skin cells, whiteheads, blackheads and deep-seated impurities.For an instant glowing and polished skin, try this fruity exfoliator.Add 2 tbsp of uncooked quaker oats in a blender, add 2 orange slices and 1 tbsp of honey.Grind to make a thick paste.Massage with your fingertips for 2 minutes and then rinse thoroughly with warm water.This exfoliator is suitable for all skin types.This exfoliation lightens the skin color also helps you get rid of patchy pigmentation.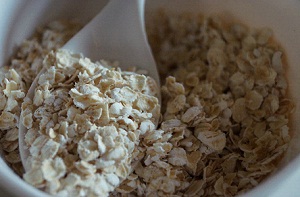 4.Fruit Facial Massage to Improve Blood Circulation & Glow (Duration – 5 mins)
Massaging your face with fresh fruit pulps can do wonders for your skin.If you have a dry or sensitive skin, then scoop out papaya pulp, add a tbsp of organic honey and gently massage for 5 minutes on the face and neck.All the circular strokes must be in an upward direction.For oily or normal skin, massage a mixture of 2 tbsp of ripe banana paste, mixed with a small tsp of honey and 2 tbsp of lemon juice.This fruit massage stimulates blood circulation in the facial area, reduces facial puffiness, smooth wrinkles retains the firmness and brings a lovely radiant glow to the skin.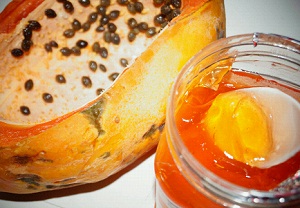 5.Apply Fruit Face Pack for Tightening & Instant Glow Effect (Duration – 10 mins)
Fruits are packed with skin beautifying vitamins, antioxidants and enzymes that can help improve the quality, tone and health of your skin.To prepare a fruit face pack for dry skin take 3 slices of banana, 2 slices of apple, 3 tbsp of milk and 1 tbsp of Multani Mitti powder(Fuller's earth) or calamine powder, blend well until smooth.Keep in the freezer for 5 minutes and apply chilled.After it has dried completely remove the pack with a cotton soaked in cold water.For oily skin take 2 pieces of orange, 1 slice of apple, 1 tbsp of lemon juice and 1 Multani Mitti powder(Fuller's earth) or calamine powder.Blend together to get a fine consistency. Apply a thick layer and wash off after 10 minutes.This face packs significantly improve discoloration, fine lines and delivers instant glow and facial fairness.
Meanwhile, you can apply this under eye cream to relax and soothe your tired eyes.Here is a video on how to make an under eye cream to get rid of dark circles in 3 days.
6.Finish your Facial with a Light Refreshing Serum
Serums are lightweight and soak into your skin quickly without leaving a greasy sheen.They are the best formula for all skin types.They are designed to deliver ultra intensive treatment to the skin and to make it appear more healthy, attractive and young.Serums are the most expensive skincare item, so instead of spending a huge money on commercial serums try making it at home.
Here is a quick video on how you can make glow serum for brightening & ageless skin
Also Read Here