Am amazing Face Peel to Fade Spots & Scars instant
Got any acne scars and spots? This face peel can definitely help.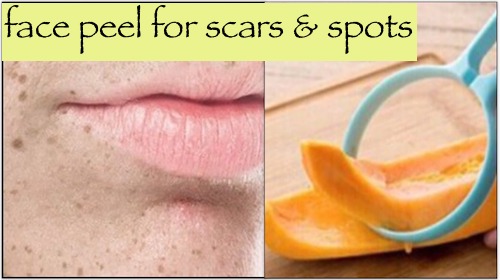 This homemade super-easy facial peel can help with a host of ailments – tired skin, dull skin, spots, scars and sagging skin.Applying this face peel once a week can help your skin look its very best.
Ingredients
1/2 small cucumber, seeded and pureed 

2 tablespoons papaya puree

1 big tablespoon gelatin

2 drops of lavender essential oil

hot water 
Method
 Place the cucumber and papaya puree in a bowl.

Add gelatin powder and essential oil.

Pour some hot water to dissolve the gelatin.

The gelatin will dissolve and become pasty. Add water if you need to make it spreadable.

Spread this over your face and allow it to dry, 15-20 minutes.

When completely dry, start at the jaw line and slowly peel from your face.Rinse off any residue and follow with moisturizer if you wish.
Benefits 
This homemade face peel will lift away dead skin cells and impurities in the pores, the fruity ingredients work on the top layers of the skin to help clear spots, scars and to improve the skin's overall tone and texture for a clearer, smoother youthful appearance.