This kaolin face & body lotion can lighten & brighten your skin naturally!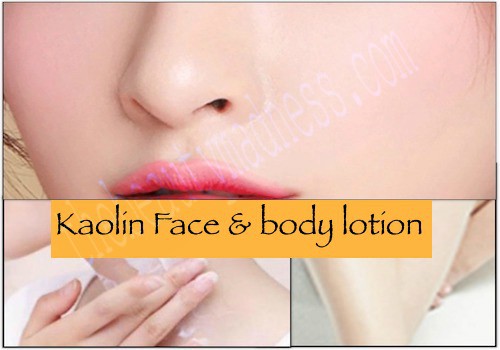 Kaolin is an excellent all-natural cosmetic clay powder known for its skin lightening, oil-absorbing and anti-ageing qualities.Kaolin's unique properties make it an incredible item for masks and other skin care products.It tackles a number of skin care issues such as scars, blemishes, marks and fights skin darkening.
This kaolin lotion is suitable for all skin types and can leave skin silky-smooth, fair & naturally bright.
Ingredients Required
1/2 teaspoon white kaolin clay
4 teaspoons fresh milk cream (malai)
2 drops sandalwood oil
1 tablespoon sweet almond oil
1 tablespoon wheatgerm oil
Method & Direction To Use
Combine all the ingredients well and store in a clean bottle.Before using shake thoroughly.Apply all over your skin, focussing on the exposed areas of your body – face, neck, hands, feet, forearms and knees.Massage this kaolin lotion 1 hour before taking bath to reveal bright, fair, smooth and naturally beautiful silky skin.
This face & body lotion can stay upto 6 to 7 days in the refrigerator.