Struggling with your bone-dry, dull and lifeless hair?
Dry hair is the most fragile type of hair and requires intense moisture and proteins to prevent split ends, breakage, and hair fall.It loses moisture and looks terribly dull, rough and lusterless after shampooing or heat styling.If you have dry hair and want to add shine to it, consider following any of these remedies and tips.
15 Tips to Add Shine to Dry Hair
1.Rice has amazing hair benefits.It repairs dry, damaged hair and gives your hair a gorgeous shinier finish.Just mix 4 tbsp of rice powder with 2 tbsp of corn flour powder and enough water to get a smooth consistency.Use this paste to mask your hair 10 minutes before you wash and see the results.
2.Drinking a glass of fresh spinach juice just once daily can relieve scalp dryness, promote hair growth and can prevent the problems of dry, frizzy and rough hair.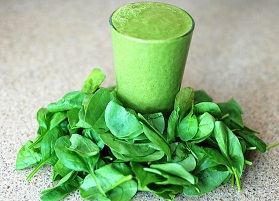 3.Hot oiling is the best solution to overcome dry hair.Twice in a week oil your hair.Warm 1/4th of coconut oil and mix 2 tbsp of castor oil and 2 tbsp of sweet almond oil to it.Apply to the roots and to the hair.Leave it on overnight or at least 2 hours before you shampoo.It prevents itchy scalp and split ends, promotes healthy hair growth, leaves your dry hair more smooth and manageable.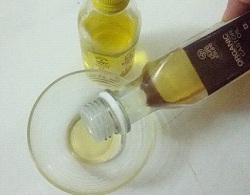 4.Take henna leaves, add some coconut oil and grind to make a thin paste by adding a little water.Apply it on the scalp and hair, leave it on for 1/2 an hour.Wash off with normal water.It conditions and leaves dry hair more nourished, prevents hair thinning and adds a natural black shine to it.
5.Conditioners are moisturizers for our hair.If you hair appears severely dry, then you can skip shampoo and just use conditioner.Simply mix 2 tsp of honey to your conditioner and massage it into your hair.Do this 10 minutes before having a head bath.
6.Dry hair is more susceptible to damage and split ends.Here is a simple tip to soften hair and treat dry hair.Mix 2 tsp of honey to 1/4 cup of thick milk and apply it starting from the root to tip.After 15 minutes wash off with cool water.
7.Cut an aloe vera leaf, scoop out the gel and place into a bowl. Mix a little olive oil and massage on your scalp and into your hair.After 15 minutes wash off with cool water.It softens your dry hair and soothes your scalp.It is one the best home remedies for dry hair.
8.A small cup of mayonnaise is extremely good in adding shine to dry hair.Slightly heat a cup of mayonnaise and apply a thick coat on your hair and scalp.Wrap a warm wet towel around your head, leave the mixture on for 15 minutes and then wash off.This helps boost moisture into your dry hair and delivers a brilliantly smooth and soft hair.
9.Use shampoo and conditioner labeled as "moisturizing" or "hydrating" to prevent your beautiful hair from getting dry.
10.Egg yolks are the perfect mask for dry hair.Beat 2 egg yolks, mix 3 tbsp of yogurt and apply to your hair.Wash it off after 15 minutes with a mild shampoo and conditioner.
11.After every wash, rinse off with 1/4th cup of apple cider vinegar mixed to a large mug of cool water.It nourishes each hair strand and puts the sheen back into it.
12.Flaxseed gel is very effective for dry hair.20 Minutes before you wash your hair, massage a mixture of flaxseed gel mixed with organic honey.This home remedy is not only good for treating dry hair, but also prevents hair breakage because of the protein, vitamin B-6 and minerals contained in it.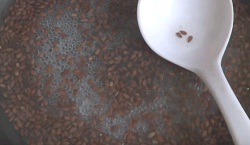 13.Glycerin is not only good for skin but also for hair.Take a spoonful of glycerin mix with 5 tbsp of fresh curd.Gently comb this mixture into your hair with your fingers.Do this 10 minutes before washing your hair.It seals moisture into the hair, leaves hair glossy and voluminous.
14.Banana pack is an ideal home remedy to add shine to dry hair.Make a paste of 1 mashed ripe banana and add 1/4th cup of curd to it.Apply the paste from tip to base and then pile your hair into a bun.Leave it on for 20 minutes and then wash off with a mild shampoo.
15.For very dry hair, use few drops of olive oil or almond oil after washing your hair.It makes your hair feel smooth and glossy.
Also Read
Homemade Conditioner for Silky, Shiny and Bouncy Hair