Do you have dark elbows and knees? Want to lighten these discolored areas within a week? Having dark elbows and knees can be a bit embarrassing especially in a short dress or a sleeveless top.Here are a few effective natural solutions to get rid of dark, rough, discolored elbows and knees, improve the appearance and achieve a lighter color in the comfort of your kitchen.
Natural Remedies to Lighten Dark Elbows and Knees Fast
1.Lemon
Lemon is a natural skin lightening ingredient.The citric acid in lemon bleaches and enhances skin color.The vitamin C and antioxidant firms skin and improves luster.Find out how you can use lemon to get rid of dark elbows and knees.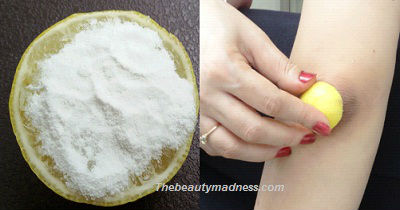 3 Tips to Lighten dark elbows and knees with Lemon Juice
Lemon & Baking Soda – Take a chilled lemon and cut into two halves.Sprinkle a tbsp of baking soda on top of the lemon slice and rub your dark elbows and knees for 1 minute.Let the lemon juice sit for 15 minutes and then wash off with lukewarm water.Remember to moisturize your skin well with olive oil or coconut oil to counteract skin dryness caused by lemon juice. Repeat this method until you get fairer elbows and knees.
Lemon Peels – Grind some dried lemon peels into a fine powder.Mix 1 tbsp of multani mitti and a tsp of honey to the lemon peel powder.Apply and leave for 10 minutes.Slowly remove the pack by scrubbing in a circular motion.Wash off with cool water.It instantly brightens dark elbows and knees, removes dead skin cells and impurities.
Here is a Quick tutorial to Get Rid of Dark Elbows and Knees Quickly
Lemon juice & Glycerin – Moisturize your dark elbows and knees with a mixture of equal parts of lemon juice and glycerin. Do this at night before going to bed.Repeat this remedy daily for a week to see a noticeable change in the skin color.
2.Sugar
Sugar is all-natural effective exfoliator and moisturizer for your skin.The exfoliating properties of sugar sweep away dead skin cells, rough skin cells to give a clean and smoother skin.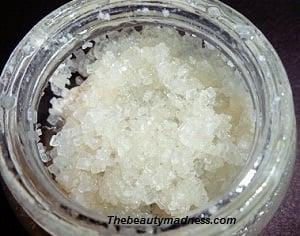 2 Tips to Lighten Dark Elbows and Knees with Sugar
1.Sugar, Rice Powder and Honey – Accumulation of dead skin cells is one of the important reasons for black elbows and knees. The skin needs a deep exfoliation once every 3 days to get lightened skin.Make an exfoliating paste by mixing 2 tsp of sugar with 1 tsp of rice powder and 1 tbsp of honey.Place a small amount in the palm and scrub in a circular motion by applying a little pressure.Do this 5 minutes before taking a bath.
2.Sugar and Olive Oil – Place a small amount of a mixture of sugar and olive oil on the loofah and scrub for 3 to 5 minutes on the darkened skin.Repeat the procedure daily till you get light elbows and knees.
3.Besan or Gram Flour
Besan is a natural skin cleansing and exfoliating agent.It improves skin smoothness and makes it lighter.Find out how you can use besan flour to lighten dark areas of your skin.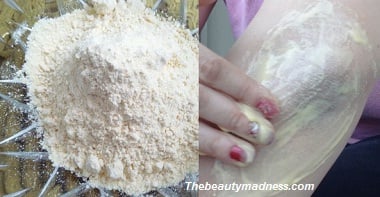 2 Tips to Lighten Dark Elbows and Knees with Besan
Besan and Tomato Juice – Make a paste of 3 tsp of besan powder mixed with 2 tbsp of tomato juice.Keep in the refrigerator for 15 minutes.Apply a thick layer of this cold mixture and then remove the pack gently by rubbing.Wash off with cool water.It eliminates rough and dead skin cells, the bleaching properties of tomato helps to get rid of black knees and elbows.
Besan and Milk – Mix equal parts of besan and chilled milk, apply to your knees and elbows.Rinse after 20 minutes.This mixture lightens all dark areas of your body.
4.Cucumber
Cucumber is a soothing, refreshing and whitening agent.The vitamin A and C present in cucumber keeps the skin beautiful, radiant and protects from UV rays.
3 Tips to Lighten Dark Elbows and Knees with Cucumber
Cucumber and Lemon juice – Mix 2 tbsp of cucumber juice with 1 tbsp of lemon juice.Apply this paste and wash off after 20 minutes.Cucumber astringent properties refresh and lighten the skin color.This is one of the most effective whitening remedies to get rid of dark elbows and knees fast.
Cucumber, Tomato juice, Green Gram Flour – Place equal amount of cucumber slices, tomato slices and blend well.Just mix 1 to 2 tbsp of gram flour and apply a thick layer to the dark areas of your body.Let it dry completely and then wash off.The cleansing power of green gram flour removes surface impurities and reveals a smoother and soft elbows and knees.Tomato juice and cucumber juice naturally bleaches and lightens the discolored area.
Cucumber and Sandalwood Powder – This is the most effective way to get rid of dark knees and elbows.Simply mix 2 tbsp of cucumber juice with 1 tbsp of sandalwood powder.Apply this paste on dark knees and elbows and then wash off after it dries completely.Repeat the remedy once every two days.
5.Aloe Vera Gel
Aloe vera gel is a magical gel for the skin.Packed with over 200 active compounds including vitamins, minerals, amino acids and enzymes it help gives a smoother, fairer and clear skin.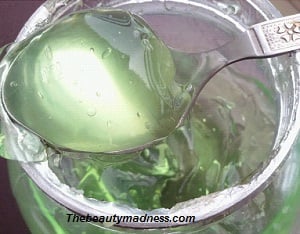 2 Amazing Tips to Lighten Dark Elbows and Knees with Aloe Vera Gel
Chilled Aloe Vera Gel & Rose Water- Take 2 tbsp of fresh aloe vera gel and mix a few drops of rose water.Keep in the freezer for 15 minutes.Just massage this cold paste on your knees and elbows.You don't have to wash just leave it on.This mixture lightens and softens dark areas.
Aloe Vera Gel, Olive Oil & Lemon Juice – Add 2 tsp of olive oil and 1 tsp of lemon juice to 3 tsp of aloe vera gel.Daily moisturize the dark areas with this whitening natural lotion at night before bedtime.In 5 days, you will see a noticeable difference in the texture and skin color.
Read some of the popular Skin Lightening Remedies
Corn Flour Packs to Lighten Skin
How to Use Milk to Lighten Skin
How to do Lemon Facial for Lightening Skin