Aging is a natural phenomenon that everyone experiences in life.It is inevitable and irreversible.Aging comes in two different types, these are intrinsic and extrinsic.Intrinsic aging is age-related changes whereas extrinsic aging is caused due to environmental factors and unhealthy lifestyle.In both ways, the production of two vital proteins collagen and elastin in the skin slows down.The skin starts to show the different signs of aging.Especially, in extrinsic aging, the skin looks much older than the actual age.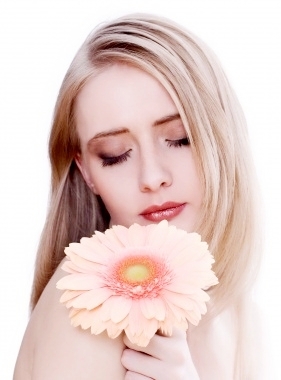 Image courtesy of marcolm at FreeDigitalPhotos.net
But there are a number of treatments that can reverse the signs of skin aging and makes the skin look 10 years younger than the present age.These 8 natural skin care remedies are designed to boost collagen production, smooth fine lines, wrinkles, crows feet and tighten loose and sagging skin.Follow these remedies regularly for over 2 weeks to make your skin look 10 years younger naturally.
Rose Water and Glycerin Age Reversing Facial Lotion
A very important part of any anti-ageing skin care routine is moisturizing.Here is a weightless hydrating natural facial lotion to minimize the appearance of wrinkles and crows feet and to rejuvenate skin complexion.Rose water is a rich source of antioxidants that can help boost resiliency of the skin and revive skin tissue.The natural emollients found in rose petals trap moisture in the skin, making it look softer and younger.Glycerin is a humectant, means it has the ability to retain moisture in the skin thus giving it a glossy, smooth appearance.
Method & How to Use – Wipe your skin with a cotton soaked in rose water.Mix equal amount of glycerin and rose water and gently massage face and neck.Do this every morning after cleansing face.
Anti-Wrinkle Vitamin C Serum
Homemade serums are great for mature, aging skin.Serums are light in texture and quickly absorbs into the skin. Here is an amazing anti wrinkle Vitamin C serum recipe that you must try at home.Vitamin C is a water-soluble antioxidant commonly found in citrus fruits.This antioxidant has the remarkable ability to improve the elasticity and flexibility of the skin and unveil a smoother, wrinkle-free and glowing complexion.
Method & How to Use
Vitamin C Serum Recipe
Pure vitamin C tablets – 2 Nos
Vitamin E Oil – 2 Tbsp
Aloe Vera Gel – 1 Tbsp
Rose Water – 5 Tbsp
Dissolve vitamin C tablets in rose water.Mix aloe vera gel and vitamin E oil.Pour the contents into a small empty bottle.Store in a cool place.Make sure to use within 5 to 6 days.To use it simply mix a few drops of this serum to your regular moisturizing night cream or lotion.Using it regularly for over a period of time makes the skin look younger naturally.
Check Out this Quick Video on how to Make a Vitamin C Serum for Youthful Glow and Radiance

Revitalizing with Natural Green Tea & Lemon Facial Toner
Facial toners make your skin radiant, healthy and youthful.Green tea based toner is incredible for aging skin.Green tea contains free radical-fighting antioxidants that repair dull, damaged skin, prevents blemishes, pimples and replenishes lost moisture.The vitamin C in lemon juice is a great antioxidant, vital for ageless skin.The acidic properties in lemon lighten the skin.
Method & How to Use
You can use it as a toner or as a facial mist for younger and glowing skin.Take half cup of green tea water and dissolve 2 tbsp of lemon juice.Soak a cotton ball and wipe thoroughly.Repeat for 2 times in a day.To use it as a facial mist, pour the solution into a spray bottle and place in the refrigerator for 1 hour.Spray on your face, whenever your skin feels dull and dehydrated.
Papaya and Honey Wrinkle Smoothing Natural Massage Cream
A Fast firming and smoothing homemade facial massage cream for diminishing the appearance of age spots and fine lines.Papaya is a powerhouse of vitamin C and antioxidants that help strengthen sagging skin and fights the signs of skin aging.Honey is a natural humectant, that help replenish skin with moisture.The essential enzymes, antioxidants, and flavonoids make it a great anti-ageing skin care ingredient.
Method & How to Use – Scoop out 2 Tbsp of ripe papaya pulp into a bowl, add 1 Tbsp of honey and mash using the back of a spoon.Cleanse your face thoroughly, take a small amount of this paste on your fingers and massage face and neck in a circular, upward motion for 5 minutes.Soak a cotton ball in cold water and remove the paste in an upward direction.Rub an ice cube and apply moisturizer.
Egg White and Orange Instant Firming Mask
Renew your youth with this amazing skin lifting and tightening mask.The proteins in egg white enhance collagen and elastin, promotes facial radiance and glow.It also minimizes enlarged pores and smooths away fine lines.The vitamins and antioxidants in orange juice revive your dull complexion and illuminates your skin tone.
Method & How to Use
In a small bowl, combine the mixture of 1 egg white and 3 Tbsp of fresh orange juice.Rinse your face with lukewarm water and pat it dry.Using a brush, apply a layer and then after 5 mins apply another layer.Leave to dry completely. Remove the pack in an upward direction with a damp cotton pad.Using this on a weekly basis, makes your skin look 10 years younger.
Exfoliating & Cleansing with Raw Milk & Salt
One of the most important skin care routine for an anti-ageing skin is exfoliation.Milk and salt are the most effective and natural cleanser and exfoliator.Raw milk is packed with vital nutrients, minerals and vitamins that are essential for a healthy youthful skin.It adds a natural glow to the skin and visibly tightens pores.Salt deep exfoliates skin and leaves it firm and smooth.
Method & How to Use
If you are really looking an easiest way to make your skin look younger naturally then here is a simple tip.Mix 1 tsp of salt to 1/4th cup of cold raw milk.Stir well.Soak cotton balls and gently dab on your face.Leave for 2 minutes and then rub in a circular motion.Rinse off with cool water.It removes the accumulated dead skin cells, dirt, and impurities and thus reveal smooth, glowing and vibrant skin.
Age-Defying Carrot, Milk and Turmeric Collagen Face Pack
Carrots are truly great for your skin.The high level of beta-carotene, vitamin A and antioxidants slows down the aging process and makes the skin appear more plump and juvenile.Turmeric is a powerful antioxidant and anti-inflammatory compound that helps minimizes redness, protects the skin from sun damage and free radical that contributes to wrinkles and promotes healthier skin.
Method & How to Use
Soak 2 Tbsp of grated carrots in 4 Tbsp of warm milk for 10 minutes to soften it.Add a Tsp of turmeric and then blend it.Rinse your face with lukewarm water and apply the pack.Rinse off with cold water after 20 minutes.This is one of the top remedies for radiant and younger looking skin.
Rice Water Face Wash for Ageless Skin
Rice water is one of the top beauty secrets of Asian women.It is rich in beauty vitamins and minerals that work effectively to reverse the signs of aging.Washing your face daily with cold rice water tightens skin pores, energize skin, lighten skin tone and slows down the aging process.
Some Important Tips for youthful Skin
1.Try the anti-aging facial at home once in 15 days.
2.Always keep your skin well moisturized and hydrated.Dry skin is one of the main cause for the formation of wrinkles.
3.Drinking pomegranate or grape juice every day will prevent your skin from wrinkles and premature aging.
4.Regular exercise for about 30 minutes can reverse the skin aging process.
5.Always protect your skin from the damaging UV rays to prevent discoloration and premature skin aging.
6.Drink lots of water to keep your skin moist and hydrated from the inside out.
7.Daily have a glass of Aloe Vera juice to keep your skin youthful and glowing.Click here magical aloe vera juice recipe.
8.Include more anti-ageing foods in your diet to boost skin elasticity and for youthful skin.
9.Live a stress-free and happy life.