Hi Pretty Ladies,
Today I will share my thoughts on the Maybelline Instant Age Rewind Foundation.
I am a diehard fan of Maybelline foundations.They have the best range of foundations to match your skin tone and type.In the past few years, I have tried dozens of Maybelline foundations and I love them all.In this article, I will share one of my personal fave that is Maybelline Instant Age Rewind Foundation SPF- 18 Porcelain Ivory (Light 1).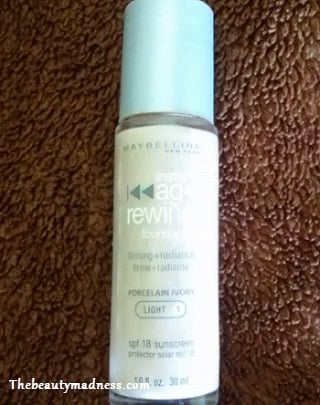 What The Product Claims
"See younger looking skin instantly! Regain your radiance and restore firmness".
My Experience with Maybelline Instant Age Rewind Foundation
I am very choosy when it comes to foundation.I always wanted a foundation that gives me full coverage without making my face look cakey and also lightly moisturize my dry skin.Maybelline instant age rewind foundation fulfilled my expectations.Frankly speaking! I love this foundation.I purchased it from an online store a year ago and for the first time I tried it and fell in love with it.
I have a pale yellowish skin tone, so I picked the shade porcelain ivory (Light 1) the lightest shade available in this range.It's a pale pink color with a smooth consistency and light texture.It absorbs into the skin beautifully and blends seamlessly.Because, it is light in nature it lets your skin breathe and doesn't clog pores.The formula is great, it doesn't leave your skin dry and cakey.Just a small amount is enough for a full coverage.It gives the skin a pinkish glow and has a nice luminous finish.The age rewind formula helps smoothly covers spots, freckles, and fine lines and makes skin look even and flawless.
How to Apply Maybelline Instant Age Rewind Foundation For a Flawless Finish
Moisturize your skin well and let it fully absorb for 5 minutes.

Dab a tissue to remove the excess oil.

Dot your face with foundation and then with a wet sponge blend foundation well.
Below is the image how my skin looks before and after applying foundation

Advantages
1.Makes your skin looks natural and not cakey.
2.Gives you full coverage.
3.Has sun protection factor SPF 18.
4.It covers spots, freckles, and fine lines.
5.Blends well.
6.Goes on smoothly.
7.Gives the skin a firming effect.
8.Doesn't dry out your skin.
Disadvantages
1.Chemical smell.
2.Not easily available in India.
3.Expensive.
Best Suitable For Skin Tones – Fair to medium skin tones.
Qty / Price
Price In India – 30 ml/ Rs. 1812
US Price  – 30 ml / $9.35
Product Rating – 4.2/5